Richmond, VA – A Retro Roadmap Reader Report
Posted on: August 12, 2011
Since Mod Betty is on vaca what a great time to share some of the Retro Roadmap-worthy places submitted by our dear readers! Here's TikiSoo's writeup of her trip to Richmond, VA – enjoy!
• You'd never guess a huge modern amusement park like King's Dominion would keep an old vintage carousel, but rare PTC #44 lives within this mega-park. (first in Agawam MA & later Providence RI) Gorgeous lush gardens divide the walkways between rides on the way to this beautifully maintained vintage 1910 PTC # 44. I know first hand how tough it is keeping these 100 year old mechanisms and old wooden horses in operating condition, and I applaud this park's dedication and enthusiasm for these "old timer" un-thrill rides. And never forget to "look up" on PTC's to see oddball images such as this nanny dog painting: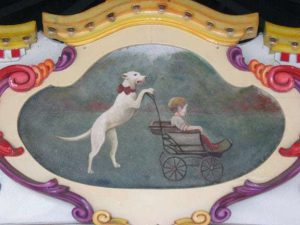 • On the way south, a big white arrow on the road points right to the front door of this impeccably kept 1940 deco neighborhood theater on Rt 54 in nearby Ashland VA. Although the marquee happily states "To Be Reopened", every attempt to contact them has been met with silence.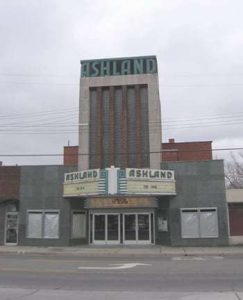 (Ashland has an inviting downtown area complete with specialty shops & cafes featuring home made baked goods, soups & sandwiches…light pouring out of that glass block tower façade would complete the perfect picture.)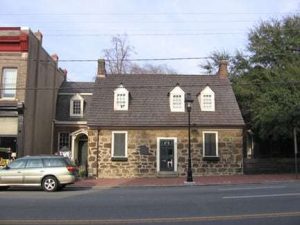 • Upon our arrival in downtown Richmond, a plan was already in place for visiting the Edgar Allan Poe house. There are several Poe sites in the US- so many that one we visited in Fayetteville North Carolina turned out to belong to local businessman Edgar A Poe-NOT the writer! This one is the oldest building in Richmond and just beautifully kept. Love the raven silhouettes on the window boxes!
• Richmond proper is actually fairly small compared to other colonial age cities like Philly & Baltimore and is pretty easily navigated. Tobacco built this city and the old Lucky Strike factory is still standing downtown (near the Poe House) on East Cary Street.Walk to the front of the building and you'll see a HUGE beautifully detailed Indian peering over the corner of the rooftop!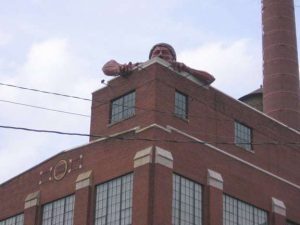 The story goes; this Indian was the mascot for the local baseball team and when it disbanded local historically minded people removed the Indian from the ball park, had it restored and placed on this fitting location.
• For more colossus, another historic brick building holds giant milk bottles at each corner! Once the huge Richmond Dairy Co, it's converted to unique living space. (W. Marshall St between Adams & Madison)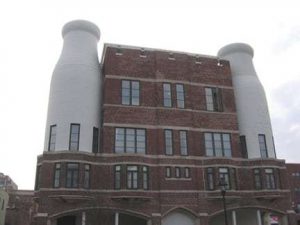 • "Mr Bojangles", while a pithy song of the 70's, is sadly the only thing most people think of when they hear the name. The true "Bojangles", black dance pioneer Bill Robinson is honored mid tap in his most famous "stair" dance on nearby West Leigh Street.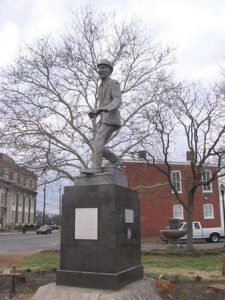 •Trying to find the best place to eat loses some urgency when you're staying a few days and can try several places. (Learn from our mistake and avoid the Capital Ale House at all costs. Catering to college kids who want to drink as much beer as possible, the variety offered is impressive but the service is horrendous; it took 4 hours for us to be seated (guess they wanted us to drink more beer while waiting!) and our bill was padded with hidden "minimum" charges.) Instead, have your growler filled at the family friendly Legend Brewery at 321 W 7th St along with a classic pub meal and live music.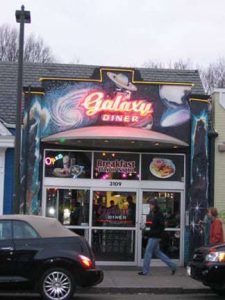 • Typically wary of diners that are heavy on "theme" (what are they trying to distract you from?) don't miss the fun Galaxie Diner, a small storefront found on fashionable W. Cary Street The space age décor is just a springboard for the fabulous food that ranges from home made unusual soups & fresh salads ($4-9) to jovially named "Cardiac Arrest" burger & "Nuclear Waste" hot dogs ($6-9). Imaginative breakfast -served all day- include "Black Hole" pancakes (with an Oreo center) or "Trailer Park" (Peanut butter & banana stuffed) French toast. Kids meals arrive in aluminum divided flying saucer plates and drinks are served in a souvenir plastic alien bottle to take home! Dramatic mood lighting, framed classic sci-fi posters & the friendly staff only add to this atomic dining experience.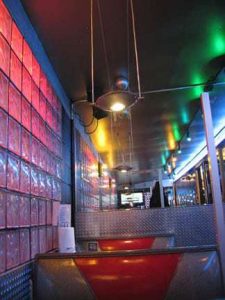 •Cary Street is full of single store specialty boutiques such as toy market World of Mirth where we played with wooden snakes and juggle balls. Although what really captured us was the upscale "Second Debut" a Goodwill store with reworked classic and vintage clothing!
And that's one of the biggest attractions of Richmond – the one of a kind businesses you don't have back home. It's a ritual for me to visit the local grocery store when visiting different regions and in Virginia scored unusual coffee blends, stone ground grits and exotic flours to bake with upon my return. If you like cigars, bourbon or horses, this little pocket of the US is still full of indie stores and invites a fun shopping experience, not just a bland search for merch in homogenous chains.
Looks like Richmond is a Retro Roadmap worthy destination indeed! Thanks Tikisoo for the report.
Now pardon Mod Betty as she takes a dip in the pool!