Barclay Pharmacy Philadelphia PA – Step Back in Time
Posted on: March 26, 2018
address: 1736 Spruce St Philadelphia, PA 19103
phone: (215) 735-1410
note: open by chance, no website
Mod Betty isn't sending you into the Barclay Pharmacy to fill a prescription – unless you've been told to get a daily dose of the past.
Once called "Philadelphia's Most Beautiful Pharmacy" it has been in this historic (circa 1855) building since 1959 (earlier it was in the corner building just across the street, according to this 1948 Jacob Steiman photo at the Philadelphia Athenaeum .)
I know I say this a LOT (hello, it's Retro Roadmap's raison d'etre) but you'll agree with me that the Barclay is a step back in time, once you go inside.
Here's what it looked like in an undated vintage postcard: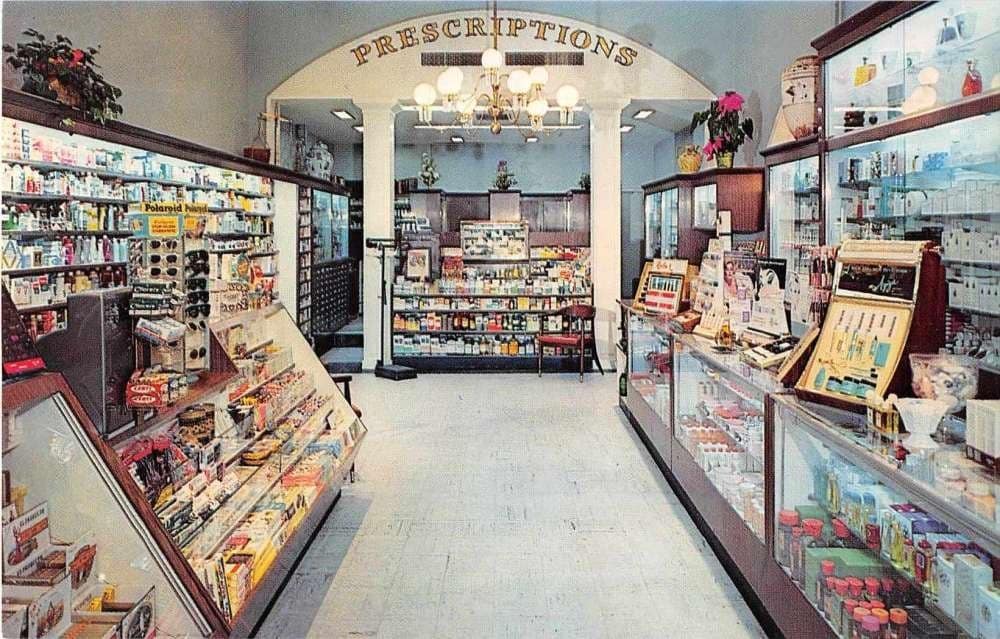 And here is what it looks like TODAY -!!!
An incredibly quiet shop – except for the soft strains of classical music heard playing in the background, and perhaps the occasional shuffling sound of dog Tico getting comfortable. Russell Friedman, the owner and pharmacist has worked here since 1974, his father started the business in 1939.
It's actually probably better that you don't have a prescription to fill, as the pharmacy only specializes in dermatological compounding, and nothing else. They don't take insurance, and accepts just cash.
Luckily there are enough random items for sale here that you can browse through while absorbing the historic vibe of the place.
Authentic vintage greeting cards, magazines, paperback books, new old stock combs, shampoo, nylons and lightbulbs are just a few of the items for sale.
Take a peek behind the counter and you can see antiques and artifacts that once were part of the pharmacy trade – scales, jars, mortar and pestles.
Speaking of  the counter, Russell was kind enough to give me a vintage postcard that depicts the mural painted on the wall, painted by artist Kenton Warne Hudson. Make sure to spend some time ogling it in real life when you visit.
According to the card back:
"Mural on East wall of the Pharmacy, represents fourty (sic) eight drugs and plants used in pharmacy. The mural was planned, created and painted by Kenton Warne Hudson, an outstanding muralist from Delaware County. This is Mr. Hudson's ninth mural. Others can be found in New Orleans, Omaha, Geneva and other cities in the United States. Mr. Hudson is a former pupil of James Kirk Merrick" 
There is a "legend" to the mural hanging near the cash register, naming all of the plants shown in the mural and where they're located.
Since this is a solo operation there may be times where the shop is closed for an hour or so for errands, or weeks at a time for vacation. Check for a note on the door, amongst the many signs alerting you to the existence of his doggy companion.

You'll spy photos and artifacts from Russell's worldwide adventures displayed around the shop, and know that while this place is preserved in amber, no moss grows on him!
So if ever you're in the Rittenhouse Square neighborhood and the modern world becomes too much, open the door and step back in time to a quieter era.
It's just what the doctor ordered.
Barclay Pharmacy Philadelphia PA – Step Back in Time
1736 Spruce St Philadelphia, PA 19103