Bigelow's Fried Clams – New England Taste in a New York Town! Rockville Centre, New York
Posted on: February 2, 2017
address: 79 N Long Beach Rd, Rockville Centre, NY 11570
phone: (516) 678-3878
Note: cash only
No, your eyes are not deceiving you when you spot a neon sign proclaiming "Fried Clams" when driving through Rockville Center, NY – and no, you haven't been transported to New England, where such culinary delights are famous.
Instead, you've stumbled upon Bigelow's, which has been serving Fried Clams and other seafood delights in Rockville Centre New York since 1939!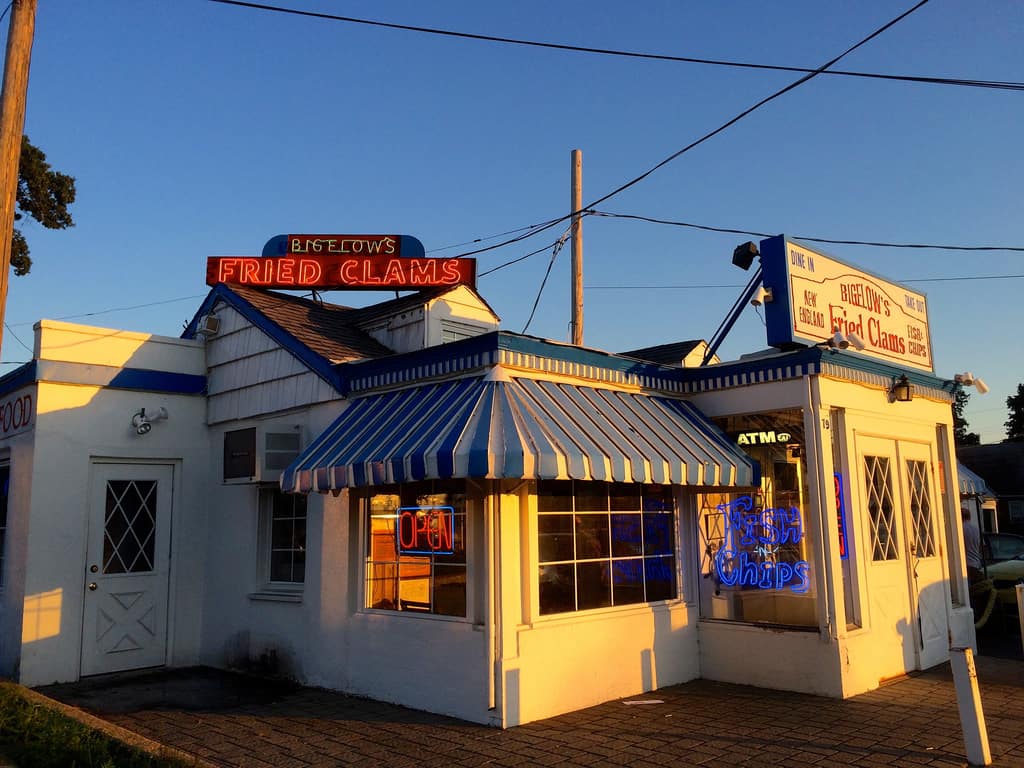 Truth be told we didn't even know about Bigelow's at first (we were en route to Itgen's for an ice cream) but as soon as I saw that sign and retro metal awning, I thought…this might be too good to be true.
Authentic vintage neon sign? Yep. Fried clams, my fave summer delicacy? Yep. OK then, tummy – let's check this place out!
Bigelow's was founded in 1939 by Russ Bigelow, and the same culinary traditions that he started back then are still being carried on by the Andreolas family, who have owned Bigelow's since 1991.
What traditions you may ask? How about serving fresh seafood, fried full-belly Ipswich clams at the top of the list, and changing the oil daily to maintain freshness. Hand cut french fries,  warm sliced of pie for dessert. And only taking cash (never fear, there's an ATM onsite.)
Be prepared – the restaurant itself is tiny, with one horseshoe shaped counter that seats less than 20. If you want to sit, wait and grab a counter stool as soon as it becomes available. Or order "to go" and eat in your car.
We scored some counter seats and looked at the menu posted above the busy grill area. Many favorites listed – fried clams (did I mention how much I love them?) clam strips (for the less adventurous seafood eaters in the group) flounder, shrimp, schrod, and burgers and dogs, if you're with a non-pescetarian.
There were a few tip-offs to indicate you're not in New England proper: There are smelts on the menu (?!) and the appearance of Manhattan-style clam chowder. Also instead of clams and frieds being served as a smaller portion "on a roll" they're served on a round grilled hamburger bun.
But no matter, because once you bite into a freshly battered and fried clam, the taste will bring you straight up the coast! (Or if you're a clam strip fan, right to the counter at Howard Johnsons.)
Another great thing about Bigelow's is that they're open year 'round. So if you get a hankering for a taste of summer, head there to get your fried fix.
Bigelow's Fried Clams – New England Taste in a New York Town!
79 N Long Beach Rd, Rockville Centre, NY 11570