Blu Tavern Restaurant – Since 1946! Pottsville PA Schuylkill County's Original Pizza
Posted on: January 15, 2017
address: 1323 Bunting St Llewellyn, PA 17944
phone: (570) 544-8019
note: closed Mondays
Located on the outskirts of Pottsville PA on route 209 in Llewellyn you can't miss the Blu Tavern, because of this gorgeous sign and neon details.

Continuously owned operated by the Massari family since 1946, it opened at this location in 1953, and we love that they've retained and maintained so many of their authentic vintage details!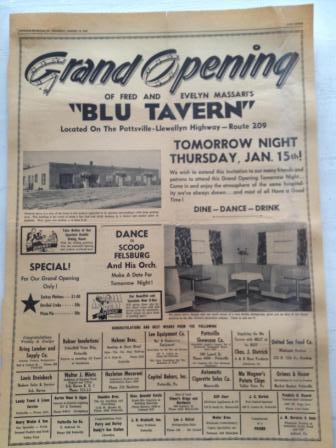 The Blu Tavern is one of those time capsules we all hope to stumble upon during our travels!
Before we even get inside the door, there are more vintage details to drool over:
Here's a closeup of the Cocktail Lounge entrance  – note the glass block and quilted steel door with porthole window. Swoon!
The entryway to the dining room also has that well kept neon. Always a good "sign" 😉
Speaking of signs – before you even get to the cozy colonial inspired dining room, I have to give you a peek into the ladies room. 
As if that Ladies Room sign isn't enough…
Ta-da! "Mamie Pink" Save The Pink Bathrooms alert!
Since The Blu is called a Tavern and known for being the first place to introduce pizza to the coal region, we were a bit surprised at the formal appearance of the dining room, and felt unsure if we were not dressed nicely enough. Don't worry if this happens to you, too –  we were made to feel welcome despite our casual appearance, so come right in.
Just out of frame in the photo above is a fireplace, which was a nice touch on a chilly evening.
There's also a separate event room towards the back of the dining room, with awesome wallpaper. There was a meeting going on there so I did not snap a photo, but when you go there please make sure you look.
The menu is filled with all sorts of steaks and Italian inspired entrees, but since they're famous for their pizza, we had to order it!
The pizza comes in 3 sizes and you can choose your toppings as well. The crust was puffier than I expected, but I'm always a fan of sampling different regional variations of pizza, since they're all pretty damned good. And since we're in "NEPA" / North East Pennsylvania, they call the slices "cuts".
The "Cocktail Lounge" is really the bar area, now decorated with more current beer advertisements,  though if you look closely it still has the original bar as shown in this vintage photo: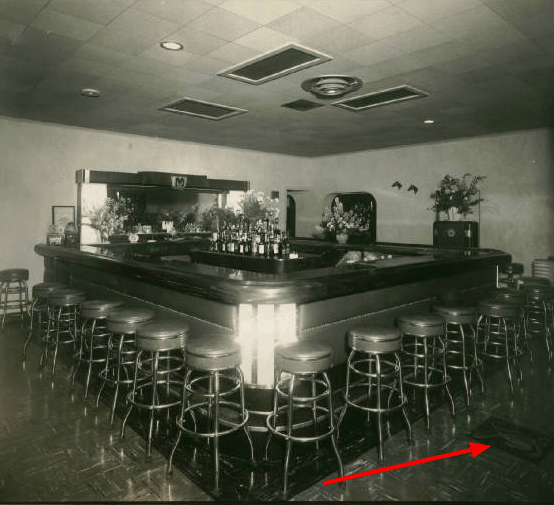 See that inlay in the linoleum floor? Current owner Bob Massari says that it is still there – now hidden under a floor mat. Can't wait to go peek at it next time we visit!
Taking a peek at some photos on their Events page, it looks like the lower level of the restaurant has an awesome linoleum floor. Wouldn't it be a blast to have a Rockabilly  or swing night here – a Dine and Dance? Swoon!
One more sign photo simply because it's so fab!
It's places like this that we always hope to discover when Retro Roadmapping, so I hope you enjoy discovering the Blu Tavern next time you're in the Pottsville PA area.
Make sure you tell them how much you love their vintage details when you visit,  so they know that they're a business asset, and not something old that should be replaced! That's how we can keep these places around for more generations to enjoy!
Blu Tavern Restaurant – Since 1946! Pottsville PA
1323 Bunting St Llewellyn, PA 17944