G & A Coney Island Restaurant Baltimore – Same Location Since 1927! Baltimore's Only Coney Island Dog Source
Posted on: January 17, 2017
address: 3802 Eastern Ave, Baltimore, MD 21224
phone: (410) 276-9422
Note: Open 6 days a week 'til 7, Sundays 'til 2:30
Baltimore pal Julie K. suggested we meet her at the G & A Coney Island Restaurant on Eastern Ave, and I'm so glad she did. Mod Betty knows it's clutch when a local resident heps you to the Retro Roadmap worthy places in their town!
G & A has been open in the same location since 1927, and is still family owned and operated.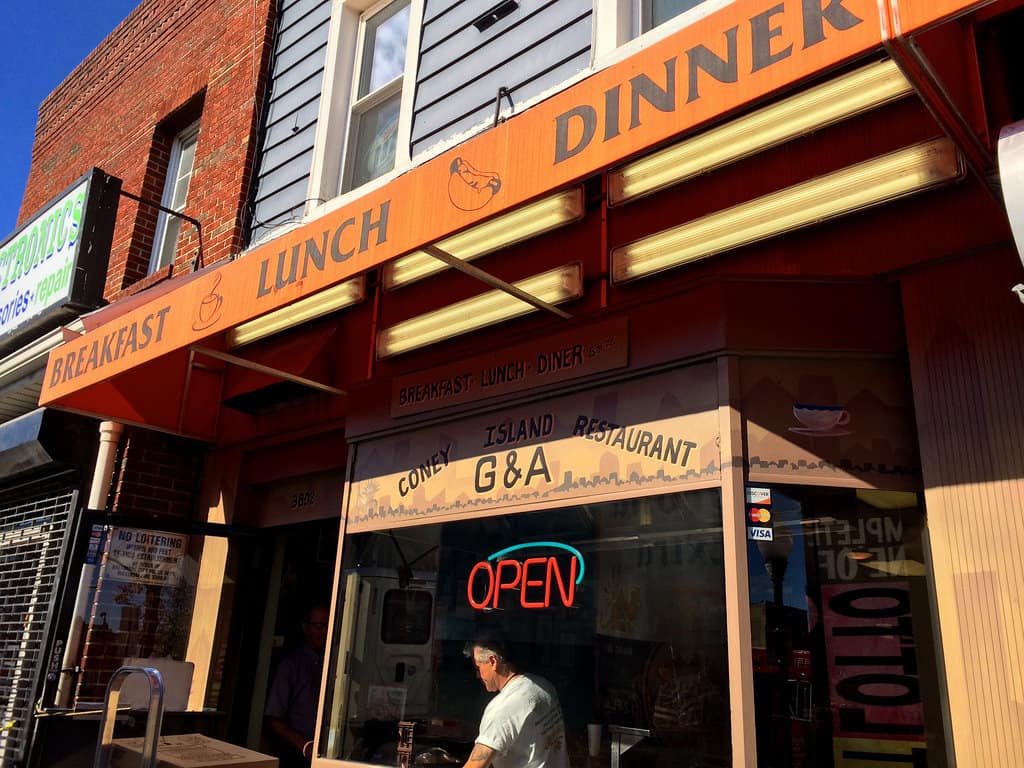 In the photo above you can spy current owner Andy Farantos in the sunny window grilling up coney dogs. We chatted with him upon our departure and he let us know that his grandfather opened the shop (G&A stands for the initials of original owners Gregory and Alex Diacumacos.) Andy's father and uncle also owned it, and Andy is the third generation to run the place, since 1988.
According to their website:
Like his grandfather and his father, Andy can line up about a dozen hot dogs along his arm and dress them with chili, mustard, and diced raw onions. In short, all you need to say is "1 up" and you get the works.
G & A is the only place in Baltimore to get a Coney Dog (as a reminder,  a Coney / Coney Dog / Coney Island Hot Dog is a hot dog in a bun, covered in meat based chili sauce.) Greek immigrants coming through Ellis Island at the turn of the 20th century are typically credited with this culinary invention.
Now here's something I did not realize about the etymology of Coneys that I think is interesting!
According to some accounts in 1913 Coney Island New York's Chamber of Commerce banned the use of the phrase "hot dog" on restaurant signs, fearful that visitors would literally think there was dog meat in the sausages. 
It is thought that many new immigrants passing through Coney Island from Ellis Island would not know that these were originally called Coney Island hot dogs, and so they simply called them Coney Islands, or Coneys.
As they moved away from the New York area into different regions of the country, that name stuck. That is why you'll see Coneys on the menu hundreds of miles away from Coney Island itself.
Never fear dear reader, if after all that hot dog talk you realize you may not be a Coney fan, G & A serves much more than that. Their menu includes breakfast, sandwiches, hot lunches and dinners, soup, pie – you name it.
With so many things on the menu each one of us wanted to try something different, so we ordered an assortment of items and were happy with them all.
Julie opted for a traditional hot dog, with ketchup (no haters!) and onions. Not a Coney because no sauce.
Mod Betty was leaving it up to Retro Roadhusband to taste test the Coney, so she opted for the Famous G & A Sliders – 3 lil cheeseburgers with pickles on teeny weeny buns. They came with homemade fries, to which I was asked if I wanted gravy atop. Note – the correct answer to this is YES as the gravy fries were the bomb. As were the sliders.
Throwing a curveball, Retro Roadhusband didn't order a Coney dog at all! He went rogue and got a Coney Island BURGER. Same concept as the Coney Island Dog, but instead of a dog, the sauce and onions went on a burger. He proclaimed it tasty, and also helped me with my fries.
Everyone working at the G & A was super friendly, and though this seems like a bustling neighborhood spot, they made us out of towners feel welcome. So heartening to know there are places like this left, not all replaced by chain stores. So next time you're in Baltimore, do yourself a favor and head over to the G & A!
G & A Coney Island Restaurant Baltimore – Same Location Since 1927!
3802 Eastern Ave, Baltimore, MD 21224