Hidden Gem of a Hardware Store – Schneider's – Baltimore MD Since 1896! A Roland Park neighborhood staple
Posted on: January 3, 2017
address: 700 Wyndhurst Ave Baltimore MD 21210
phone: 410-889-2117
Note: Closed Sundays
Ever notice how Google maps sends you down roads you may not normally go down, in order to save a whole minute off your drive time? (And ever notice how when you start a sentence with a question starting with the word Ever…you end up sounding like Andy Rooney in your head? Maybe it's just me…!)
Well, this time we have to thank the online mapper – because it sent us through Roland Park Baltimore, where we discovered Schneider's Paint and Hardware store, open since 1896-!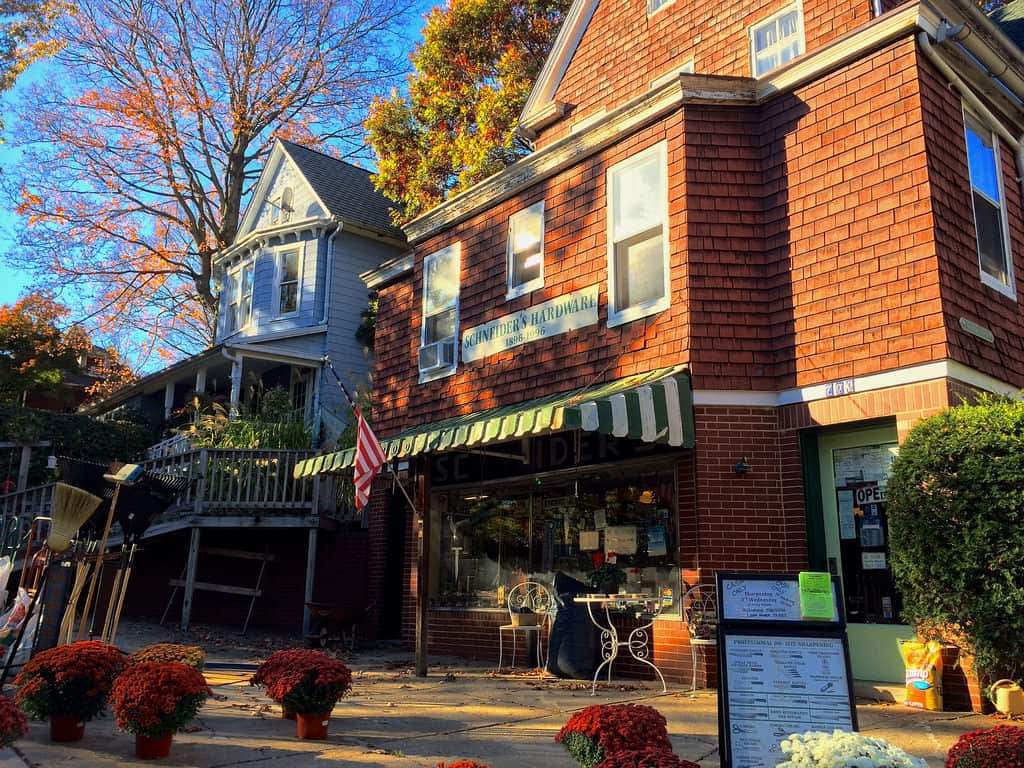 As we approached the shop located in the lower level of one of Roland Park's large 1890s-era houses, we noticed a gentleman fixing a window screen just outside the door. This turned out to be friendly and informative Jeff Pratt – owner of Schneider's Hardware (his mother was a Schneider).
As soon as I started admiring the art deco Schneider's name in the window glass under the metal awning (look closely at the photo above and you'll see it) he invited us into the shop to admire the art deco lighting fixtures that have been illuminating the teeny tiny shop for decades. And admire we did!
We also admired the amount of useful items available in such a small shop – light bulbs, twine, potting soil, nails and screws, sash chain and rag mops, seasonal items and hard to find ones the big and boring box stores don't carry.
The shop originally started as a grocery store and butcher, but transformed into a hardware store in the 1940's. Jeff started working with his father at the shop in the early 1970s, and took over the business in 1989.
Pratt's father ran the shop for almost 50 years and was quite the local figure. Folks would send him postcards on their journeys, which are hung with the photos facing the counter, so he could see them there. He would also hang a board with his yearly predictions of what he thought would happen in the future. While he sadly passed away in 2000, his final predictions still hang in the shop.
As we were there a steady stream of local folks came into the shop, looking for something specific, chatting about bee-keeping with Jeff ( a hobby of his) and updating him on local goings-on.
One item I just had to ask about as it was featured so prominently in the shop signage, is the Radiator Key, or Radiator Bleed Key.
Jeff explained to me that many of the houses in the area were built over 100 years ago and still use radiators for heat, and these keys are needed when there's air trapped inside, causing it to not heat efficiently.
I grew up in a house heated by big metal radiators, and I had never heard of these, so it was exciting to learn something new!
I also learned that the gift and garden items that we saw upon our arrival were actually from Jeff's wife Pat's shop behind the house. Known as Carriage House of Schneider's She carries plants, herbs, candles and unique gifts for the home and garden, with many made by local Maryland artists.
So next time your modern mobile map takes you on an unexpected route, just think – instead of a dubious detour, perhaps you'll be led to a hidden gem like Schneiders!
Hidden Gem of a Hardware Store – Schneider's – Baltimore MD Since 1896!
700 Wyndhurst Ave Baltimore MD 21210