Hiway Theater – Jenkintown PA's Suburban Screening Room!
Posted on: March 20, 2017
address: 212 York Rd, Jenkintown, PA 19046
phone: (267) 864-0065
The theater located at 212 York Road was built in 1913 and has had a number of name changes and incarnations in the over 100 years it has been livening up Jenkintown.
First known as the Jenkintown Auditorium and later as The Embassy Theatre, York Road Theatre, the Chas III and The Merlin Theatre (You'll spy a scrolled "M" for Merlin etched in the glass of the entry doors still) it was originally named the Hiway in 1940 and operated under that name until the 1980s.
When the theater was brought under the direction of a local non-profit in 2003, the decision was made to return to the name Hiway.
Make sense to me considering how busy this stretch of road is – just try to take a photo without a car in it and you'll be snapping photos for a while – trust me!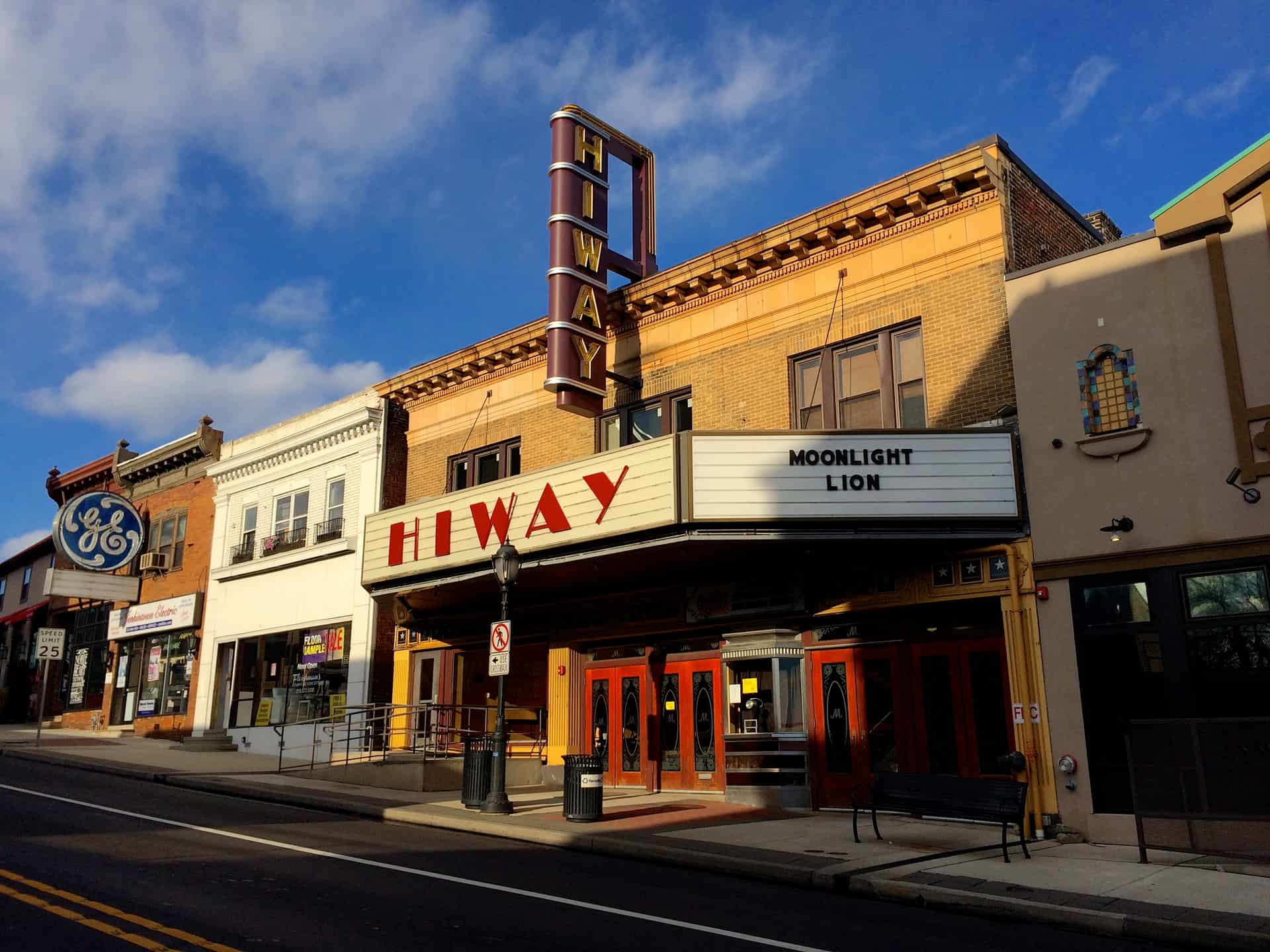 But don't let this bustling activity on the streets discourage you from visiting this little local art-house. While it only has a single screen, under the loving wing of Renew Theaters (who also manage the County and Ambler here in PA) they make the most of their programming, including independent, art-house, foreign films, classics (Mod Betty is a sucker for classics on the big screen) Family matinees and special events.
As with many local theaters, the changing of ownership throughout the years and attempts to remain up-to-date means that there are only a few treasured architectural details remaining to give a glimpse of the historical nature of this movie house, including the sculptural reliefs above the auditorium entrances.
Once you enter the auditorium you'll note that seating (for 330) has been updated and includes two loveseat seats – the first of these that Mod Betty has ever seen. So if you want to snuggle with your honey or simply sprawl out yourself get there early to snag one of those coveted couches.
Ever the fan of big neon signs, I was thrilled to see that in 2011 they installed a replica of their original tower sign. It, paired with the fabulous neon General Electric sign of Jenkintown Electric gives some well needed Hollywood glamour to the Montco 'burbs!

Hiway Theater – Jenkintown PA's Suburban Screening Room!
212 York Rd, Jenkintown, PA 19046