Media Theater – A Media PA Star Since 1927!
Posted on: February 15, 2015
address: 104 East State Street, Media, PA 19063
phone: (610) 891-0100
2017 Updated photos! 
Downtown Media PA is a Retro Roadmap fave because of the plethora of independent shops, restaurants and entertainment options. Located on East State Street the dazzling neon marquee of the Media Theatre can be seen as the welcoming gateway to this gem of a Delaware County destination! 
Original 2015 Post:
The Media Theater is way overdue to be added to the Retro Roadmap, so even though I technically have never been to a show there, I can't say no to that gorgeous facade!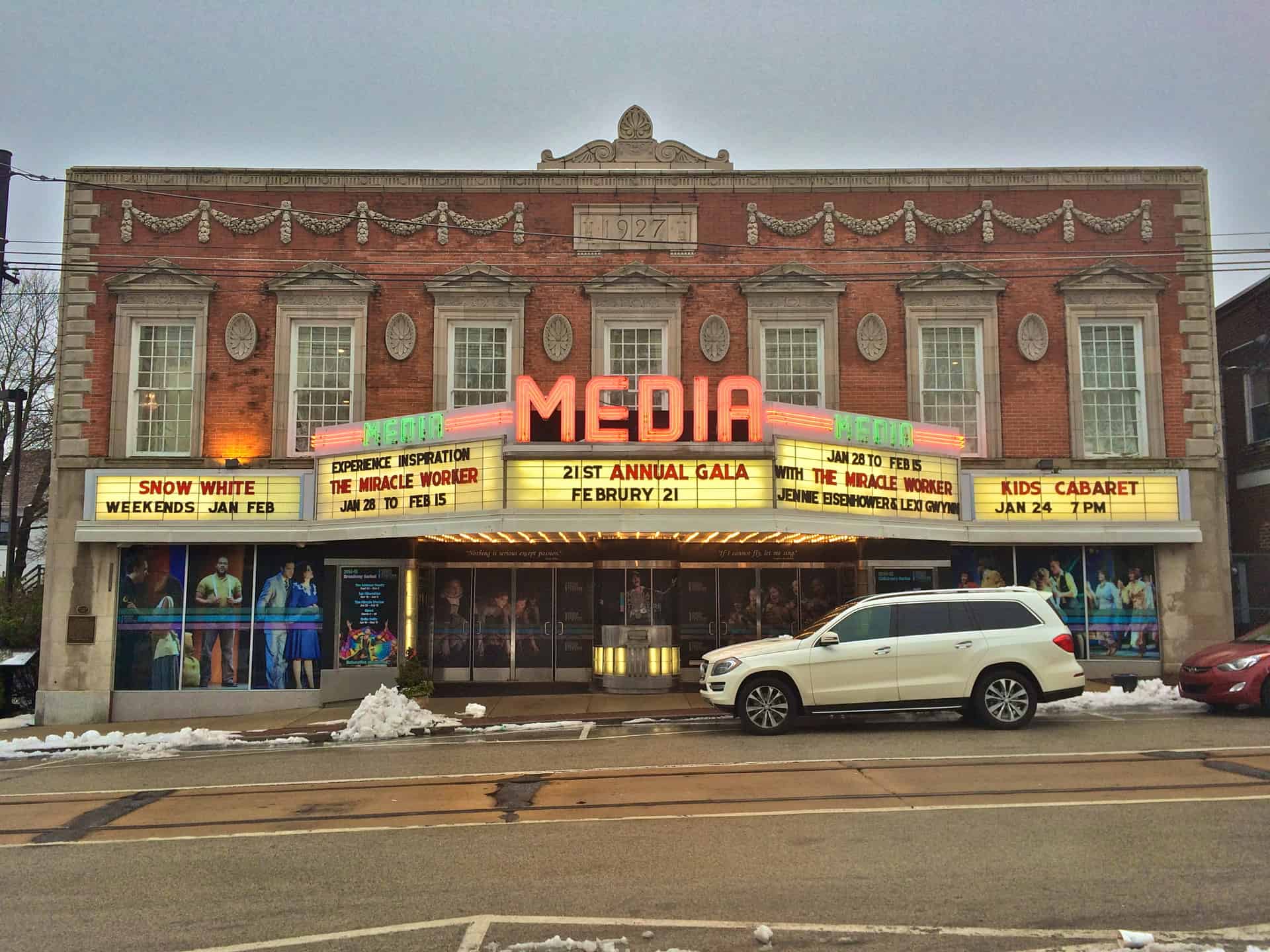 The theatre was one of three theatres in Media when it opened in 1927 as primarily a movie house, and opened appropriately enough with a screening of the Jazz Singer, which was also the first motion picture with sound. (Random aside, because Mod B is like that – The Jazz Singer starred Al Jolson – did you know he and Ruby Keeler once were married? Mod B's great godmother was a friend of Ruby's from back during WWII so I have a soft spot for her!)
Anyhoo…for decades the theatre was the place to go for movies, vaudeville shows, even high school graduations.
The interior auditorium – with seats for over 800 patrons is an opulent delight, from the ornate ceiling medallion to the carved proscenium. Regardless of your familiarity with many of these architectural terms, an elegant evening of entertainment awaits you when you visit the Media Theatre.
In 1994 the theatre was turned into the Media Theatre for the Performing Arts, making it a local destination for live stage shows, and is the only professional theatre in Delaware County since 2000. It's the place to go for Broadway style entertainment for adults and kids, without having to leave the suburbs. They also host the Media Film Festival and other entertaining events, so make a plan to visit Media and spend a lovely evening at the theater!
Media Theater – A Media PA Star Since 1927!
104 East State Street, Media, PA 19063