Nashville Hotel's Fancy Art Deco…Men's Room?! The Hermitage Hotel's Lovely Loo
Posted on: March 22, 2016
The Hermitage Hotel (Art Deco Bathroom!): Nashville, Tennessee
address: 231 6th Ave N, Nashville, TN 37219
phone: (615) 244-3121
While you might want to stay at the Hermitage in Nashville for its elegance and historic hotel ambiance, Mod Betty's going to send you there to check out their Men's Room instead. Trust me, one look and you'll know why I sent you underground!
Here's a quick glimpse of the 1910 era lobby before you head downstairs. Nice and fancy, am I right? Nothing wrong with that, but it isn't what we're here for. Follow me….
What you want to see is in the lower level – you'll know you're close when you see this plaque:
"By popular request, men and women alike in the Nashville area have asked that we
preserve this Men's Room and restore it back to its original Art Deco luster.
Remodeled and reconfigured in the 1930s,
this room has been the site of several music videos
and numerous legislative deals. The color scheme has encouraged as many
woman as men to steal a look inside."
Steal a look? Once Retro Roadhusband confirmed that the coast was clear, Mod Betty strode right in and started snapping photos. How could she not, check this place out!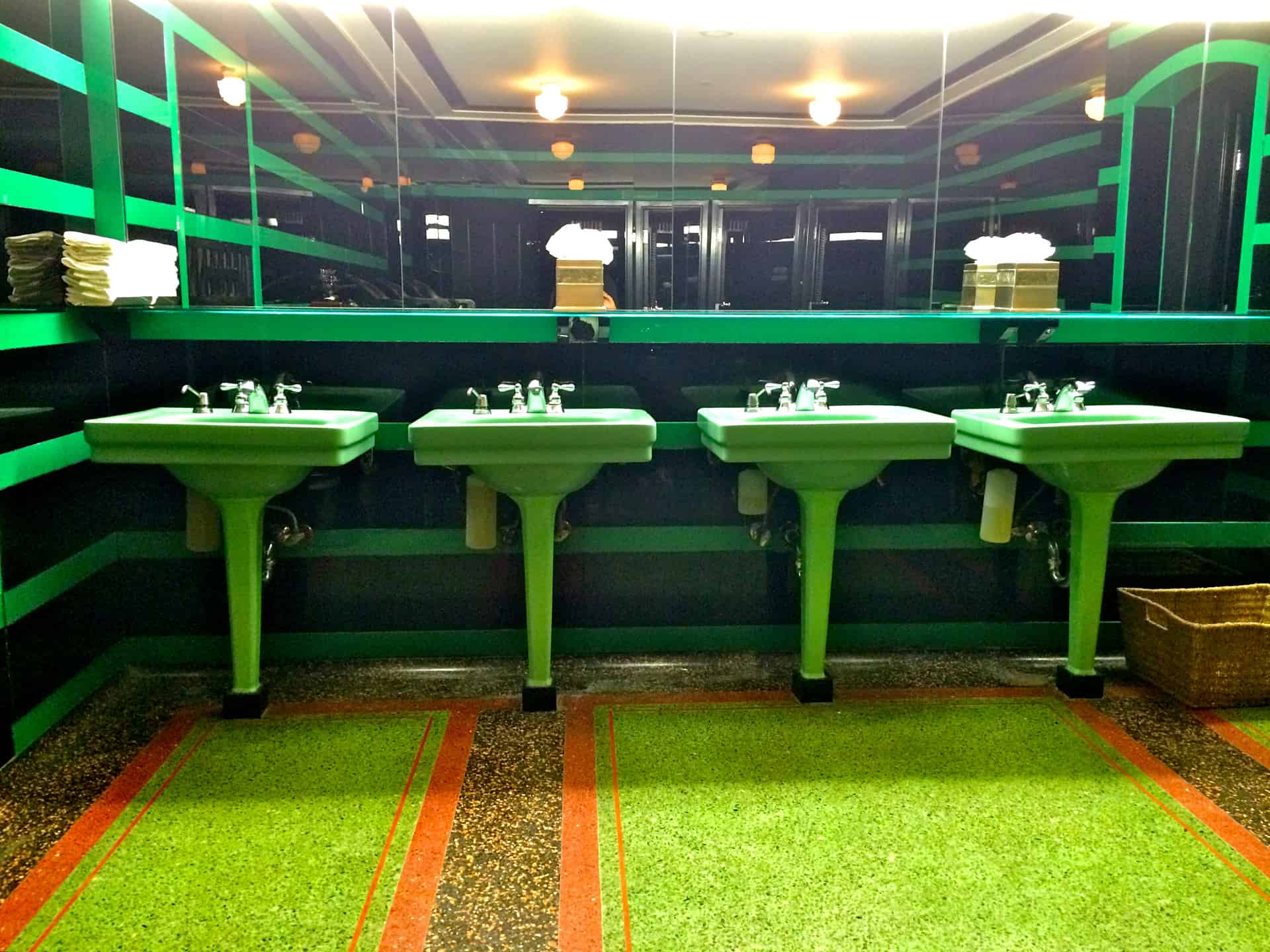 Jade green porcelain footed sinks, terrazzo floors, vitrolite walls and mirrors everywhere – it's an art deco delight for sure!
And I'm only showing you two sides of it. You'll have to go in yourself to see the rest of this rest room 🙂
I was mindful not to overstay my welcome, as I did not want to fluster a gent who might want to use the room for its intended purpose.
Kudos to the Hermitage Hotel for keeping this lovely lav alive!
Nashville Hotel's Fancy Art Deco…Men's Room?!
231 6th Ave N, Nashville, TN 37219