EVENT Ohana Luau at the Lake 2012 Tiki Time in Lake George NY June 21-24 2012
Posted on: June 5, 2012
We won't be able to make it this year but I had to share the fun from my tiki-phile pals at the Fraternal Order of Moai. I am super-psyched to tell you about Ohana, the Luau at the Lake! 
So what is Ohana? Ohana is the "GREATEST, most action filled, fun, value-packed, biggest little event in tiki!"


It's a three day charity event, held at the historical Tiki Resort in idyllic Lake George, NY from June 21st-24th, 2012.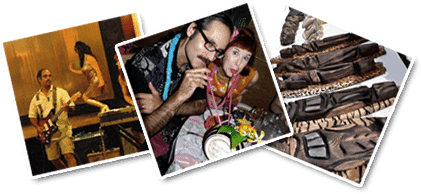 Lake George itself is a wonderful slice of Americana, trapped in time, with weird roadside attractions, old mom & pop themed motels, and more retro architecture than you can shake a stick at! (Here's the Retro Roadmap Writeup about our stay in Lake George!)
So, what should you expect if you decide to go? FUN, friendship, classic cocktails (mixed RIGHT!), live music, DJs, contests, vendors, auctions, prizes, freebies, food and a live Polynesian show!! And that's just the start of it!!
Live Music
Waitiki
Thee Swank Bastards
9th Wave
Bamboo Saxotica
Pablus
Velveteen Lounge Channels Hurricane Hattie
Granite Tiki
Polynesian Luau!
Mini Golf Contest!
Ohana Room Crawl!
Cocktail Contest!
Tiki Carvers, Artists, and Vendors!
Free Goodies and much, much more!
 READ ALL THE DETAILS HERE at the official Ohana Website. Lotsa cool stuffs!
Dont miss this opportunity to spend a weekend at this classic 50's era Polynesian-themed motor inn.
(and get YOUR photo op, like Retro Roadhusband did!)
From the exotic vaulted lobby with its vintage lobby bar, to the Waikiki Supper Club to the grounds and pool decorated with faux palms and vintage tikis, you'll be transported in time. Throw in hundreds of your friends, music, food, cocktails and more, and this weekend adds up to be your best weekend in 2012!
EVENT Ohana Luau at the Lake 2012
2 Canada Street, Lake George, NY 12845