R. Weinrich German Bakery – A Newtown Square Sweet Spot Since 1961 Family Owned and Operated!
Posted on: February 4, 2017
address: 3545 West Chester Pike, Newtown Square, PA 19073
phone: (610) 356-9918
Note: Closed Mondays
I didn't realize how rare it was to find a good old-fashioned bakery until I actually began looking for one. While independent bakeries are a rarity themselves, finding one that makes you feel like you've stepped back into your childhood is even more of a challenge.
Until you step into R. Weinrich's German Bakery in Newtown Square, PA that is!

This bakery was opened in 1961 by Robert Weinrich, who has sadly passed away. However the bakery is still bustling, in the capable hands of his wife Marlene "Mrs. Weinrich" and their daughter Cynthia.
Baking has run in the Weinrich family for over 100 years. Originally from Germany, they came to Philadelphia and opened a bakery in South Philly in the 1880s. Another branch of the family opened up a Weinrich's Bakery in Willow Grove, famous in my mind for their fab sign.

I was lucky enough to be able to chat with the both of the Weinrich women during our short visit, and learned of many of the family recipes they use and old style traditional baked goods that they make (using only high quality ingredients, of course!)

I initially inquired about Fastnachts (triangle donut-like treats eaten just before Lent) which they do make, but they also make custom cakes, cookies, pies, breads, donuts, tarts and even Bavarian pretzels. Those are lighter than your standard Philly soft pretzel and a nice salty counterpoint to all the sweets.
One unusual item I spied in the case I was completely intrigued with is their "Triangle Cake". Made in a special triangle shaped mold, it is vanilla cake, covered with fudge frosting and vanilla cream. We can't wait for an excuse to bring one of these as a dinner party dessert.
Speaking of chocolate fudge frosting, Retro Roadhusband became positively territorial when we attempted to split the fudge frosted brownie we had in our box of assorted treats. It was so good! The brownie was rich and dark, and the fudge frosting took it to the next level.
I had hoped to show you another confection we tried called a "Lady Locks" but all you would see now is a box full of crumbs. They are their own family recipe of pastry, swirled to create a cone shape with a hole in the middle, then that hole is filled with cream filling, like a cream horn. Delish!
It is good for my waistline that Weinrich's isn't any closer to us mile-wise, but something tells me I'm going to be finding all sorts of excuses to head to Newtown Square and pick up a treat. They're right on Route 3 (West Chester Pike) so they're easy for you to get to, too!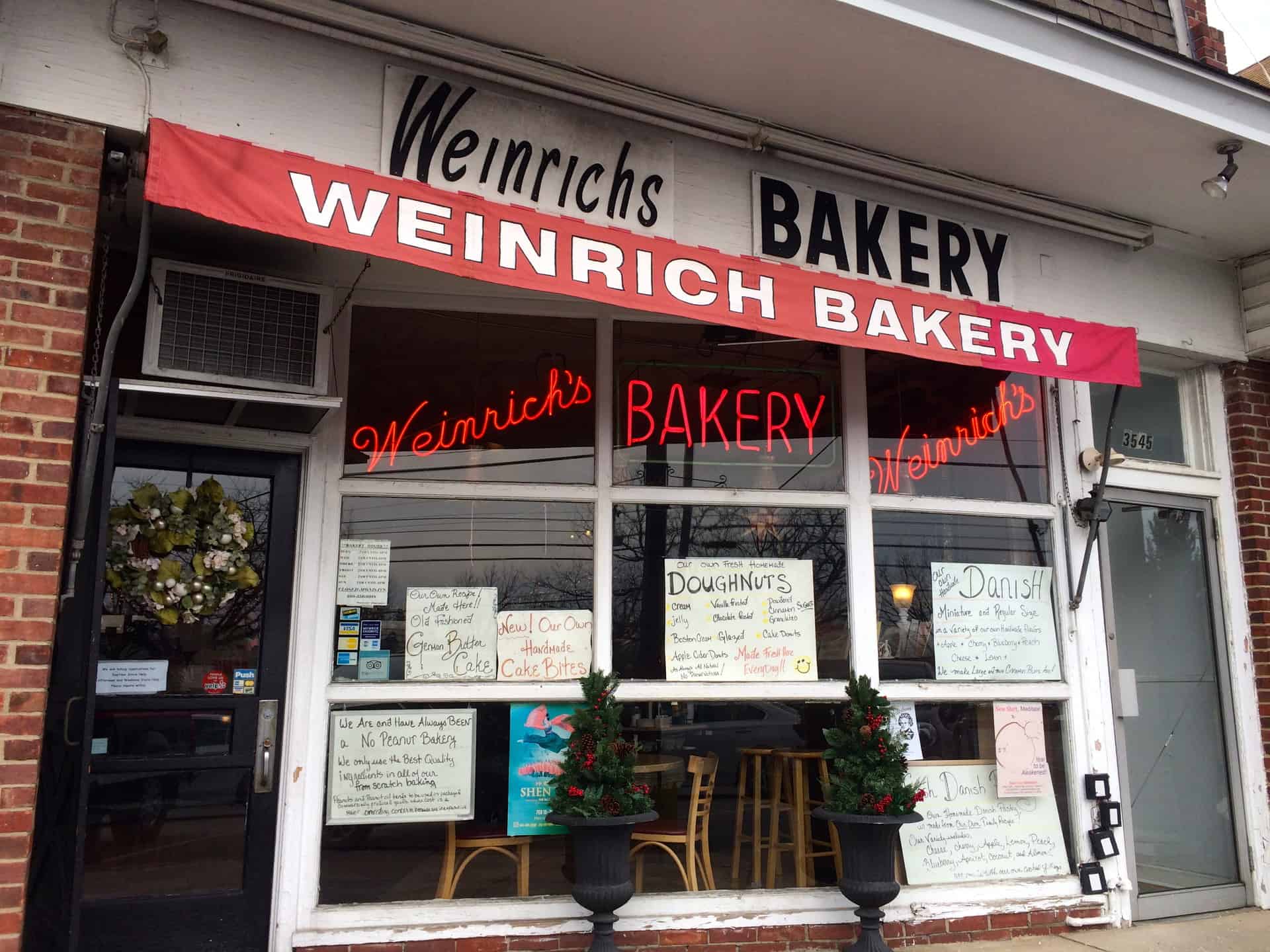 R. Weinrich German Bakery – A Newtown Square Sweet Spot Since 1961
3545 West Chester Pike, Newtown Square, PA 19073