Rod's Grill – Route 66 in Arcadia, CA – 60 Year Anniversary! A Retro Roadmap Reader Recommendation!
Posted on: March 30, 2017
address: 41 W Huntington Dr, Arcadia, CA 91007
phone: (626) 447-7515
Thought it played one on TV – posing as Howard Johnson's restaurant (on the interior at least) on AMC's Mad Men (see photos here), Rod's Grill has never been an orange roofed eatery except on the telly. But it doesn't need that type of fame to draw Retro Roadmappers in, because heck, just look at that authentic vintage interior!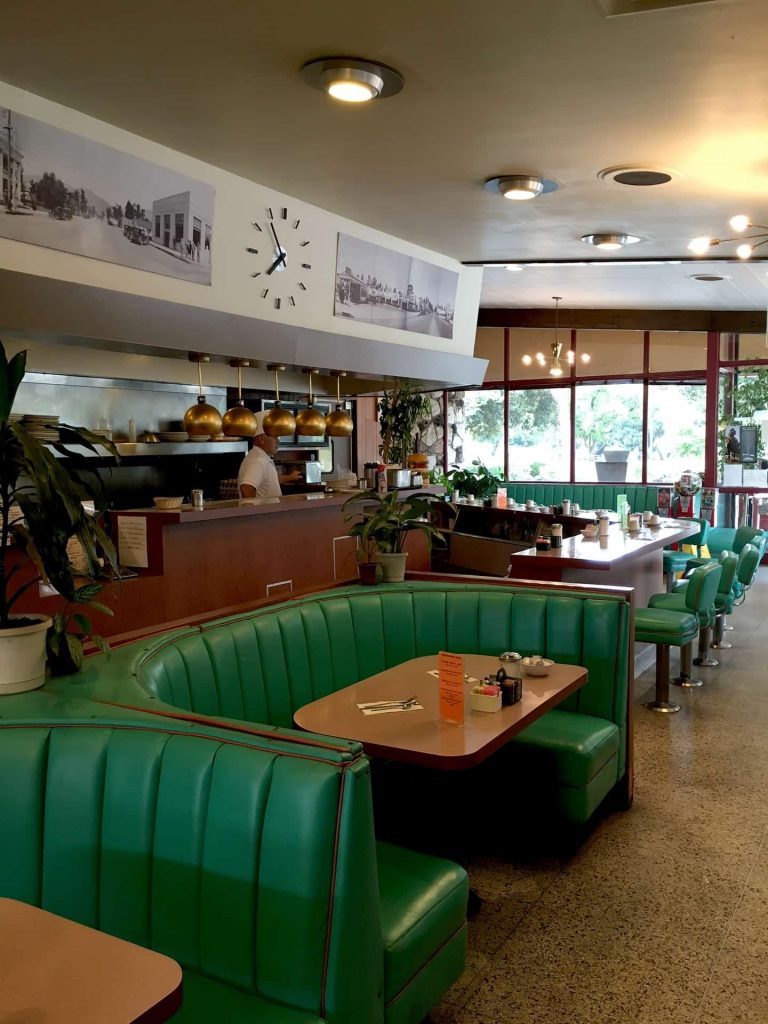 Retro Roadmap reader Natalie G. visited Rod's and shared her photos she snapped of this Route 66 eatery. 
Natalie writes:
Open since 1957, it's like going back in time where turquoise booth are everything.
If you visit, order crepes if they're on special. The day I visited there were several different varieties. It's worth a visit if only to sit in the booth and drink a cup of coffee out of the speckled diner coffee cups.
Now, Mod Betty can only live vicariously through this visit, but already just from these photos she's swooning. Those turquoise booths are indeed to-die-for, but check out the glamorous golden sputnik lamps dangling from that angled ceiling.
Check out the uber-cute stylized chef gracing their menu – which hasn't changed much since they opened, much to the delight of the regulars who dig the guacamole burger and their famous sour cream salad dressing. (Click here to see some photos of their food, on their Yelp page.)
The thing that often gets Mod B the most, right in the middle of the chest, is the fact that a place like this has survived for so long, with so much of its marvelous mid-century in-terior in-tact!
This isn't some Hollywood recreation, this is the real deal.
And knowing how places feel pressured to keep up with the times and chuck the old stuff, we should thank the owners for resisting the urge for a face-lift.
If you head on over to the Rod's Grill Facebook Page you'll see some great vintage photos of Rod's under construction in 1956 and learn a little bit of the history of the restaurant.
This was a small regional chain started by Rod Wellman with the first location opening in Alhambra in 1946. This Arcadia location was Rod's #4 and the first one with a dining room, according to Rod's sons Barrie and Brian Wellman, who ran this location for 10 years.
Rod's Grill Restaurant Locations
(as listed on Rod's Grill Facebook Page)
The first Rod's opened in 1946 in Alhambra on Valley Blvd, just west of Atlantic. It had a western theme with wagon wheel chandeliers and was all counter seating. It was later remodeled and three booths were added.
Pico Rivera 1955
Montebello approx 1956. Located at Beverly and Garfield.
Arcadia – January 1957
East Los Angeles – 1959. Only lasted one year because property was condemned under eminent domain for the 60 freeway
El Monte – 1962. Located on Valley, just west of Baldwin.
Rod's junior, a walk up burger stand, was also in El Monte just down the street from the restaurant.
You KNOW Mod Betty is going to visit Rod's next time she's in California. Thanks Natalie for the reminder!
Rod's Grill – Route 66 in Arcadia, CA – 60 Year Anniversary!
41 W Huntington Dr, Arcadia, CA 91007