The Route 30 Diner – Ronks PA Retro Roadmap Revisit 2017
Posted on: October 4, 2009
address: 2575 Lincoln Hwy E Ronks, PA 17572
phone: (717) 397-2507
note: cash only, ATM on site
2017 Update:
Well it's obviously been a while since I ventured into this roadside icon, as I was recently made aware that it has been known as the Route 30 Diner for years. My bad!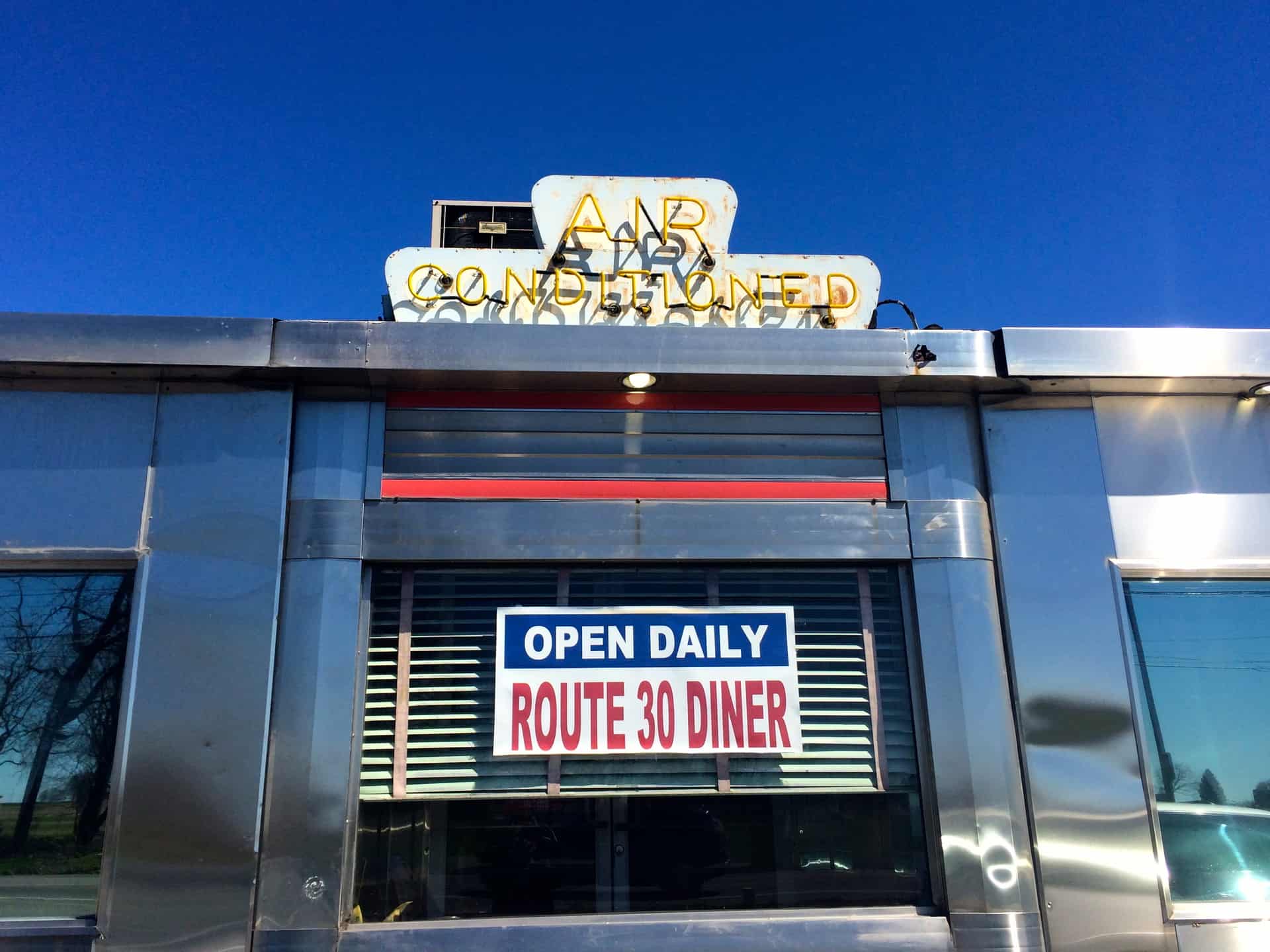 Hence the updating of this post title and other info. However it's still a sweet little place for a meal or a slice of pie!
Cash only but ATM on site
Original 2009 Post:
Road scholar and all around good guy Larry Cultrera of Diner Hotline polled his Facebook pals this week asking where he should go for breakfast. If Larry lived in my neck of the woods I would have directed him to Jennie's diner, a classic vintage stainless steel beauty in Ronks PA, just outside of Lancaster. And with the less than satisfying oatmeal and soft-boiled egg turned hard that I just made for my breakfast this sunny Sunday, I should probably drive out there myself!
Built in the 1950's (either 1952 or 1959 depending on the source)  the diner is a well preserved Silk City built diner, with a new stainless steel vestibule recently added for folks waiting for a seat.  The shiny diner is nestled right next to a farm on the historic Lincoln Highway, and it would not be unusual to spot some Amish folks passing the diner in their black buggies.
The diner is open 24 hours and specializes in Pennyslvania Dutch cooking. The first time I ate at Jennie's was a very late night "after gig" meal with RetroRoadhusband, where I was introduced to that Penn Dutch "delicacy" known as Scrapple. As my story goes, he ordered it, and soon after the waitress put a plate on the counter with what to me looked like a burned kitchen sponge laying on it. That was RRH's Scrapple, and while he was delighted to see it arrive, I was pretty much scarred for life.
My recent visit to Jennie's was between the the more civilized lunch and dinner hours, what some would refer to as the Early Bird Special time of day. The diner was nicely filled with couples and groups sitting in the vintage diner booths and there was a handful of chatting gentlemen sitting on the stools at the counter.
I was told to sit anywhere I like by and I opted for the corner booth. I always try to sit in the corner booth if I can, since it gives a good view of the entire diner. And as I also always say, cowboys always sat in the corner so no one could shoot 'em in the back! You're more likely to perish at Jennie's from trying to finish the generous portions of  tasty food that comes with your meal, so no need to worry about cowboys.
I opted to order one of my longtime faves, chicken croquettes and not only did they come with mashed potatoes and gravy, but also one vegetable AND salad. Curious to try a local dish, I requested the lettuce with hot bacon dressing as my salad, and when it arrived with tons of dressing, crumbled bacon and bits of hard boiled egg, I knew that this was local, and not lo-cal!
My 2 giant croquettes arrived atop a mound of potatoes, covered with gravy and my side of cucumber salad. And I got a basket of rolls and butter while I was waiting too. Generous portions to say the least, and I did my best to sample all and finish the tasty croquettes. Food coma anyone?
The curved roof of the diner is bordered with framed photos of men and women in the military. When I questioned my friendly waiter he said that they were either customers of Jennie's, friends, relatives of customers or local folks. When these folks come back from "over there" or wherever they are, they will be given a free meal at the diner.  I was touched by this gesture of support and hope that everyone comes home safe and sound.
While I was leaving the diner I realized that the "artiste" in me always wants to get a photograph of the diner by itself, with no cars in the way. Then I realized that would be almost impossible with the bustling 24 hour/ 7 day a week activity at Jennie's, so I snapped this happy busy scene. As famous diner painter John Baeder once said, the cars looked like baby piggies nestled up to the big mom pig for a meal. These little piggies certainly will get their fill eating at Jennie's Diner!
The Route 30 Diner – Ronks PA
2575 Lincoln Hwy E Ronks, PA 17572