The Hungry A – Burgerama! in Springfield PA Family owned and operated since 1964
Posted on: February 9, 2017
address: 755 W Sproul Rd, Springfield, PA 19064
phone: (610) 543-9720
note: Closed Sundays / Cash Only
Mod Betty has a new fave sandwich, courtesy of a new Retro Roadmap-worthy spot –
The Hungry A in Springfield, PA.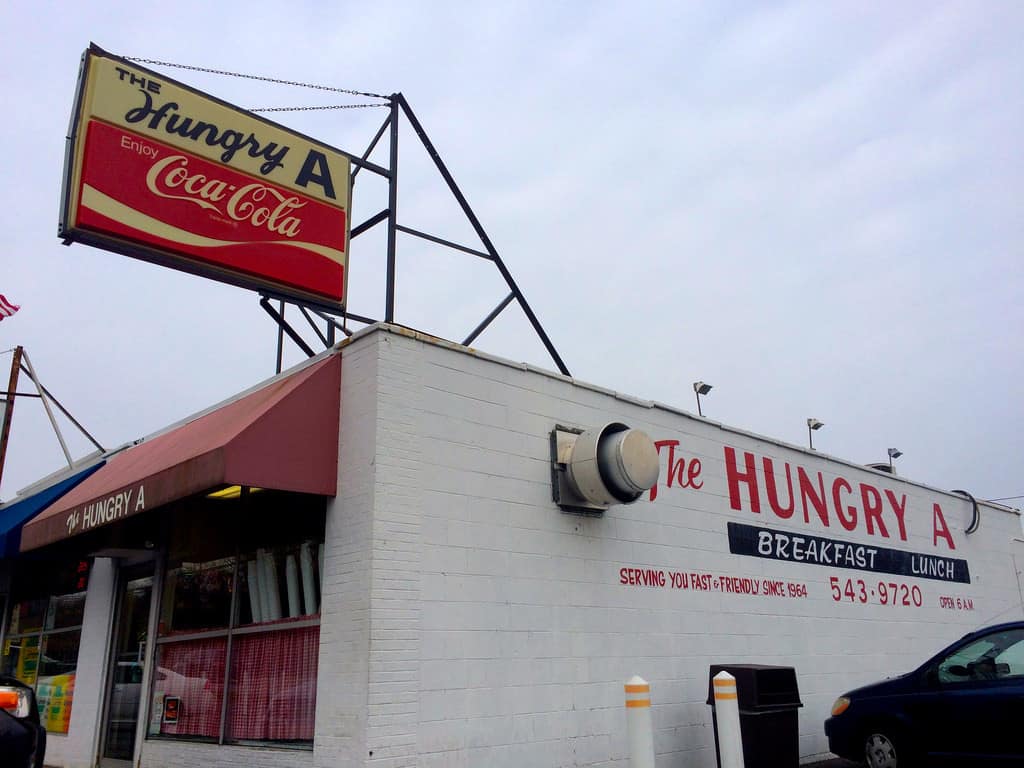 Her leopardskin pillbox hat is tipped to fellow diner Bob, who recommended I change my original order. I did, and now I'm hooked!
Even the name is awesome:  Burgerama
Instead of a standard cheeseburger (my original order) the Burgerama has the ground beef chopped up on the grill, covered with cheese and served on an Amoroso's long roll. I added lettuce, tomato and mayo, a little ketchup and voila, one of the most simple and yet tasty sandwiches I have had in the longest time. I was excited to bring home leftovers to savor anew once my food coma from the first half wore off!
The Hungry A (the origin of the name is a mystery) was opened in 1964 by Anthony and Olga Coletta, and is now run by their son Bruce and his wife Mickey. They'll greet you when you first come in, and if you have never been there before you'll get a quick rundown of their menu.
Order at the counter, find a seat at the communal table "under the big top"  or at one of the side counters, amidst the hodgepodge of Tastykakes and rolls. When your food is ready they will bring it to you.
While you're waiting for your food you'll have time to peruse the collection of vintage paper items originally collected and displayed by Bruce's dad. Each one of them is an actual antique – no reproductions here! OK, well there is one – but I'll leave it to Bruce to tell you which one it is 🙂
They are open for breakfast and lunch and please note that they turn off the grill an hour before closing, so plan ahead if you want a Burgerama. You can still get cold hoagies or sandwiches if you get there late. There's no fryer for fries, but you can grab a bag of chips.
If you look closely you'll see an authentic Hamilton Beach shake mixer behind the counter, if you want a milkshake. Speaking of the counter, this is where you'll settle up (cash only, please) on your way out the door.
A friendly spot that locals have known about for eons we quickly felt right at home chatting with Bruce, Mickey and other Hungry A'ers, and can't wait to go back. Burgerama for the win!
The Hungry A – Burgerama! in Springfield PA
755 W Sproul Rd, Springfield, PA 19064