Tupperware World Headquarters – Kissimmee / Orlando FL – I'm CONFIDENT You'll Enjoy Your Visit! Orlando, FL
Posted on: February 9, 2012
If you're driving down the Orange Blossom Trail (aka Route 17 / 92) just south of Orlando proper and see this Fountain of Friendship you know you've reached the Tupperware Brands World Headquarters. Who'da thunk?
(You will see this motif recurring in the Tupperware Brands Logo and throughout your visit – kinda reminds me of a dandilion that you blow on for good luck!)
While I was lucky enough to be accompanied by fellow Retro Roadblogger Rick Kilby of Visual Ephemera and his Tupperware insider pal Victor, you don't actually need to have "connections"  in order to visit what I was calling the Tupperware Museum, but what they refer to as the Confidence Center. Open for visitors weekdays 10-4, you can step inside for FREE and learn some of the history of this mid-century kitchen classic!
Now, for those of you who are not familiar with the story of this iconic brand, Rick Kilby's  Vintage Ephemera beat is the history of the cool old retro and vintage places in Florida, so you can click here to read his take on the history of Tupperware. (He's got some great vintage Tupperware photos in there as well!)
And there's also this introduction to the American Experiences program about Tupperware debuting in just a few days!
Watch Tupperware! Chapter 1 on PBS. See more from American Experience.
"This funny, probing program re-examines assumptions about American culture in the 1950s." And is totally on my list of programs to check out – Valentines Day or not!
Now, you may be asking – Why Confidence Center, and not Tupperware Museum or Heritage Center? Well, according to a Press Release about the Chain of Confidence:
Educating, empowering and inspiring women has been part of the Tupperware Brands philosophy since the very first Tupperware Party was held in 1948. During a time when women were not readily welcomed into the traditional workforce, Tupperware's direct-selling technique gave women confidence and financial independence.
Now that you're up to speed with all things Tupperware, why not join me in the 1960s inspired waiting area just near the reception desk where you check in? I was surprised by how MOD it looked, but this was just a taste of what we'd see once we entered the Confidence Center.
(For those keeping score, this is Warren Platner furniture by Knoll, designed in 1966. I almost had the name on the tip of my tongue when we visited- I knew it began with a P, thought it was Pierre Paulin, and we laughed when I confirmed it wasn't Paul Lynde!) 
In reading some of the history of the company I realized that we're so accustomed nowadays to having serveware and kitchen storage that is light, unbreakable and air-tight, but back in the late 1940s this was a revolutionary idea. Back then  folks would use crockery and glass to store their leftovers in.
Tupper's first foray into this modern concept was the Wonderlier bowl, shown below. Did you know the famous airtight Tupperware seal was inspired by the seal on a paint can, but inverted? As the Johnny Carson voice in my head says, " I did not know that!"

While there are many flashbacks to the Tupperware of yore, the Confidence Center is also a foray into the future (with a certain 1970's vibe) with its bright colors, shiny white surfaces and oversized touchscreens. It's like a museum on the moon!

This is one of my favorite vintage pieces (and Victor's too) displayed under the domes: A vintage Tupperware tumbler set, complete with metal carrying rack. And look! In the middle, it's Tuppy The Seal with a ball on his nose! Whimsical AND Functional – I'm swooning.
(And I bet a lot of the Tupperware collectors who have posted their vintage Tupperware collections on Flickr would be equally as smitten with this set!)
Speaking of the modern take on Tupperware in the Confidence Center, there are all sorts of touch screens and gadgets to play with while you're visiting: Here for example you can sit and learn about the other brands under the Tupperware umbrella.
And even Retro Roadhusband enjoyed looking at the displays of vintage and contemporary Tupperware – we both recognized toys we had as kids that we didn't realize came from Tupperware!

Here was one of my highlights – getting a Tiny Treasure souvenir! Miniaturized Tupperware products on keychains (and now I want to collect 'em all and trade with my friends!)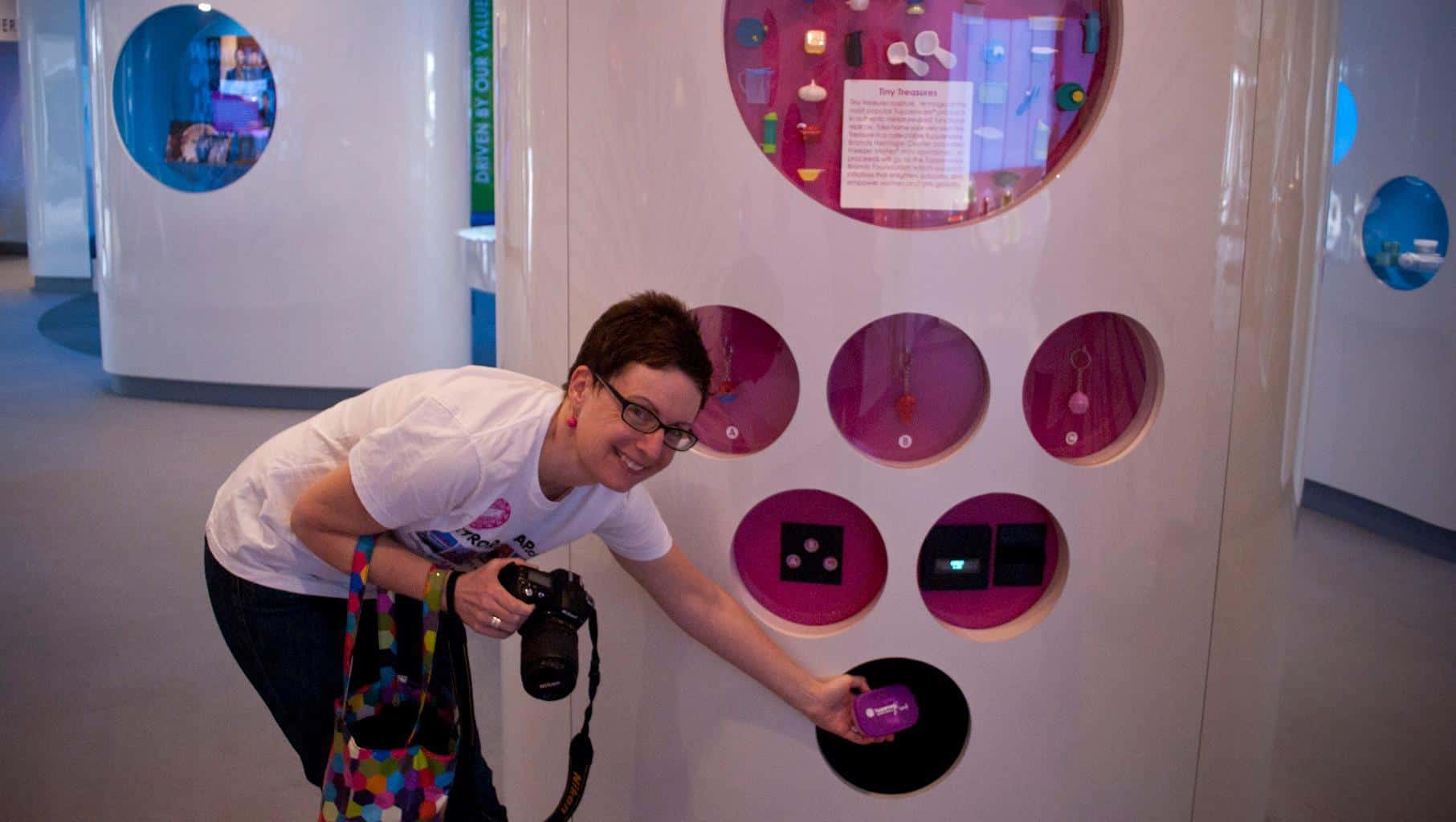 The proceeds from the Tiny Treasures go to the Tupperware Brand Foundation "Which supports initiatives that enlighten, educate and empower women and girls globally." Good stuff.
If you want to find out more about the Tupperware Brand representatives in your area, you can just touch their photo on the giant screen and their bio will appear!

Both Rick and I could not resist checking out the Photolier –  You select a Tupperware backdrop of your choosing, pose for a photo, the email the photo immediately to someone!


Here's our pal Rick sending his visage as a missive!


What educational visit anywhere would be complete without a visit to the gift shop – or Tupperware Gallery, if you prefer:

Am wondering why I didn't buy a gelatin mold – I think Kelly at The Velveteen Lounge Kitsch-en would dig the mini ones!
So while you may be tempted to go spend the day with a Mouse or on a Movie Set, if you're a fan of vintage kitchenware and American history, you must check out the Tupperware Confidence Center. I'm CONFIDENT you'll enjoy your visit. (and it doesn't take all day to visit, so you still can go other places…like Gatorland, just down the road!)
UPDATE: Just thought I'd share that I got a Classique d' Camembert award from the Allee Willis Museum of Kitsch for my post over there on this fine place – great minds know quality!
Tupperware World Headquarters – Kissimmee / Orlando FL – I'm CONFIDENT You'll Enjoy Your Visit!
14901 S Orange Blossom Trl Orlando / Kissimmee, FL 32837-6600