Waltz Golf Farm Limerick PA – Good Old Fashioned Miniature Golf Limerick, PA family owned mini-golf
Posted on: May 20, 2010
Address: 303 West Ridge Pike Limerick, PA 19468
Phone: (610) 489-9922
2017 Update:
Happy to report that Waltz Golf Farm Course is as adorbs as ever! And they serve Mod B's fave ice cream (Nelson's) so even if you don't want to hit the links, you can stop by here for a sweet treat.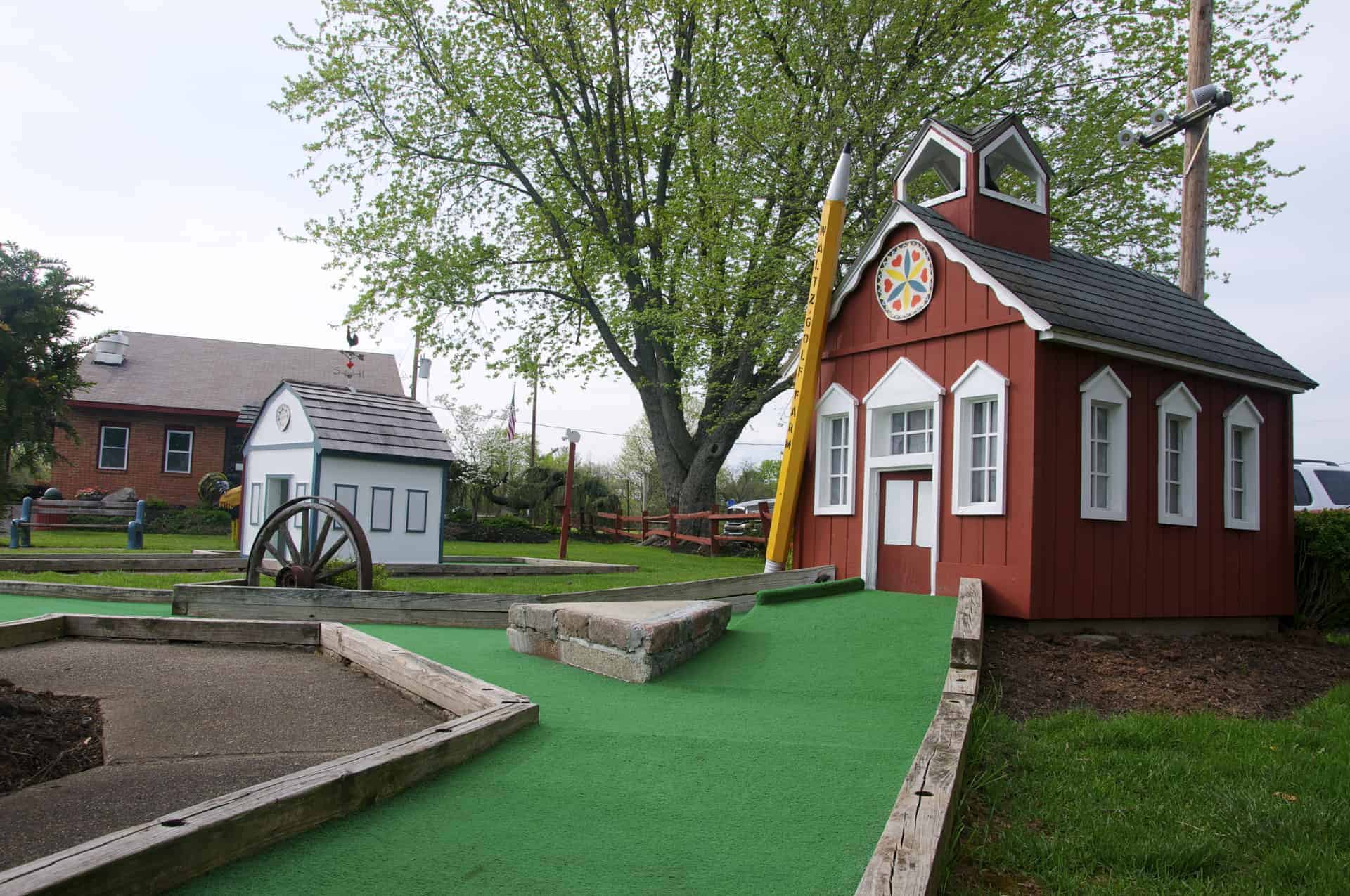 Original 2010 Post
As a final installment of "Oh The Fun We Had" with the Retro Roadkids, I bring you vintage miniature golf fun courtesy of Waltz Golf Farm in Limerick PA. A swell family destination that has grown to include 2 miniature golf courses, par 3, batting cages a snack bar and more,  my favorite part of it is their original mini golf course known as the Farm course. Wilkum!
In 1964 the Waltz family converted their corn farm into a golf center and the Farm course has all the quaint things you'd expect from old timey miniature golf. There's a bridge, a wishing well, a school house with doors that open and close, and more. Note, there's no windmill, but the wheelbarrow tips!
Though some folks may prefer the more modern Castle mini golf with its waterfalls and castle, I'm happy to see that Waltz still keeps its original old fashioned charm with touches like the stone Pennsylvania farm house, and the hex sign on the barn.
I think the best thing about the old fashioned courses versus the more "challenging" modern ones is that the old ones  bring us the results we really come here for – a RetroRoadkid THRILLED with his Hole In One!

("Mumma I got a Hole In One!")
Alas, the snack bar, built in 1972 no longer carries the Broasted chicken that the backlit Pepsi sign on the roadside touts, but luckily we have Speck's and the Hilltop to fill that void. And on the local food tip, they DO serve Nelson's brand ice cream, made right down the street in Royersdford (Mod B's fave local ice cream) so you can celebrate your mini-golf victories with a sweet treat!
Waltz Golf Farm Limerick PA – Good Old Fashioned Miniature Golf
303 West Ridge Pike Limerick, PA 19468