Yacht Club Soda Tonic Seltzer Pop – whateveryouwannacallit Rocks Centredale, RI
Posted on: June 8, 2012
OK people, it's gearing up to finally be a warm, dare I say hot summer weekend, and what better to cool you off Retro Roadmap style, than vintage soda and seltzers, made since 1915 by a family owned and operated business. Cool, right?
Well if you're lucky to live near little old Rhode Island, you're also lucky enough to be within distance of Yacht Club Sodas, and their company store, located in Centreville RI. Even if you're just driving through Little Rhody, it's a must stop!
(I could make some joke about Retro Roadhusband referring to me as an "ice cold single" when we were dating, but I'll leave that for Fozzie Bear –  wokka wokka!) 
Retro Roadsis and I pulled the Retro Roadmobile into their parking as soon as we saw this sign. I mean who were we to resist the pointing hand and Call To Action of Enter Here? We were powerless!
For such a small state Rhode Island certainly has a lot of official beverages! I know of Coffee Milks (which we had down the street, and I'll elaborate on in another post) and Del's Frozen Lemonade (the Philly area person in me literally just typed Water Ice, as they call it here, whoops!) but Yacht Club is The Official Soda and Water Company of Rhode Island, and for good reason.
Here are a few of the reasons I have been digging Yacht Club soda recently – besides the wicked nice and friendly customer service I've been getting from this great Family Owned and Operated business (Thanks Lisa!)
Yacht Club uses only glass bottles for their drinks, and they encourage you to return the bottles to them so they can be sterilized and used again, the best type of recycling!
28oz glass bottles aren't even being produced anymore, so there is a deposit charged on those. So if you're tempted to hold onto one of their precious 28oz glass bottles for your collection of ephemera (like I was) – don't do it! Return the bottle so they can keep using this cool vintage size.
(Mod Betty, tempted to keep a big bottle for herself. Level heads prevailed however, I promise!)
All of their drinks are made with natural artesian water, from an artesian well drilled through the bedrock 180ft below the building, in 1923. This natural mineral water is at the right temperature to allow carbonation without using cooling towers or added salt.
All of their syrups are made on-site, with pure cane sugar (no HFCS!) And they also carry sugar free and low cal versions of some of their flavors.
And what flavors they have! I'm all about the unusual-or-old-fashioned-but-not-too-exotic flavors they carry like Birch Beer, Cream Soda, Ginger Beer, Pineapple, Sarsaparilla, Yacht Up, Grape, Strawberry and a whole lot more.
I've already distributed a few bottles of their Quinine Tonic Water and Ginger beer to my cocktail making pals, and have found out myself that they make great mixers after a hot day in the sun.
(Or watching someone out in the sun – like Retro Roadhusband cutting the grass for our 94 year old neighbor!)
And there are some neat new things going on with this almost-100 year old brand to propel them into the 21st century in style, as I learned from their Facebook Page.
They've been working with some students from RISD to revamp some of the labels with each new label's backdrop featuring a painting by another RISD student, representing different Rhode Island landmarks.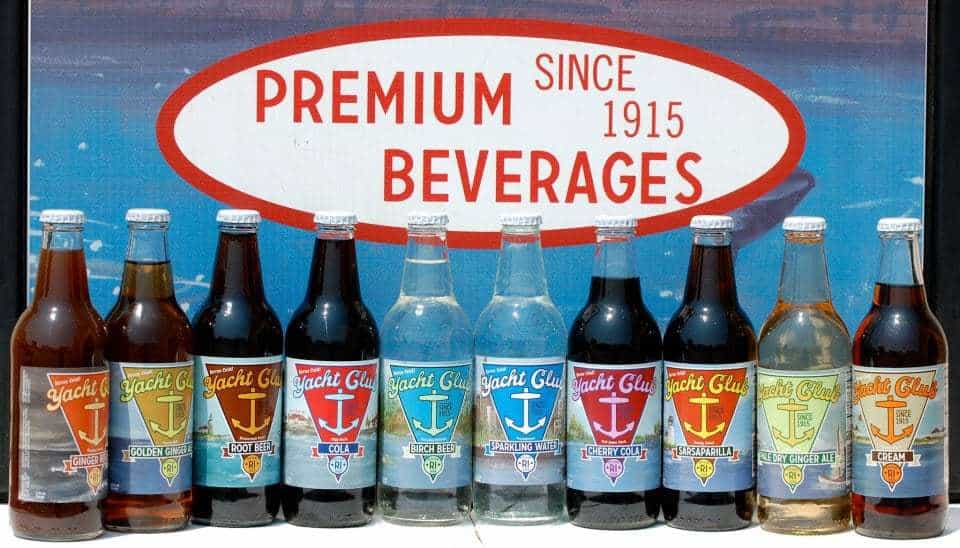 AND they have their own Cocktail Guru who is introducing their sodas to local bars for mixed drinks, and creates a signature cockail using their beverages.
Their sodas are carried at local mom & pops, but the fun way to try all of their flavors is to visit the company store like we did. Open every day at 8am except Sundays and holidays, if you call ahead you can arrange for a tour.
While you can buy the aforementioned Ice Cold Singles, the best way to experience the fun of Yacht Club is to buy yourself an entire case – like we did!
Rememer – there are neat old places, and businesses and products too, for you to live the total Retro Roadmap lifestyle –  It's the cool thing to do!

Yacht Club Soda Tonic Seltzer Pop – whateveryouwannacallit
2239 Mineral Spring Ave North Providence, RI 02911