I am thrilled to report that two of the places I wrote back in the day about for my Bystander Unchained column are still going strong! First up we have the vintage costume jewelry and accessories mecca, The Millsboro Bazaar in Millsboro Delaware.
I was in luck today when owner Dave Mayer was behind the counter and I was able to catch up with him to see if anything had changed since the last time I wrote about his emporium of vintage housewares, vintage clothing and vintage jewelry. Now celebrating his 20th year in this location, business is just swell, which was heartening to hear, with this economic climate.
Here's what I wrote about the Millsboro Bazaar back in June of 2003:
The jewel in the crown of the Millsboro DE Main Street antiques selection is the Millsboro Bazaar, especially if your favorite jewel is a big glittery rhinestone. Owned and operated for over 14 years by sole proprietor Dave Mayer, the Bazaar is home to what could easily be the largest selection of costume jewelry on the East Coast. Dave confides in us that he probably has as much in storage as he does on display- which is mind boggling as you begin to examine case after case of baubles, brooches and bright shiny bangles.
If you like to adorn your abode as well as your bod this is the place to go for mid-century (20th, of course) dish'n'glassware, furniture, lamps and ephemera. Don't forget to check out the bargain basement and as-is room too! Everything in the place is neat and attractively arranged, making it easy to furnish your retro beachside bungalow in one visit.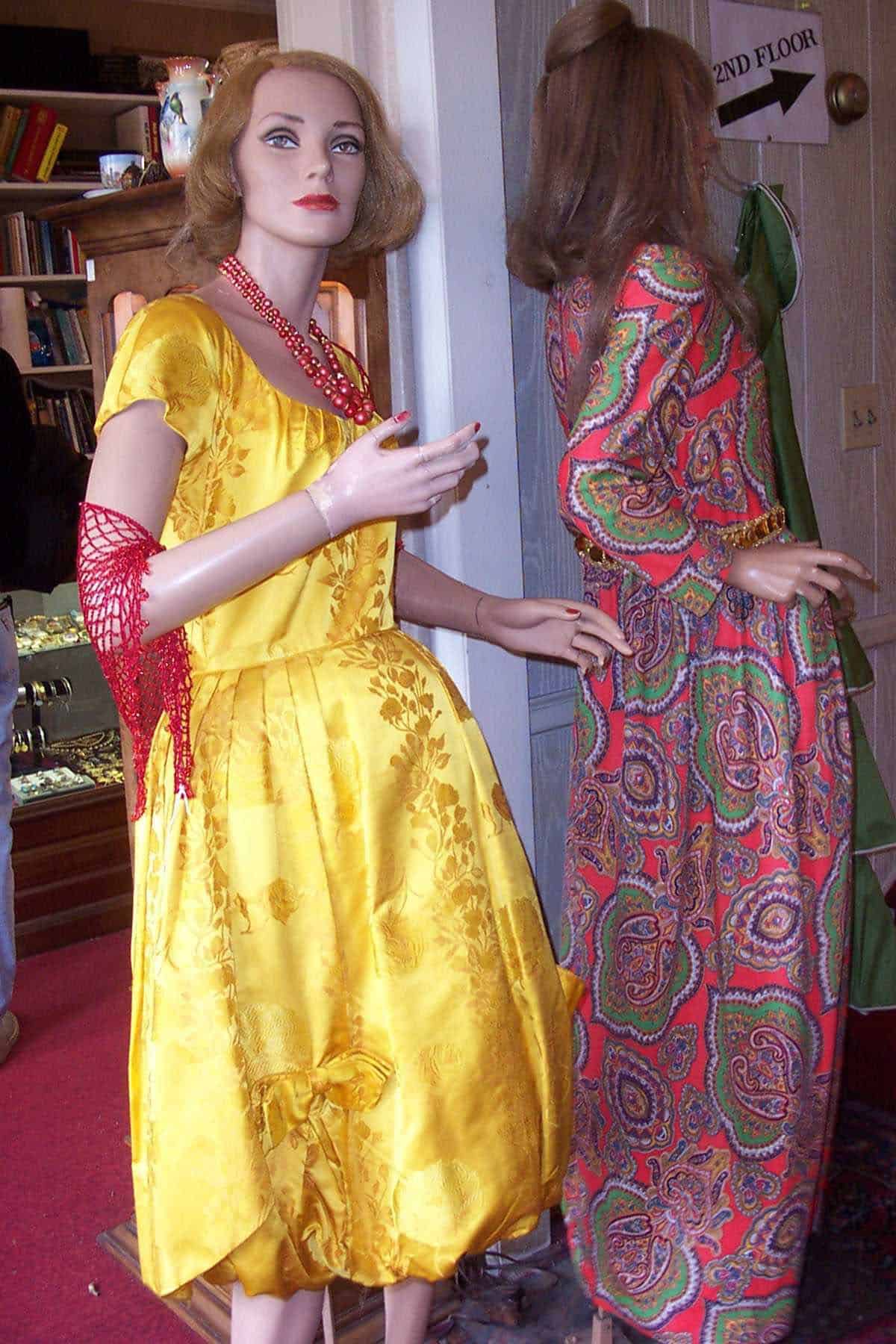 Speaking of your mod bod, head up to the second level and you will find vintage clothing at every turn. The ceiling almost totally obscured by colorful hats, there are rooms filled with clothes for guys and gals. Whether you are Twiggy skinny or broad where a broad should be broad, there is bound to be something here from the era when your body type was in vogue. Find something to flatter your figure!
There always seems to be a sale of sorts going on at the Bazaar, so it is easy to coordinate an ensemble from hat to shoe without emptying out your vintage purse. Also you can rest assured that you will not see someone wearing togs like yours when you are out and about- can't guarantee that at the mall.