November 2022: So so sad to report that Colonial Donuts has closed permanently. waah! 🙁
https://www.facebook.com/photo?fbid=521260483373105&set=a.299923148840174
2020 Update: STILL ONE OF MOD BETTY's FAVE DONUT SHOPS IN MASS EVER!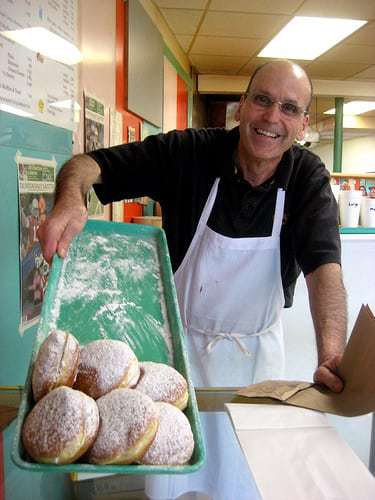 Original 2009 Post:
You would never know from looking at the unassuming mansard roofed shop, but the Colonial Donut Shop in downtown Taunton Mass is a Retro Roadmap gem, serving up donuts and camaraderie since 1954.
Because it is somewhat near my sister's house it seemed like the right place to begin "Auntie Beth And All The Retro Roadkids (with a dad and uncle thrown in for good measure) Day Of Fun".
As we gathered at the front of the building I noticed that the counter inside was pretty packed, but when we invaded the place like the chaotic herd we were, the swell folks who worked there kindly got us some seats together at the counter towards the back. This was probably a good place for us all to be, as the Retro Roadkids were in high gear and that was before the sugary donuts!
The interior of Colonial Donuts (or Do-Nuts as the sign says) is a riot of striped walls, scalloped edging and colorful swivel counter stools. The counter weaves its way around the entirety of the shop, with seating for at least 25 I'd say. The place was pleasantly full of locals and regulars, all chatting and kidding with each other. As soon as we all sat down we were part of the friendly mix, and the older folks were charmed by the RRKids.
When we were there just past 10am one of the gentlemen at the counter said they had been slammed since 5:30 in the morning, which I took to be a good sign. I've read online that the store is owned by a pair of brothers, so I'm thinking this was one of them. I am thinking this handsome gent below is another of them:
Both Retro RoadGirls wanted powdered sugar donuts, but I didn't see any in the case. One of the really nice ladies behind the counter- heck everyone here was nice- went in back and shook plenty of white powdery sugar over some freshly made donuts. Totally delicious!
I agree with one of the RRGirls that the best part about their donuts is that they were crispy on the outside but soft and fluffy on the inside. That bit of a crust was a tasty treat, and I was proud when she declared her donut to be better than one from DD. The boys got chocolate cake donuts and those were a hit as well.
I'm not the only one smitten with Colonial Donuts, as the shop was given a Citation by the City of Taunton, signed by the mayor on their 50th year in business.
It reads:
Be it known that the City of Taunton extends its congratulations to Colonial Do-Nut Shop, In Recognition Of Fifty Years of Delicious Donuts, Coffee and Good Cheer. Thank you for your generosity to our community. May you have many more years of continued success.
Amen to that!
I was amazed when I looked online for more info about this great shop that I couldn't find a thing. Let's hope that this entry to Retro Roadmap remedies this and people everywhere can learn what a great little shop this is!