---
2019 Update: Sad to report that Bayard's has closed. This photo on Google shows this once fine shop empty and sad. 🙁
2018 UPDATE:
Luckily not much has changed at Bayard's! While the yellow paint could use a good scrape, much remains the same, to our benefit.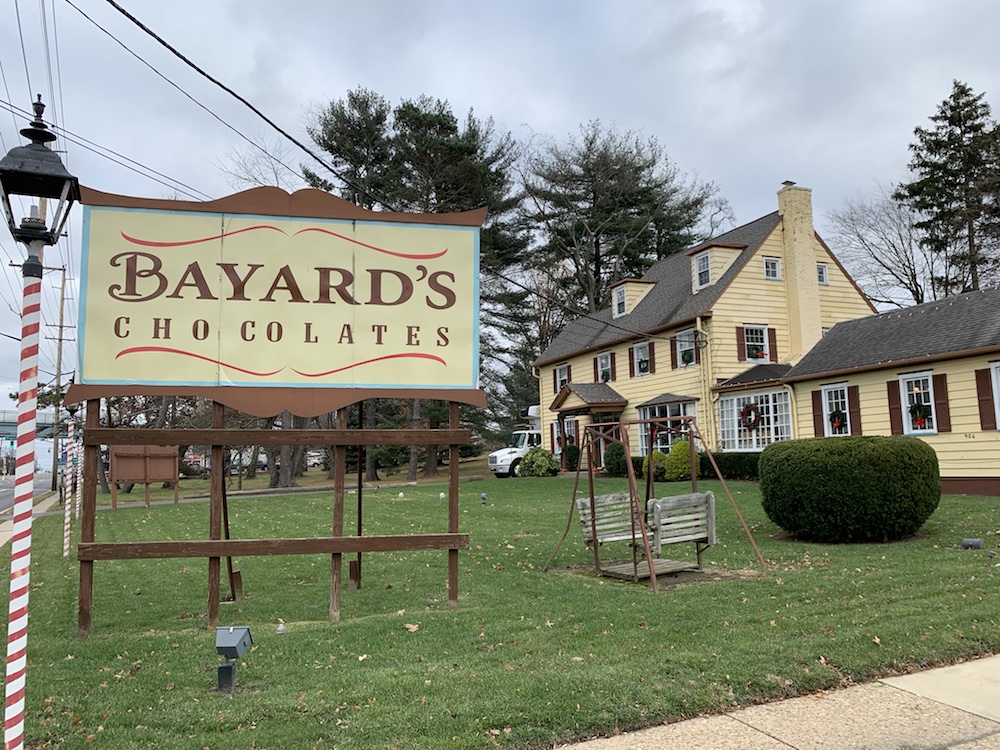 The sign that you see in the original post below is gone, replaced with one that is more brand-aligning, but the interior and delicious treats remain the same.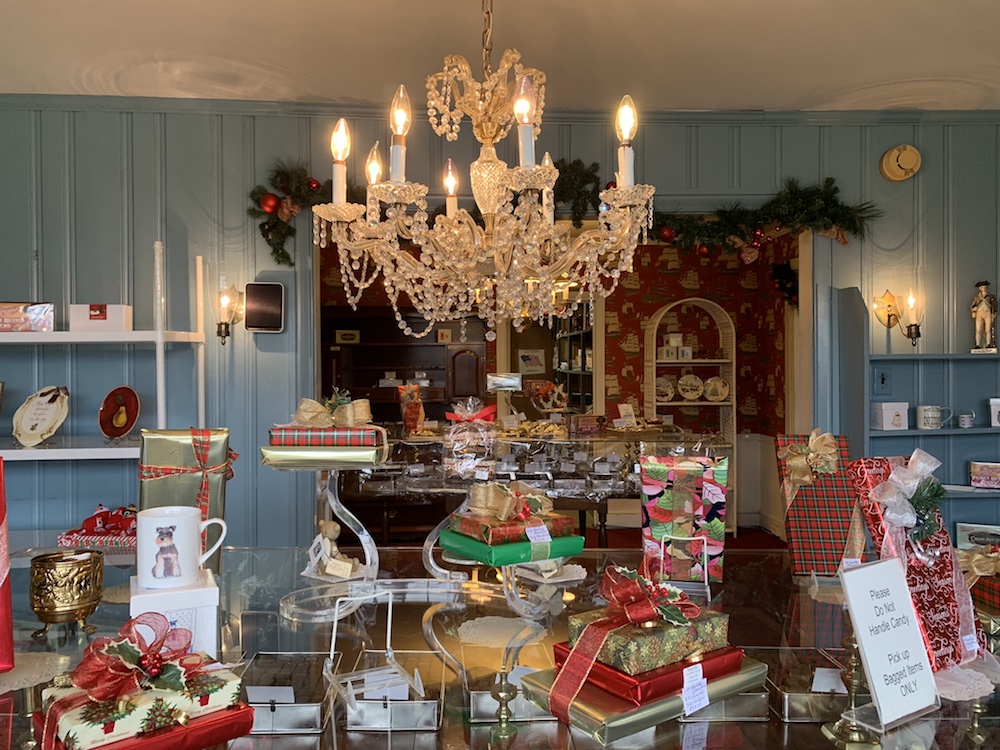 Original 2011 Post:
When I spied the old fashioned sign for Bayard's Chocolate House swinging in the brisk breeze I could not help but be swayed off of busy Route 130 and into their packed parking lot in Cinnaminson NJ.
Bayard's has been providing the Cinnaminson and Cherry Hill area with Valentines day chocolates and candies since 1939, and being the weekend before Valentine's day, the place was abustle with activity when I entered the Colonial inspired candy house.
Though the place was busy I enjoyed taking in the old fashioned candy house decor. Somehow I always thought that New England had a stronghold on the whole Colonial theme, but here it was, on the wonderful vintage wallpaper and curtains. Each room has a different pattern from bicentennial to nautical, all working well together.  While I'm not a huge fan personally of this decorative style (having grown up surrounded by it) I can't help but feel like I've stepped back in time whenever I see it.
I totally dug the display tables for the chocolates – many of them colonial style dining tables with glass shelves held up with brass candlesticks. This gave 2 levels – one for  the quickly emptying chocolate trays below and the other for pre-packaged candy boxes and gifts above. Once I was there for a few minutes and decided what I wanted, I realized I needed to get a number to ensure I would be waited on in a timely manner.
(I'm not sure if the "TakACheck" is used all the time but just in case, look for it near the entrance – I walked right past this groovy old machine. I LOVED the satisfying KA-CHUNK it made when I pressed the red bar for my ticket!)
Once my number was called I was delighted when I was told I could buy an empty box and have them fill it with whatever I wanted. As they would say in the record biz, "All killer, no filler! It being 2 days before V-Day they had a wide assortment of heart shaped boxes just waiting to be filled with sweets, for sweethearts everywhere.


The candies at Bayard's are all made using fresh ingredients and ran the gamut from creams to jellies to crunchy centeres, all milk or dark covered. The chocolate covered pretzels appeared to be a big hit, and I was sorely tempted by their chocolate covered marshmallows. Knowing what RetroRoadhusband likes, however, I made sure to get plenty of chocolate nonpariels.
(And, knowing that I'd most likely help him polish off that box of candies, I made sure some of my faves were in there too. 🙂
Service was efficient and friendly despite the crowds,  and I was pleased to see folks lining the walls of this local confectionary waiting their turn, instead of buying a pre-made, Lord-knows-how-old box of candies at a chain store. Trust me guys, your Valentine will spot the difference a mile away!