2017 – No More Mod Betty Dresses! Mod B swung by J&O since she was in the neighborhood, and is sad to report that they have closed their retail location at the end of 2016. According to their online presence, their stock and business has been taken over by another shop. If they are Retro Roadmap worthy I'll let you know!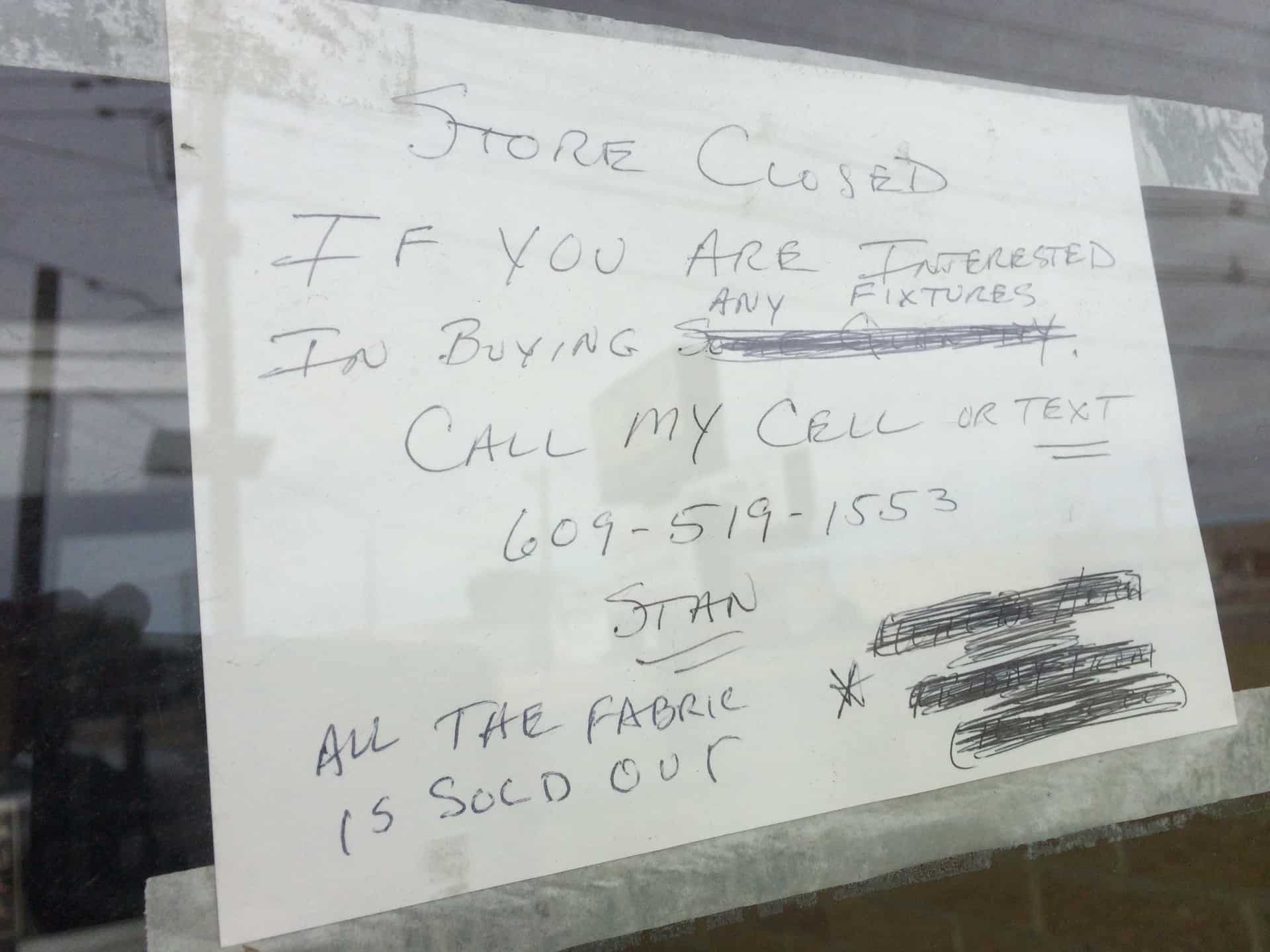 Original 2011 Post:
In business since 1962 J & O Fabrics in Pennsauken NJ is an absolute must-stop if your looking for the perfect fabric for your tiki lounge, bowling shirt, roller skating skirt or perhaps curtains for your vintage camper. All of these crafty concepts came to mind as I wandered down aisles and aisles of vintage inspired prints in their giant showroom on route 130 in Pennsauken PA.
Family owned and operated, J & O is a refreshingly authentic place compared to the sterile and generic chain craft/ sewing stores that seem to dominate nowadays. Evidence of their longevity can be seen in every nook and cranny, from the signage to the decor, yet they also carry the most up-to-date fabric patterns around.
Their selection is massive with bolts and rows of fabric for clothes and home crafts, notions and buttons. I chatted with Stan, who owns J&O along with his son Ryan, and he was a font of information regarding anything fabric-related.
I can barely sew a button on, and consider a stapler to be a viable hemming device, and even I spent enjoyable hours poring over every nook and cranny there becoming totally inspired! Apron? Totebag? who knows!
If you want to reupholster your mod chaise or chair they carry fabrics from Alexander Girard, Charles & Ray Eames, Verner Panton & more in their Mid-Century Modern collection.
If you're a fan of  retro bark cloth J & O has a fantastic selection – so hard to choose from!
Rock and roll guitar curtains for RetroRoadhusband's Recording Studio?
Or maybe some tropical barkcloth  for the tiki inspired screenporch that we don't even have yet?
Speaking of tiki – I know folks attending the Hukilau in Ft. Lauderdale or the Luau on the Lake in Lake George would love this pattern:
Or the RoadsideFans folks might dig this roadside attractions style print – I bet Debra Jane Seltzer has seen all of these places in real life and logged them on her fantastic Roadside Architecture website!
(This print reminds me of our road trip – we did sleep in a wigwam!)
These few snapshots of the vintage inspired novelty print fabric doesn't even start to show the hundreds upon hundreds of patterns they have, all displayed within themes for easy viewing – their website alone shows 71 different categories- yow! RetroRoadmap-wise there was Route 66, Tiki, Tattoo, cowboys, pinup, vintage kitchen, Elvis, Beatles, Matchbox cars, Norman Rockwell, and even…Frida Kahlo?
(Yes, Frida Kahlo)
I can't help but be reminded of the 1970's when I see this fat yarn braided in bicentennial colors – remember getting your pigtails tied back with this stuff? Now its all woven up for some crafty guy or gal to incorporate into a modern design.

If you get overwhelmed by it all – it is a bit much to take in, you can sit in one of the chairs at the end of the row, or if you brought your kiddles, they'll have fun in the kiddie corral up front.
After wandering around being inspired/overwhelmed with the possibilities contained within these 4 walls, I made a selection and was fascinated when I watched Stan measure the fabric in the Measuregraph machine.
You simply pull the fabric under the rollers and the machine measures how much fabric has gone through- tres modern in an old fashioned way.
These few snapshots don't even begin to cover the vast amounts of fabric J & O carries, and their fabulously detailed website does a better job- hence all the links above. But even that doesn't cover all of what they carry and the experience in being in the store, so if you're ever near Pennsauken NJ (it's just a hop over from 95 or the NJTPK ) do yourself a favor and stop by J & O Fabrics. Who knows what crafty project you'll be inspired to create!