Retro Roadmap T-Shirts – New Design and Baseball Caps added!
Posted on: June 11, 2012
Very exciting weekend at Retro Roadmap headquarters (aka our living room) when the first order of tee shirts arrived, ready for shipping to you great Retro Roadmap readers!
Here's the link to order your own Retro Roadmap tee shirt!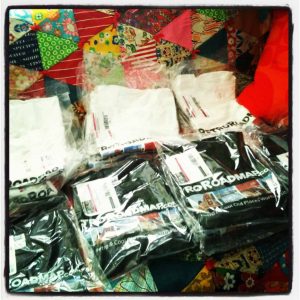 The bonus fun was that the test items came in with a new Retro Roadmap design and they're looking good – check'em out!
Retro Roadmap Hat / Cap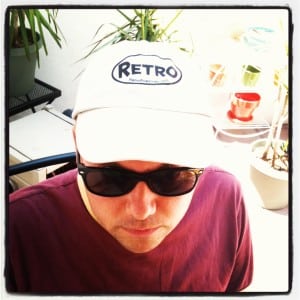 Here's Retro Roadhusband on the patio, wearing the latest addition to the Retro Roadstore – a baseball cap~! (The Retro Roadcap – Retro Roadhat?)  He's given it the thumbs up, but we're gonna have Retro Roadpal Rick Kilby of Visual Ephemera give it a test, and we eagerly await his feedback! The caps come in khaki or white and will be $20.
New Retro Roadmap Logo Tee: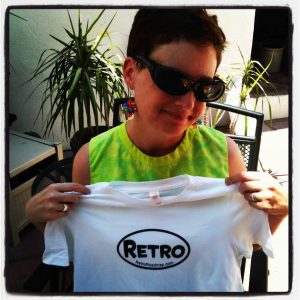 The "Mod Betty" in me thought we needed a logo with a bit more of a graphic / Mod edge, so we'll now have this design in the store as well! Black on white tees, or white on black for guys – I may even experiement with a "Serro Scotty Blue" background.  Now you can let the world know you're Retro!
Retro Roadmap Oval Sticker: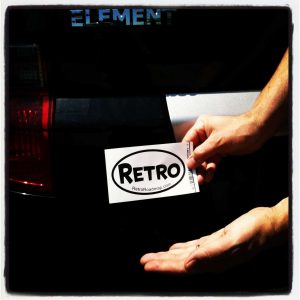 Now I'm still working out the sourcing for this one, but the prototype looks good and will be affixed to the new Retro Roadmobile momentarily. I'm looking to be able to have these as giveaways – would you put one on your bumper if you got one? Let me know and I'll be working on getting a bunch of 'em!
I've created a separate page  for the Retro Roamdap Store , so click here if you want to order any Retro Roadmap  merchandise and  thanks so much for your support of Retro Roadmap! Your purchase help pay for hosting and keeping the site going – and spreads the word about the vintage retro and cool places out there!