UPDATE January 2013 – Buckaroo's has closed and is strictly online for now.
NOT that anyone should be thinking of getting Mod Betty a gift at this time of year, but if you were looking for a store stocked from top to bottom with just about everything that I like, I'd point you in the direction of Buckaroo Mercantile of Cambridge MA – the self proclaimed…
"Land of everything you want, and nothing you need!"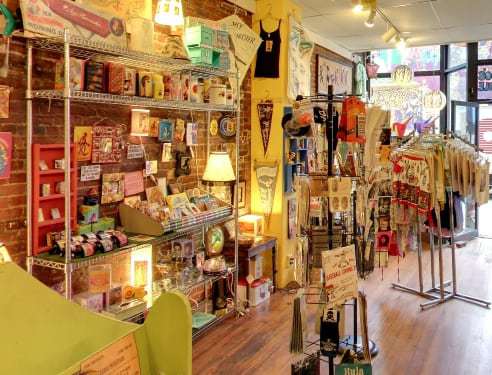 Open since 1996 they're located just across from TT The Bears Place – where I spent way too much time when living in Mass. Good thing I moved away, or the Hacienda would be laden with even more wonderful, funderful kitsch than it already is!
( I think "Tammy and the Wacky Packs" is my new band name!)
I may not technically need a mirror decoupaged with images of 1960s go go dancers, or a tissue box covered with sad eyed 60s pop kids  but I sure want one, and it brings me joy every time I see it hanging in my cube in Realworkville.
Now I am thinking I need the candleholder to match!
It's like  they're in my BRAIN with the fun and funky combo of real vintage items and stuff made in-house, as I love it all! So hard to choose from.
Kitsch! Decoupage! Charm Bracelets! Tune Totes! Tiki! Barkcloth! Vintage! DIY!
Oilcloth! Swoon.

We've got their custom made switchplate covers on almost every outlet at the Hacienda. And a tissue box cover. And a mirror, and…well, you get the idea.
The cool thing too is that if you don't see something exactly like what you're looking for, head Buckaroo Brooks will be  more than happy to create what you want -and need, from his extensive collection of pop culture images.
I've done more than my fair share of gift shopping here, so if you see a toddler toddling around in a onesie with a loteria image on it, or a tissue box cover covered with chimps watching tee vee, you know where I got it.

(OMG! Ken Brown wrapping paper! I used to collect his postcards back in another life!)
And check this out – if you click this link you can take a virtual 360 tour of the inside of the store. And as soon as you do that you'll know why I'm on a pop culture sugar high.
If you're not heading to Massachusetts anytime soon, Buckaroos is on The Etsy as well. But do yourself a favor and check out their bricks and mortar store next time you're in the People's Republic of Cambridge and dive into the pure pop kitsch pool!