It's a busy weekend for Mod Betty / Retro Roadmap when Blobfest is happening – come and join in the fun !
The 1958 movie The Blob starring Steve McQueen was filmed right here in Phoenixville, PA – and the Colonial Theatre features in one of the most memorable scenes, as shown below.  Sounds like enough of a reason for a "fest" to me 🙂

You can read all about the official Blobfest festivities right here on the Colonial Theatre's Blobfest page, or keep up to the minute with the Blobfest Facebook page.
And Busy Miss Betty is all over the place on Blobfest weekend – come on along:
Friday Night Blobfest Stage Show
There's always a live stage show that happens on the stage of The Colonial Theatre right before the "Running of The Blob", and this year Mod Betty (and Retro Roadhusband and a few of our pals) are part of the show! I can't give away any secrets, but if you've got your tickets to the Friday night festivities, you'll see Mod B onstage, doing that thing she does 🙂
Even if you can't make it into the theatre (tix are sold out) I think it's even more fun to stand outside of the theatre and watch people recreating that famous scene from The Blob:
Saturday Street Fair  – Blobfest Retro Roadmap Booth!
And if you're visiting the Saturday Blobfest Street Fair, you'll see Mod Betty behind the table at the Retro Roadmap booth, highlighting some of the cool vintage places we love so much, as well as selling Retro Roadmap tee shirts, handing out free stickers, and selling some of her vintage travel souvenirs. What fun!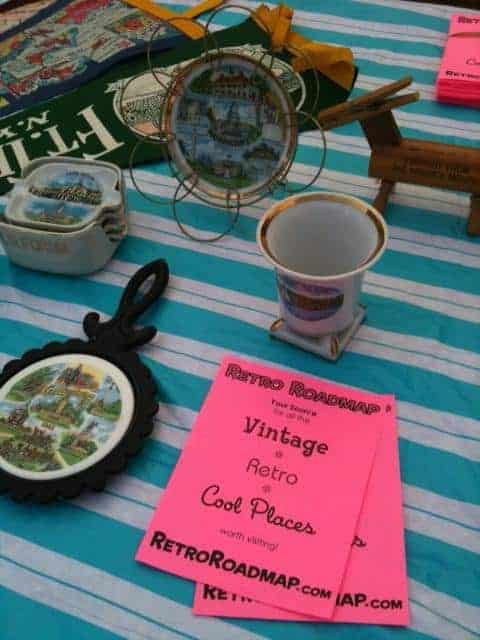 There's also a live band playing, vintage car show, costume contest, and lots more fun, including seeing The Blob on the big screen – a great way to spend the day!
Sunday Historic Tour of The Colonial Theatre
If you're in town on Sunday and want to see behind the scenes at The Colonial, Mod B is also giving a  tour of the Historic Colonial Theatre starting at 12:30. If you want to come on the tour just RSVP so we know how many people to expect!
You can also catch The Blob on the big screen of The Colonial on Sunday at 2pm as well – it's a double feature !
Sunday  – Thrifty Discount DJs at Steel City
You know what a soft spot Mod B has for the Thrifty Discount DJs – pals who play thrifted vinyl records and highlight awesome tunes. So what better place to conclude my busy weekend of Blobfest fun, than hanging out with pals – and you perhaps? Steel City Coffee House – just steps from The Colonial Theatre, They're there from 12-4, and I'll be showing up as soon as my tour guiding duties are over!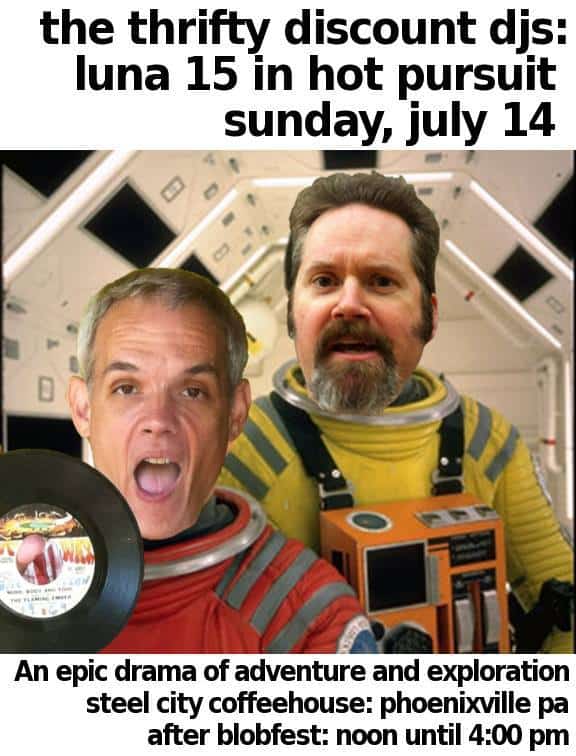 Mod Betty's Blobfest Map!
As in years past I am sharing my "Locals Map" for Blobfest, to give folks traveling to town an idea of where things are – from locations used in the Blob movie, to where to get a good breakfast!
View RetroRoadmap Blobfest Map Guide here, or below!
So if you're looking for a fun place to go this weekend, The Colonial Theatre in Phoenixville PA is pretty much the epicenter of awesomeness, Blobwise!
The Colonial Theatre Blobfest
227 Bridge Street
Phoenixville, PA 19460
(610) 917-1228