UPDATE! Here's the link to the video
If you can't watch it above, here's the link to the page:
http://whyy.org/cms/fridayarts/the-age-of-aquarius-in-chester-county-fermentation-and-common-touch/
And it will also be shown a few more times on WHYY-TV!
Mod Betty is excitedly awaiting her TV appearance in WHYY's Friday Arts show piece on the Chester County Historical Society's 1960s Exhibit The Age of Aquarius which runs through August 27.
The Friday Arts TV episode is premiering Friday June 3 at 8:30 EST. Tomorrow!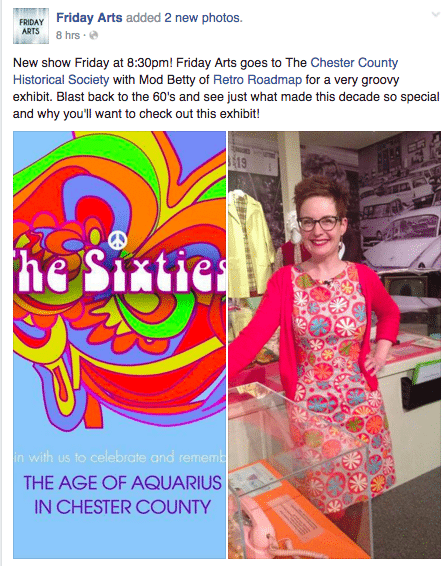 How to watch!
If you're in the Philadelphia area, WHYY is channel 12.
If you're not in the Philadelphia area, the show will be available online Monday June 6th and I'll post a link here to it. Here's a link to the preview on the WHYY website, but no Mod B 🙂
The episode will repeat several times over the next few months as well!
Please tune in, and if you like what you see and want to see more Retro Roadmap on WHYY
Email [email protected]
or call 215-923-WHYY / 215-923-9499
And let them know.
Thanks a bunch!