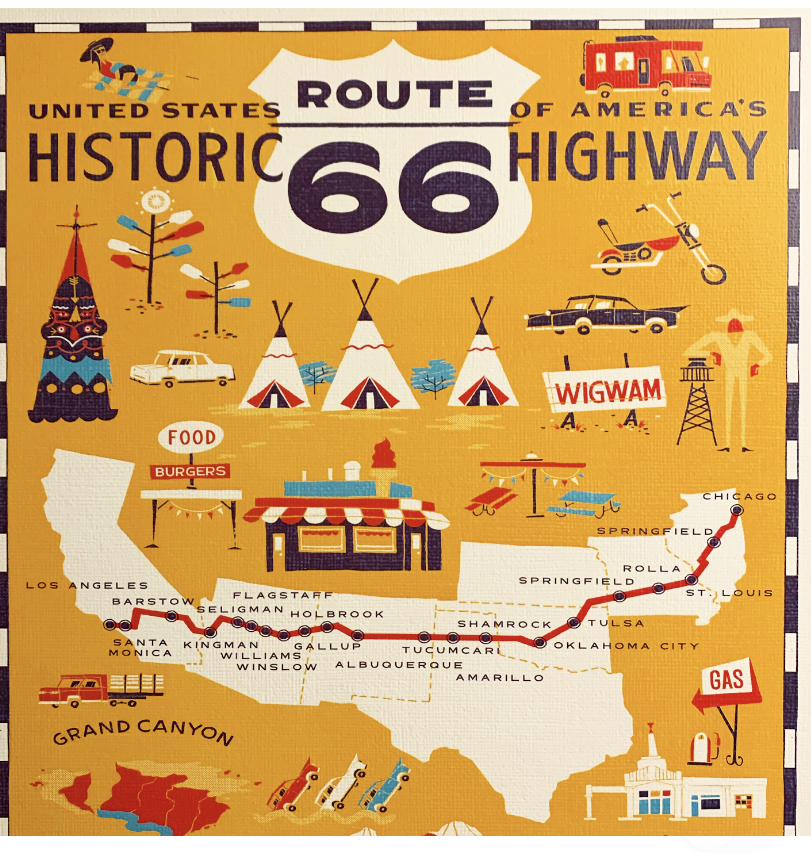 Get Your Kicks on Route 66
This roadtrip classic has so many good tips about getting to your desired destination, it should be one of our theme songs here on Just Drive Your Life! In fact, it was when I was on my Route 66 roadtrip that I truly realized the power of applying the same principles that got me there, to the rest of my life. 
So let's have a listen and then take a closer look at what the lyrics reveal about Driving Your Life! 
Well if you ever plan to motor west
(Yes! I do! I not only want to drive my life someplace new and different, I'm planning on it!)
Jack take my way, its the highway that's the best

 
(I know your name is probably not Jack, and while You can go any way you want, I think My Way, the "Drive Your Life The Route 66 Way" is the best, because…)
Get your kicks on Route 66!

 
(With the Drive Your Life the Route 66 Way, you'll get your Kicks! It's important to have fun, learn things, have adventures and create great memories while on the highway to your desired destination!)  
Well it winds from Chicago to LA

 
(Just like every Just Drive Your Life journey, It's got a beginning- Chicago – and desired destination – Los Angeles)
More than two thousand miles all the way

 
(Technically 2,448 miles, which may seem like a lot, but don't worry because…)
Get your Kicks on Route 66!

 
(I promise, we're gonna have some fun and get our kicks while we drive those miles!)
(Here's the real key to the " JDYL / Route 66 Way" – Break down all those miles towards your desired destination into smaller journeys and stops…and have fun along the way!)
Well it goes from Saint Louis

 
(it's true! I had a blast in St. Louis, I had no idea what a cool town it was, and I'd go back in a heartbeat. I never would've known about it if I didn't go on my Route 66 trip – unexpected delights along the way)
Joplin, Missouri 
(We did not stop here, but later was told of a cool steakhouse to go to. There's nothing wrong with revisiting places that were on your original journey, so we plan to go back.)
Oklahoma City looks oh so pretty

 
(True!)
You'll see Amarillo

 
(I did, and ate a big steak there!) 
Gallup, New Mexico

 
(We only stopped here for a quick photo op, but check us out, we're already  over HALF WAY way to our desired destination – pretty fun roadtrip so far, huh?)
Flagstaff, Arizona

 
(I was here for only 1 evening, in a boring beige hotel, but my guide told me of the cool old downtown area close by. Here's the lesson here: Because I told him what kinds of places I liked, he knew to send me there. Had I never mentioned the things that were important to me, he would've never known to tell me, and I would've missed out. So remember to let your guide / The Universe know what you like, and some cool unexpected opportunities may arise!)
Don't forget "Kwinona" /
Winona 
(Sometimes you may mess up along your way, like pronouncing it Kwinona not Winona, like Chuck did. Did that stop them from releasing this song? Nope! Mistakes are OK, so get over them and just keep driving!)
"Kingsman"
  / Kingman 
(Many more mistakes along the way may happen, but Chuck just keeps driving towards LA. Good for him!)
"Barscow" /

Barstow
( Nothing memorable happened in Barstow for me on my  Route 66 journey. And that is also OK. Sometimes places along the way are there so you can rest and fuel up so you can keep on going towards your destination.)
San Bernardino
(Would you believe that the Route 66 trip I was on  didn't even go through San Bernardino?! I decided to detour off to go there myself, so I could say I visited all of the places in the song and had a wonderful time talking to the proprietors of the Wigwam Motel! It's important to drive to the places that are important to you, instead of just following the pack.)
Won't you get hip to this timely tip?
(Life is over so soon, so this IS a timely tip! Get hip to it!)
Jack and take that California trip
(Yes! Take that trip – to Cali or more importantly the destination that speaks to YOUR soul)
Get your kicks on Route 66!
(Life is fun, get out on the road and drive to where you want to go to! And often!)
Now aren't you musically inspired to Just Drive Your Life? I know I am!
Just keep driving!
Mod Betty