June 2015 – Diner guy Larry Cultrera informs that the diner has been sold, and is closed to remodel into a hoagie place. Here's the article. Mod B is so sad! http://www.ldnews.com/local/ci_28332209/former-kumm-esse-diner-known-pa-dutch-food
March 2014 – Not sure how much longer the Kumm Esse Diner will be around – it's For Sale 🙁
The Kumme Esse Diner sign calls you from the distance – try our strawberry pie!  When you see that the place is a somewhat remodeled but obviously vintage diner, you say OK, and pull in for a bit of that roadside staple– diner food.
For sure the Kumme Esse (Come! Eat!) is trying to pretend on the outside that it didn't start as a space age looking diner, but there's no denying the large windows and angled steel as you approach.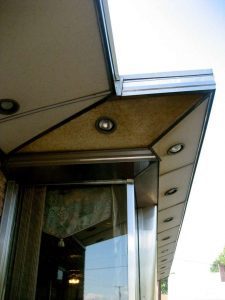 And indeed upon entering you'll see the counter to your left, and some great terrazzo flooring below your feet.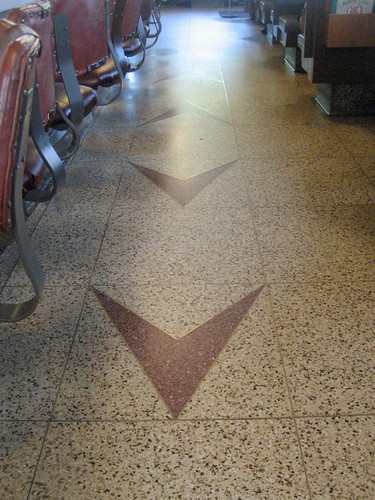 There's also some crazy Aztec looking stucco motifs on the far wall of the dining room, just for character. The color scheme is varying shades of brown and beige, and once you sit down and absorb it all you will also happily notice how clean and well kept the place is.
The food at the Kumme Esse is Pennsylvania Dutch diner food. I had their "own made" turkey croquettes which hit the spot, and it's fun to read the menu to pick out the regional favorites among the more mundane. Beef heart is #2 on the menu, and scrapple and filling aren't too far behind.
Service was friendly though it was a bit odd at first to see the waitresses in colorful medical scrubs, reinforcing the notion that this is a place that the old folks like to go for the early bird special.
My dinner of croquettes, potatoes & gravy and cucumber salad was so tasty that I didn't have room for the pie that lured me in. I did note for the future that "all our desserts are our own make" – a nod to the Penn Dutch way of speaking in these parts.
Open 7 days a week until 10pm, come eat at the Kumme Esse!