It creeps and leaps, and glides and slides
Across the floor
Right through the door, and all around the wall
A splotch, a blotch-
Be careful of The Blob!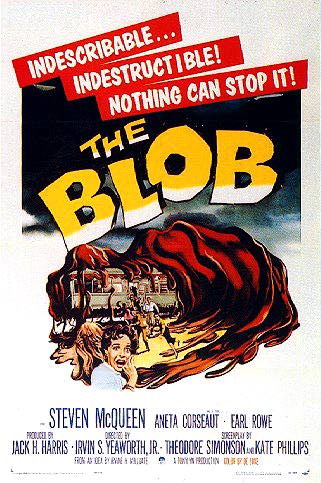 Each July The Colonial Theatre in Phoenixville PA celebrates Blobfest – a tribite to that wonderfully kitschy 1958 sci-fi movie The Blob. This cornerstone of modern cinema was filmed in the neighborhoods in the local area and in the Colonial Theatre itself!
This year is the 10th anniversary of  Blobfest  and  will include highlights like:
-A special appearance by THE ORIGINAL BLOB and its handler Wes Shank
-Friday night Running of the Blob– Scream and rush out of the theatre just like those frightened filmgoers in the original movie!
-Continuous screenings of The Blob, double featured with some of your fave vintage sci-fi movies
-Stage show by Ghoul-a-go-go
-Bedrock-abilly music from The Neanderthals
-Costume, Scream and Tin Foil Hat contests
-Vintage cars lining Bridge Street
-Blob Ball with rockabilly band The Rivers
-Vintage vendors and more!
This year there will be a great sale of vintage stuff- clothes, homegoods, collectibles and furniture at modbetty's Hacienda. Stay tuned for details!
Blobfest 10
The Colonial Theatre
Phoenixville PA