UPDATE – August 2011 I'm sorry to report that after 62 years in business, Papoo's Hot Dog Show has closed.
Dear pal and ace reporter Anna Borg brings us her first missive from LA LA Land, Los Angeles California. Anna has got her finger on the pulse of all things cool and vintage on the West Coast, and this is just one of many posts sure to follow on her beat, detailing what is hip and happening over on the other side of the country!

Los Angeles is a town of reinvention, so finding a juicy vintage gem is rare.  After a few disappointments, I learned to temper my expectations and look at the positives in the vintage joints while allowing for some deviation from authenticity.
Crouched in the shadow of the legendary, perfectly restored, Wayne McAllister designed Bob's Big Boy, is a sweet little place called Papoo's Hot Dog Show.  Who is Papoo?  What is a Hot Dog Show?  The answers to these questions remain lost to the ages, but they were no doubt inspired by the popularity of theme restaurants in the late 1940s.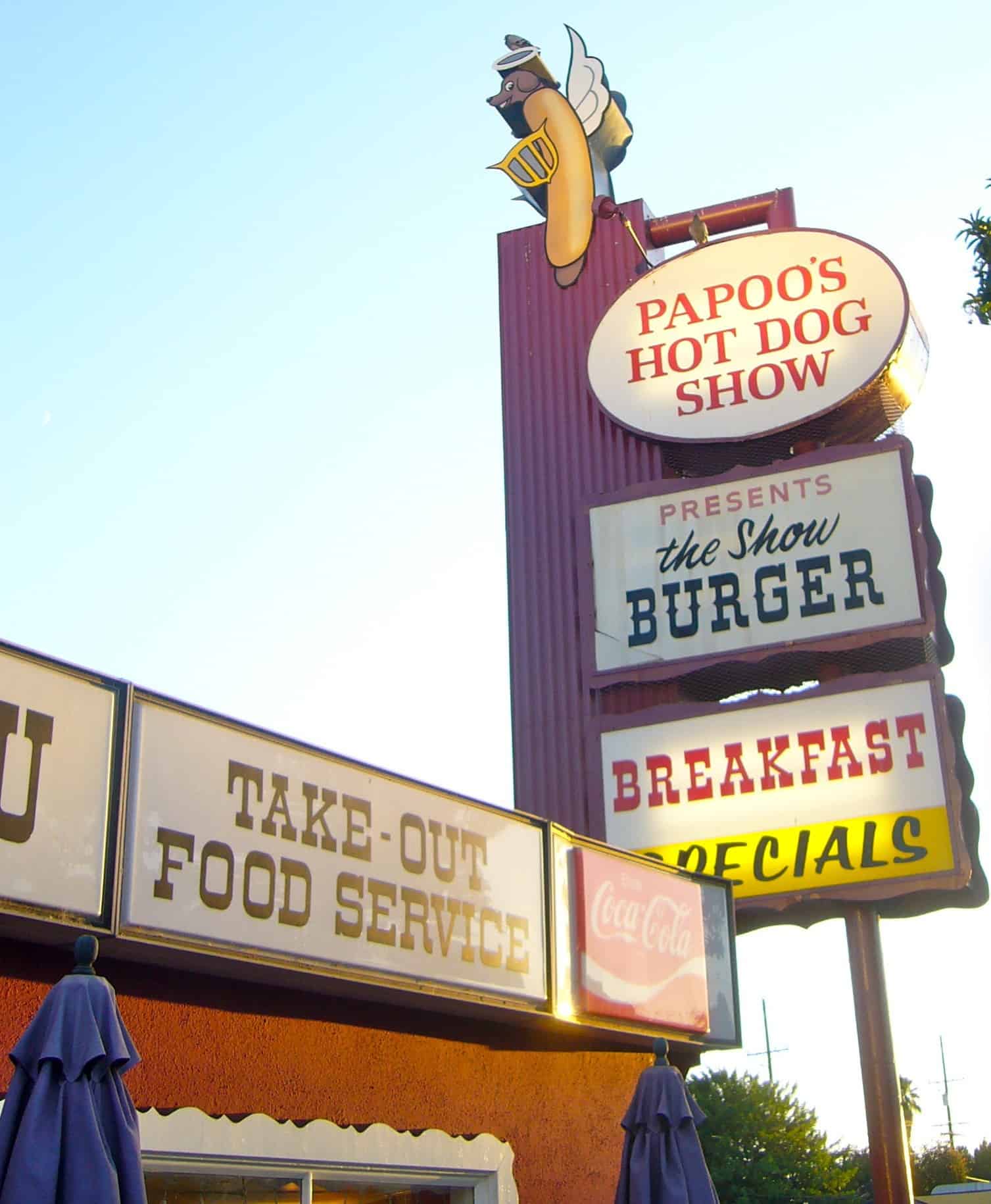 The whimsical sign out front shows a wiener dog with wings flying inside a brightly colored stage.  Appetizing?  Not quite, but amusing and curious?  Absolutely!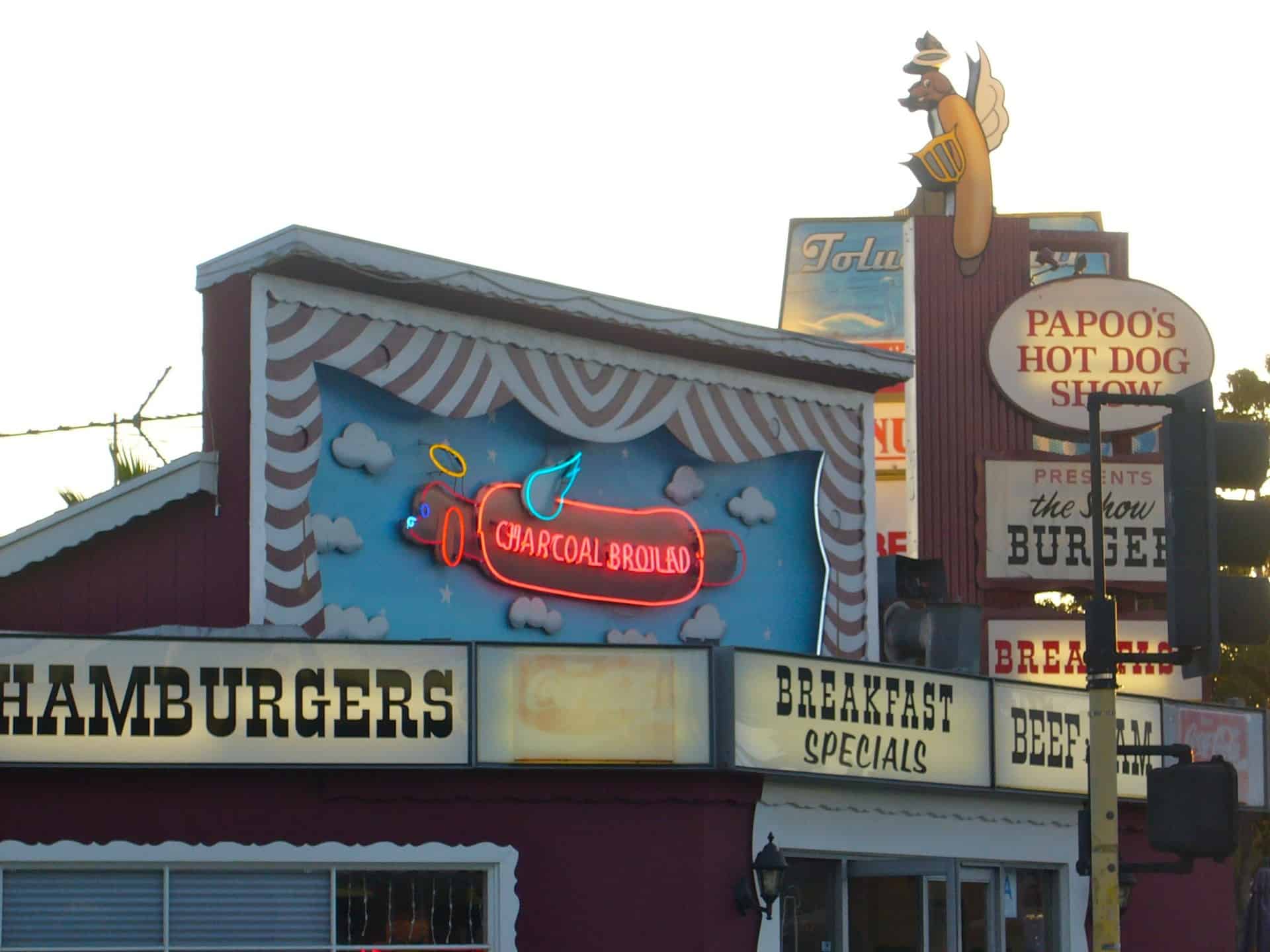 Papoo's has been located on the same busy Burbank corner for 60 years and they have a small, but loyal clientele.  In a town where everything seems super sized and on the go, Papoo's is a place to grab a heart-backed soda fountain seat and enjoy a Hoffy brand hot dog, a Showburger, or a solid breakfast.  Look closer at the menu and you will find a real, old-fashioned egg cream (rare on the West coast,) and assorted dinner platters and salads.  Most items are made from scratch and priced very reasonably.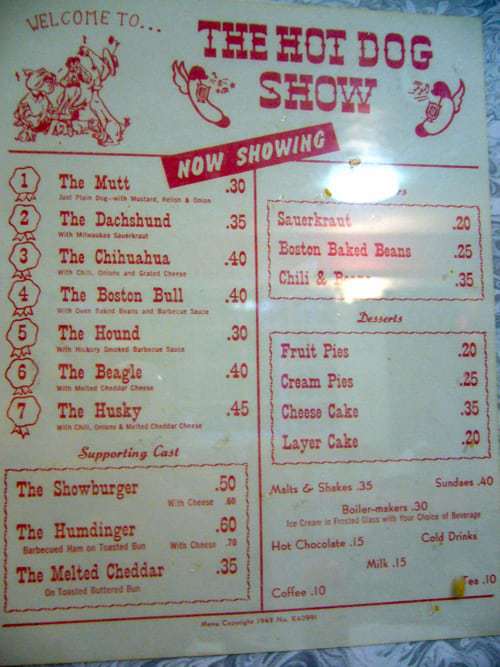 (note the thrifty prices from the 1949 menu!)
For my first meal at Papoo's, I had to have a hot dog, show or no show!  I settled on the melted cheese dog after seeing it listed on one of the original framed 1949 menus on the wall. Two small sides are included, so I tried the house made coleslaw and the "famous" baked beans.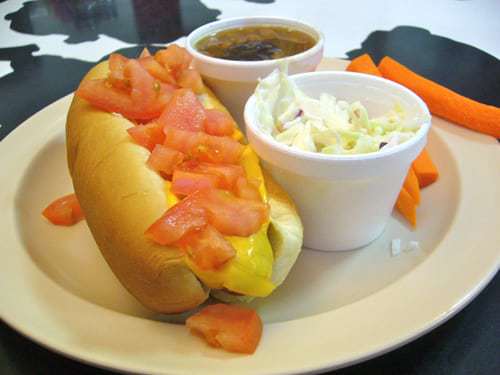 I loved sitting at my little Formica table, using the ancient napkin dispenser.  Each table had a dispenser from a different era, so it was like a "Napkin Dispensers Through The Ages" exhibit.
The floor is classic black and white linoleum and the counter stools are a mix of old wooden and restored chrome.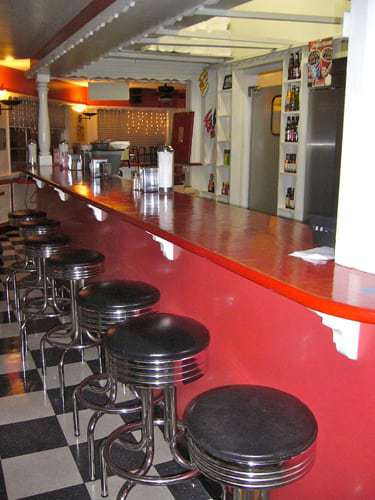 Continuing the trip through the decades, you can settle in for a game of Ms. Pac Man, play a cd on the juke box, or watch one of the brand new plasma screen TVs set up on the walls.  This unfortunate intrusion into the vintage cuteness of Papoo's is a necessity in the age of 24-hour sports monitoring.  One way to avoid the TVs is to sit on the adorable enclosed patio.
There is a decent sized parking lot behind the restaurant and the restrooms are in a separate building, another common feature of older joints.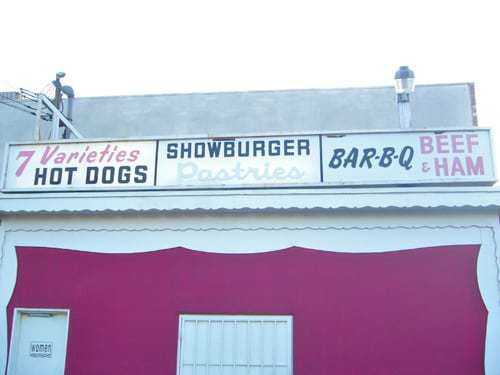 All in all, Papoo's is a fun, bright place to grab a snack while supporting a local, independently owned business.
Papoo's Hot Dog Show
4300 Riverside Dr.
Burbank, CA 91505
(818) 846-1511