Well you find things out in the darndest of ways sometimes, case in point that I learned about the closing of Papoo's Hot Dog Show when I saw photos of the sign being dismantled in my Flickr pal jericl cat's photo stream.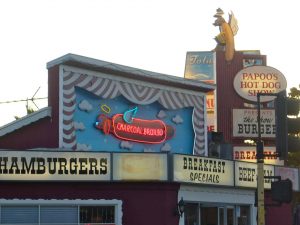 Regular Retro Roadmap readers may remember that our intrepid California reporter Anna told us about Papoo's – a Burbank, CA landmark eatery since 1949.
According to reports, the 62 year old restaurant was in need of updates and repairs that the owner could not afford, given the economic downturn.
Alas, another Retro Roadmap worthy place closes its doors. So go out there and visit the ones near you!