A New Idea for Your Old Vintage Travel Brochures – Coasters 'n' Trivets!
Posted on: August 17, 2011
You can take the girl away from the blog, but you can't get the blog out of the girl! Case in point, as soon as I saw these cool tiles at the Wellfleet Drive In Flea Market I knew I had to share my find with you Retro Roadmap readers!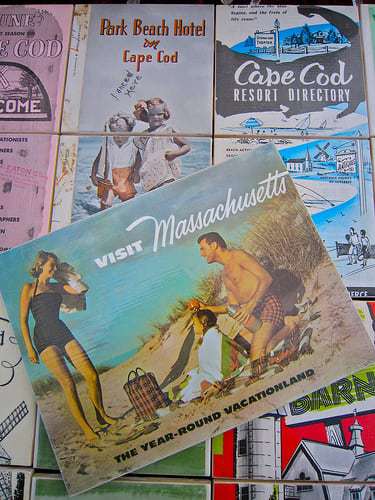 If you're a fan of the vintage roadside like I am, you may have some old pieces of memorabilia you've picked up – brochures, post cards, menus, placemats- what-have-you. I love finding this type of ephemera with its reminiscence of an earlier age and great graphic design, but once I own them they seem to just get stuck in a box/pile/folder.
So when I saw these great trivets and coasters – made from vintage travel guides and maps – I knew I found a great practical use for some of  my vintage paper collection! Thanks to On The Fringe owner Wendy Howard for doing the hard work for me – using her own collection of old travelabilia.
As you can see, vintage travel guides fit perfectly onto 2 coaster sized tiles, and when decoupaged with multiple layers of clear covering make for great display pieces, trivets or drink holders. According to Wendy:
These handcrafted coasters and/or trivets are made with the original vintage map / decal / comic / travel brochure or atlas page – not copies or heat transfers. The vintage maps and brochures range from the early 1900s to the 1990w and each coaster/trivet is one of a kind!"
While we were there a customer was picking out a set of New York City themed coasters for a wedding gift- what a great idea! My sis found a coaster with her town on it, and I bought the Massachusetts trivet seen above.
Perhaps you're looking for the perfect remembrance of a fun trip you've taken? Or a present to remind a friend of their honeymoon, or where they grew up? My sister's parents-in-law actually met at the 1964 Worlds Fair, and we immediately thought of them when we saw a trivet made from one of the fair's events!
Wendy- who splits her time between The Cape and The Big Apple – has been decoupaging and making these great vintage travel treats since 2004, and also creates trash cans, tissue box covers and record bowls with that fun vintage feel.
You can find these fun  and funky items on her website On The Fringe year 'round, at the Wellfleet Flea during the summer, and at the Green Flea Market and Hester Street Fair in NYC.
She also loves to do custom work, so contact her if you want to have her create something useful and beautiful from something from your boxed up vintage collection. And tell her Mod Betty at Retro Roadmap sent ya!