At this time last year I could not tell one vintage camper from another, but now Retro Roadhusband and I are the proud owners of a Serro Scotty Sportsman, and were very excited to visit our first National Serro Scotty Rally this summer in Slippery Rock, PA. Even though we didn't bring the camper…!
A little background:
Some of you may remember the story  about the cute little white camper with the aqua stripe that we ended up buying from some swell folks here in town last Christmas. Here she is the day she was dropped off at the Hacienda.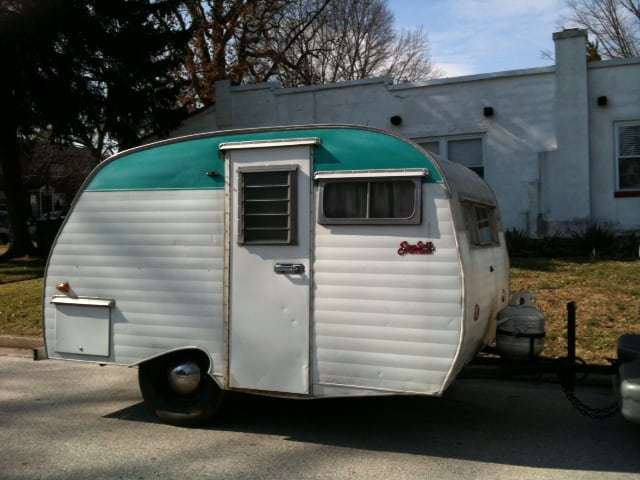 Now, Retro Roadhusband and I are total camper / camping newbies, and don't even have a vehicle that can currently tow this cute "canned ham" style trailer, but we could not help but make this spontaneous purchase as we had been longingly eying vintage campers for years anytime we saw them. Since this was a well kept mostly vintage camper from here in town it was an opportunity too good to pass up.
But now it was time to learn to be "vintage campers" ourselves!
When doing some online research about our little camper I realized our good fortune when I learned that the National Serro Scotty Society (NSSO) was holding their annual summer rally just north of Pittsburgh this summer. This is the largest National Scotty Rally in the country, so while Pittsburgh is at least a 5-6 hour drive for us, I figured if we were ever going to learn about camping with our camper, this would be the place to learn about all things Serro Scotty.
So I contacted Nancy Kroes, founder of the NSSO and asked her if folks who didn't technically have their campers with them could visit the rally. Nancy welcomed us to visit and arranged to meet with us so we could learn about our little camper's family history.
Sitting lakeside at the Cooper's Lane Campground in Slippery Rock PA on a sunny summer day, we learned a lot from Nancy about the history of our camper, and about the NSSO too.
(That's Nancy and her canine sidekick Mabel – an adorable lil pup, and yours truly)
We learned that Serro Scotty camper company was founded by John Serro, a retired used car salesman, who began building campers in Irwin, PA just a half hour outside of Pittsburgh. He started in 1956 but didn't get the formula right until a few years later. The winning "formula" that made these campers a hit was the right combination of size, style and price.
While even back in the day there were fancy and expensive Airstreams and fancy "land yachts", Nancy likens the Serro Scotty to an "everyman" camper. Small enough to fit in a standard garage, light enough to tow with many of the cars back then, and offered at a price point most regular folks could afford, the Serro Scottys were popular with suburban families and other folks looking for an inexpensive way to vacation.
This formula served the company so well that at one point there were three factories across the country making these campers. Tragically the last factory open – in Irwin, PA burned down in 1997 and the company stopped making travel trailers. (Though the company  Serro Scotty Worldwide  now produces new, but vintage-looking, Scotty trailers.)
The National Serro Scotty Society was formed in 2005, as a "professional place to share collected wisdom and pool resources to help each other out". Now the most highly regarded organization in the world for Serro Scotty enthusiasts, the NSSO hosts many camp-outs each year through-out the country and has an active online community where people share information, tips, photos and more.
And I love their slogan:
"Cute Trailers, Friendly People and Awesome Adventures"
Friendly People…through Nancy's introductions we met Jerry – owner of probably the largest Serro Scotty memorabilia in the country- who helped us learn that that our camper is a 1964 Gaucho model, so called because it's different from the Front Kitchen model.
Cute Trailers…we also learned that throughout the years there have been quite a few different looks in the Serro Scotty family, but each is camper adorable in its own way.
In the photo below the Scotty on the left is a 1971 HiLander, the one in the middle is a 1960 Sportsman Senior, and the one on the right with the gold accents is a 1978 Gaucho. (Thanks Nancy for the technical specs!) – These campers are owned by 3 local families who attend the rally every year and pitch in whenever help is needed. Why it's like a family reunion for the campers and campees!
And speaking of help, that was one thing that impressed us even in the short time we were there – there was a feeling of community, with folks coming out of the woodwork to help move a camper, or level one out, or even just suggest a space to set up.
Here's another cool thing we learned – that our camper, at just shy of 1000lbs, can be maneuvered with a hand truck!
Now this is a great shot, because not only do you get to see the cameraderie of the folks helping out one another at the rally, but you also get a glimpse of a pristine 1968 13′ Gaucho. It had been garage kept all its life and is immaculate inside and out. One thing I loved about it (not pictured) was that it had a screen door!
Just like people, some Scottys have had some work done, while others wear there age proudly. While some of the earlier Serro Scottys were actually aluminum or "silversides" – this one is a complete rebuild with a custom siding of stainless steel. Now can you see why these are affectionately known as canned hams?

Roaming around the campground was like a treasure hunt, as everywhere I turned, there was another cute camper!
Isn't this just the cheeriest of scenes? I love the fishing bobber lights that echo the colors of the Scotty logo, and the simple folding chairs.

And while I don't have any photos of them, the NSSO also allows other vintage campers to attend the rally- like Airstreams and Shastas (see, now I'm even learning the names of other campers!) Even Scottys that are not vintage are welcome. Again, the sense of inclusion and community was just wonderful.
The annual rallies are a chance for friends to get together for fun and relaxation. There are typically events planned, like an ice-cream social, or a theme where folks can decorate their campers, but there's plenty of time to just sit back and relax, or chat with your neighbors. There's also a "Trading Post" where folks can buy, sell or trade "Scotty stuff":
Nancy notes, "A lot of stuff changes hands here with many happy people going home with just that one thing they were missing."
And speaking of Nancy, my hat goes off to her, for creating the NSSO and to all the swell folks we met at our all too short few hours we spent at the rally. I just received a DVD filled with almost an hour's worth of photos from the entire 6 day event, and the fun and companionship of like-minded folks was evident in the smiles in every photo.
Here's a perfect hat to doff in to these Serro Scotty fans, especially when you hear about what future trips are planned ….

 We'll be in Maine in September, doing the Natchez Trace from end to beginning in April of 2012, ending with two nights in New Orleans. In September of 2012 we will hold our first ever National Rally West at the Starlite Classic Campground in Canon City, CO.  In spring of 2013 we shall be doing several camp-outs in New Mexico, including the Gila National Forest and the Continental Divide.
Talk about Awesome Adventures! We better get ourselves a tow vehicle, eh?
Click here to learn more about the National Serro Scotty Organization.
Do you have a vintage camper? Tell us in the comments!