Auntie Mame with Rosalind Russell AND RetroRoadMom!
Posted on: February 18, 2012
Just wanted to let my dear Retro Roadmap Readers know that things will be a bit quiet here on the RRMP networks (website, FB, Twitter, Youtube, Pinterest, Flickr, Instagram, etc.) this weekend, as for the first time ever since we've moved into the Hacienda my mum is visiting!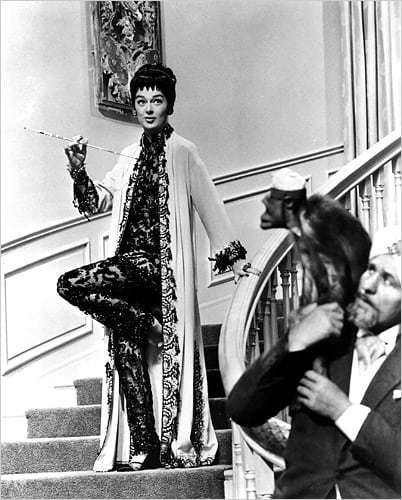 No- that's not my mum, sillies! It's Auntie Mame!
We're both very excited to see the movie Auntie Mame (1958 starring Rosalind Russell) playing at my local movie house The Colonial Theatre.
As an aunt myself, I find RR's version of Mame to be an inspiration, and try to let the Retro Roadkids know that "Life's a banquet…" (I'll leave the SOB ending 'til they're older ;-))
The musical version of this great story is also a family touchstone, as back in 1971 my mother was part of a community theatre group who put this on, and she, being the creative type, created a 16 foot tall Mame that was displayed outside of our local grocery store. Now the Hacienda is only a 1 story ranch house so we couldn't fit her feet and middle here, but, with the help of some great friends with a truck, I'm proud to say Auntie Mame made the journey from my folks' garage to our home, and she's now a fixture here in our mod home: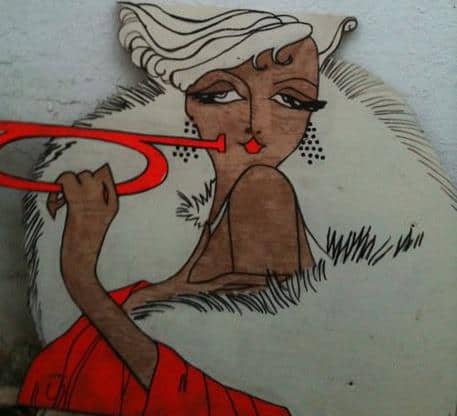 So, while I'm catching up with my mum and hopefully making some nice memories, you should too!
As Auntie Mame woud say, Remember:
Open a new window, open a new door,
Travel a new highway that's never been tried before!
Dance to a new rhythm, whistle a new song,
Toast with a new vintage, the fizz doesn't fizz too long…
There's only one way to make the bubbles stay,
Simply travel a new highway, dance to a new rhythm,
Open a new window — every day!