2018 UPDATE: – Oh my, as you can imagine I have NOT been able to keep up with this list, however well intentioned I was about starting it. Here are a few links to help you discover where you can make Mold-A-Ramas, hope they help!
http://www.mold-a-rama.com/index.php?p=1_17_Molds-in-Production
http://www.replicationdevices.com/locations.html
http://www.waymarking.com/cat/details.aspx?f=1&guid=6de6e6c2-89b3-4ed2-8884-85003af637e9&wo=True&wst=6&sg=565e56a1-ab86-4fe6-9183-7d043bc622c4&st=2
https://www.facebook.com/MoldARamaLocations/
https://www.facebook.com/Moldville/
Original 2012 Post:
Mold-a-Rama – just the sound of that name evokes vintage kitschy wonderfulness-a-rama! So when I saw the  vintage Mold-a-rama machine at Gatorland in Orlando I was in vintage inspired souvenir heaven- and I'm sharing the excitement and fun with you too!
Now, just so we all know what I'm talking about, a Mold-a-rama machine is a  "free-standing, plastic molding machine" where you put in money and watch as a souvenir is made right in front of your eyes.
This concept was dreamed up by American inventor John H. "Tike" Miller in the 1950s and the Mold-A-Rama machines themselves were introduced in 1962, gaining loads of recognition at the 1964 New York Worlds Fair.
Mold-a-rama machines have not been built since their 1960s heyday, so today you interact with one you are actually using a machine that has been around since the 1960s – totally Retro Roadmap worthy! You can still find them located in the cooler roadside attractions, museums and zoos around the US, and virtually on the internet as well (but more on that later.)
Here's how it works:
First of all, get your money handy- they cost a couple of dollars and the machine I used took dollar bills. Make sure they're nice and crisp so the machine doesn't reject them (you may have to run to the snack bar and ask nicely for some replacement bills if yours are all soggy like mine were ;-))
Then – do as I say, not as I did, read the instructions before use!
Put in your money and watch as the molds go together to start the replication process.
Hear all sorts of great mechanical noise as this machine starts to pump the liquid plastic into the molds- it's alive!

In 50 seconds the molds will open and voila, where there was nothing but air, there is now a plastic molded
souvenir – YOUR unique plastic molded souvenir, created at your demand (oh, the awesome power you wield!)

Your new creation – still warm-  will will slip from the molds down an incline to a bin where it will drain out some of it's remaining plastic and is waiting for you.
Open the door and carefully pluck your still warm being from behind the receiving door, hold it upside down to ensure plastic stays inside and hardens, and slap it on the bottom if you like.
You just helped to bring a new addition to your collection of wonderfully kitschy travel souvenirs into the world!
So now that you're all geared up to make Your Very Own M0ld-a-Rama,  you may be asking – where do I do this?
Even though the machines haven't been built since the 1960s there are still two companies that own and operate Mold A Rama machines in the US, the William A. Jones Company in Illinois and Replication Devices based in Florida, so you'll see a lot of machines centered around those geographic areas.
There is a wealth of information about Mold-a-ramas (or MARs as collectors call 'em) on the internet, and here are some highlights:
To do my part I've started a public Google Map that lists some of the locations mentioned in a Waymarking Mold-a-rama category, and will be adding pins to it as I find out where other machines are currently located. Like from this list that  Mold-a-mania has for Current Mold-a-Rama Locations (last updated 9/2/2010)!

View Mold-a-Rama Map in a larger map
And check THIS out! If you can't get to a location to make your own Mold-a-rama souvenirs, how about having a MAR – made from vintage molds – delivered directly to your door? I love this idea, from Moldville.com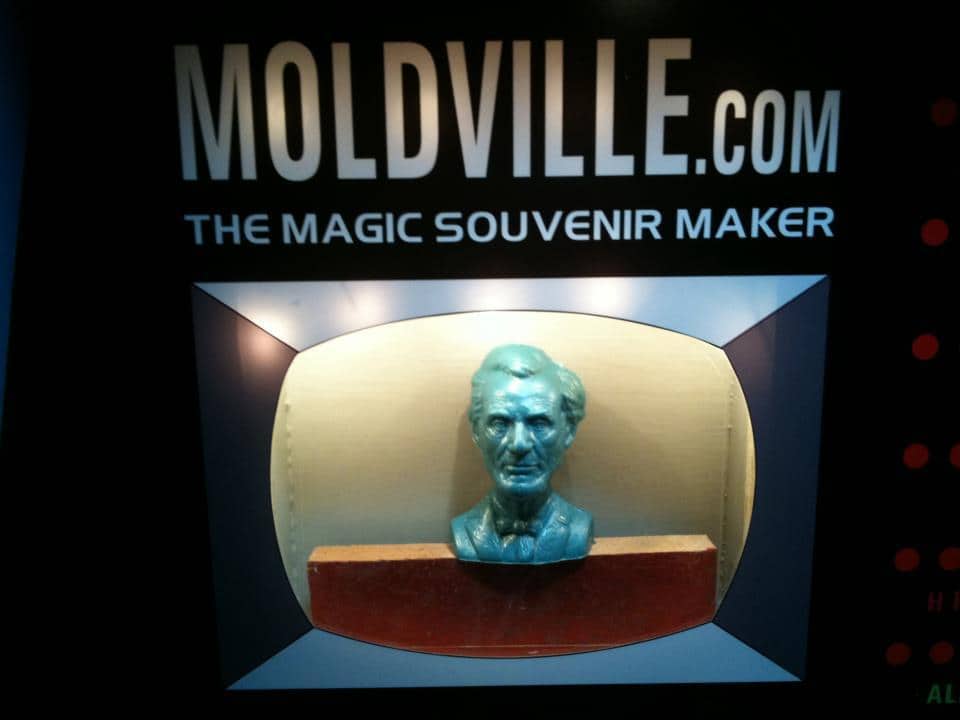 It's called their Mold-a-rama  Club-A-Rama:
MOLDVILLE.com is using, for one year only, an original vintage machine originally made for MOLD-A-RAMA, Inc. company in 1963.  It has been painstakingly preserved and restored in its original form, inside and out, to freshly issue from the original molds some of your favorite plastic wax souvenir figures from the 60s and 70s.
You can join as a subscription and be sent one different Mold-a-rama figurine each week, for a small fee, and follow along on what figures they're offering on the Moldville Facebook page.
Billy 7 has some interesting historical info about and photos of Mold-a-Rama machines.
There's a great shot of the Moldaramaville MAR collection on the home page of their website.
AND FINALLY
If you're feeling flush with cash, or just want a machine for your location or home, you can buy a refurbished vintage Mold-a-rama machine for just under $15,000 from Replication Devices. (When I win the lottery I'll totally get one installed at The Colonial Theatre in Phoenixville, with a red Blob-shaped souvenir!)
So there you have it! Your resource to now go and create your very own vintage Mold-a-rama souvenir, so you can put one on your desk, just like my 'gator wrestler!