Boot & Saddle Sign Broad Street, Philadelphia – Vintage Neon In The News
Posted on: April 17, 2012
One of Philadelphia's more distinctive vintage neon signs – the Boot & Saddle sign on Broad Street is in the news, as it may be revitalized if the property it is attached to gets reopened. (UPDATE! 5/1/2012 looks like the project is moving forward, according to this City Paper's Meal Ticket post: Broad Street's Boot & Saddle will open by next year)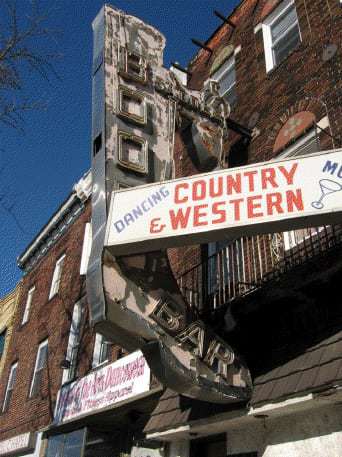 Neon expert / preservationist and local Philly resident Len Davidson  of Davidson Neon was kind enough to provide the photo above and clue me into this potential revitalization of both the sign (built in 1950) and the business – a Country/ Western bar that has been closed for over  a decade.
The potential revitalization of this property and sign is not without its drama.
The South Broad Street Neighbors Association opposes the renovation and reopening of the business as a nightclub, and would prefer for the building to remain shuttered until a better use (in their minds) could be made of the property- a family restaurant for example, as opposed to a live music venue.
On the other side is a group of local residents who believe that the opening of a music venue and relighting of the sign would attract new business to the area, and have begun a petition to show their support.
Thanks to our pals over at Philebrity who let us know that there's a zoning meeting tonight, so if you're a Philadelphia resident interested in getting this sign relit, and business opened, attend!
I'll be keeping my finger on the pulse of this place, and keep the rest of us posted!