The Retro Roadkids have the upcoming week off from school, and Retro Roadsis will have her hands full for sure!  Here are some retro road tips for fun with kids from Mod Betty / "Auntique" Beth from our quick visit home to the Boston area last winter.
Larz Anderson Antique Auto Museum, Brookline MA
I remember going here as a kid and loving it, so I thought the Retro Roadkids would dig a visit to "America's oldest privately owned collection of automobiles".
Located in the carriage house of what once was the estate of the wealthy Anderson family, the museum also hosts events on their lawn in the nicer weather (and I remember the playground at Larz Anderson fondly from my youth.) In the winter just up past the parking lot there's ice skating as well.
We had fun looking at the vintage cars and picking out which ones were our favorites. Here's the car the RRkids picked out for me! Aren't they sweet?
Larz Anderson Auto Museum
15 Newton St
Brookline, MA 02445
(617) 522-6547
The Coolidge Corner Theatre, Brookline MA
We didn't get to stop here, but the Coolidge Corner theatre hosts kids' shows as well as their regular art and independent movies and programming. Built in 1933, the Coolidge has been renovated with many of its original art deco details and a fabulous new deco-inspired neon marquee. Who doesn't want to show kids the thrill of seeing a movie on a screen somewhere other than their livingroom, or on the back headrest of an SUV?!
The Coolidge Corner Theatre
290 Harvard St
Brookline, MA 02446
(617) 734-2500
Irving's Toy & Card Shop, Brookline MA
You just can't get that close to The Coolidge without making a Must Stop at Irving's Toy & Card Shop, run by 97 year old Ethel Weiss.

 I've written about Irving's before, but I'll say it again- there aren't many places left like this around the country, so show yer kiddles how people used to shop for toys and items before the mall and the internet.
Irving's Toy & Card Shop
371 Harvard Street
Brookline, MA 02446
(617) 566-9327
If I didn't have some good eats on our radar I totally would've pulled over to have the kids try a "non-Dunkin" donut from  Twin Donuts in Allston, MA.
I did point out their lovely vintage neon sign as we drove by (it's been there since 1955), reminding the kids to look out the windows during road trips, because you never know what you might see!
501 Cambridge Street
Boston, MA 02134
The Deluxe Town Diner, Watertown MA
This was one of the very first diners I visited back in the day – before it got all Deluxed, when it was just the regular Town Diner.  This was a special diner for me to take the kids to as well because My Dad (I guess that would be their Retro Roadpapa) gave me a painting of this diner, which has a place of pride at the Hacienda.

Retro Roadboy may not remember seeing the painting, but he loves to go to lunch with us in a diner, because it means…pancakes!
 Retro Roadgirl was psyched to have a placemat to color while we waited for our food.

 And I was thrilled to visit the gift shop added onto the side of the diner, where they have all sorts of diner related items, including Larry Cultrera's Classic Diners of Massachusetts book for sale. Yay Larry!

 Built in 1947 (on-site not factory built, for the diner purists) the Town Diner is even listed in The National Register of Historic places. Another good lesson for the children – History doesn't have to be Boring!
For a list of other diners in the National Register, check out this handy list from our pals at Roadside Online.
Deluxe Town Diner
627 Mt Auburn St
Watertown, MA 02472
(617) 926-8400

 Cabot's Ice Cream, Newton MA
Now for our tummies' sake I wish that our drive from Watertown to Newton was longer – and if we had time we would've done some more 'sploring, but I could not let a Retro Roadkid day end without an ice cream from Cabot's in Newton, MA.

Family owned and operated since 1969, Cabot's is an ice cream parlor and restaurant serving breakfast, lunch and dinner. We were there with people of all ages, some sitting at the soda fountain, others in the red vinyl booths, but all enjoying themselves!

Known for their delicious homemade ice cream, I just had to have one of their famous hot fudge sundaes, and get the Retro Roadkids all sugared up too.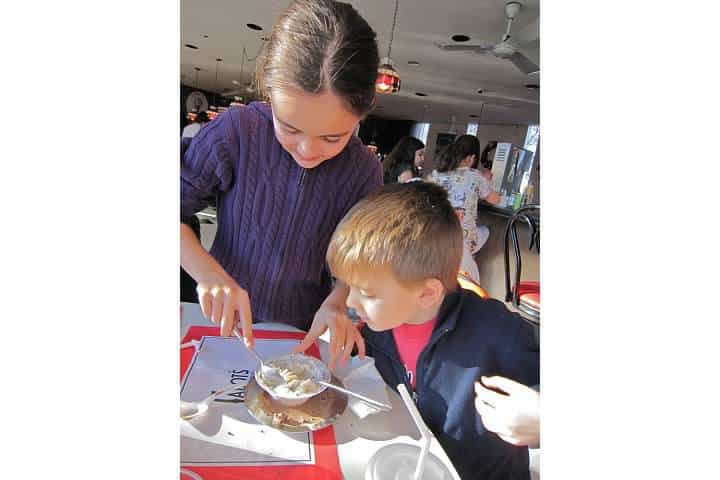 Cabot's Ice Cream & Restaurant
743 Washington St
Newtonville, MA 02460
(617) 964-9200
West Newton Theatre, West Newton MA
We did totally run out of time, as we had to scurry back to Retro Roadsis / Roadmom before we got in trouble, but I can't get you in this neighborhood without putting the West Newton Cinema on the Retro Roadmap. I'll totally get a photo of it next time I'm up at home, but it's a 1937 built neigborhood theater that shows new, old, independent, kids and foreign films on 6 screens.
Looking at their schedule it looks like they take into account the school holidays, as they have plenty of kids shows planned for next week. Go!
West Newton Cinema
1296 Washington Street
West Newton, MA 02465
(617) 964-8074
Can you tell they had a fun day ? I took this photo from the safety of the inside of the Retro Roadmobile 🙂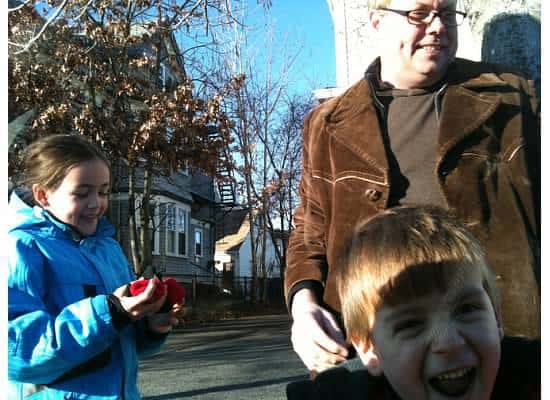 So yes, we got the Retro Roadkids entertained, giggling and smiling, without once stepping into a mall, fast food joint or megaplex. You can do it too!
Tell me your Retro Roadfamily friendly places to add to the list!  Always good to know places to go when I'm being "Auntique" Beth. 🙂

View MA – Massachusetts Retro RoadMAP in a larger map