San Francisco CA – Retro Roadmap Recommendations
Posted on: June 13, 2012
My pal Mini Biggles is heading to San Francisco this weekend, so I'm using her trip as a kick in the pants to share some of the highlights of our visit there with all of YOU!

With a big mahalo to Anna of Tallboy Records who coordinated our stops!
Dear Mini –
As you know they call me Mod Betty, so  my recommendations do not involve the hippy haunt of Haight- Ashbury, and I'm sure you'll get lotsta recommendation for the usual touristy things.
But if you want to experience some mid-century inspired modern fun in San Fran, here's what we did in our all too short visit a few weeks ago:
Smuggler's Cove for Tiki inspired Cocktails
You'd never know from the unassuming exterior what great ambiance and tiki drinks are located in the darkness of Smuggler's Cove. Once your eyes adjust you'll have a great time!
While it's not vintage vintage, its totally inspired by the tiki bars of yore- and done up in exacting and wonderful detail. Their rum based tiki drinks and prohibition era cocktails have won them many awards, and the menu is something to behold.
Sit at the bar and watch the master mixologists at work, but if there are no seat ringside, head upstairs and pose in the peacock chair, where you can also watch the bar below.
(I had my photo taken there too, but Retro Roadhusband looked so debonair, I had to share!)
Smuggler's Cove
650 Gough Street
San Francisco, CA 94102
(415) 869-1900
Vintage shopping at The Other Shop:
 This shop was next to our  hotel – you'll love their collection of vintage clothes, housewares, collectibles, tchotskes, mod decorations,vintage  jewelry and more. I know your inner Jan Brady will come out in this stire for sure!
327 Divisadero Street
San Francisco, CA 94117
Ride the Cable Cars!
Don't sit inside the car, or even sit on the outside seats- be daring and stand on the outside, hanging onto to the poles. If you sit down outside you'll end up getting someone's butt in your face when they stand up, so Go For It and hang on!
Get off the cable car and get an Irish Coffee at The Buena Vista Cafe:
 Sit at the bar and watch the master at work, creating these tasty – and strong – beverages where they were invented in 1952:

 Though I'm not a coffee drinker I was totally convinced to try one, and dang was it good! Give it a shot!
San Francisco, CA 94109
(415) 474-5044
The Musee Mechanique – a highlight of our visit!!
The museum is one of the world's largest privately owned collections of mechanically operated musical instruments and antique arcade machines.  And we loved it!
(Laughing Sal scaring the beejeezus out of Retro Roadhusband)
 Play vintage pinball, have the gypsy grandma tell your fortune, listen to the nickelodeons, get some smooshed pennies, and have your photo taken in a vintage photo booth, in general It's The Place To Have Old School Fun!

San Francisco, CA 94133
Ride the streetcars
Not only are the streetcars a handy way to get around town, they're all different historic trolley cars.
It's Tops!
 You can't miss the sign on this vintage San Francisco lunch counter, established in 1925. If you're in the area and hungry for breakfast or Malt Shop Food, It's Tops is the place.

It's teeny weeny but adorable inside – so small I think you have to walk through the kitchen to get to the bathroom, but our waitress was a charmer and we loved the knotty pine decor.
San Francisco, CA 94103
Eat at the Saint Francis Fountain:
The St. Francis Fountain is San Francisco's oldest ice cream parlor, since 1918, but lovingly redone and maintained. Open for breakfast, lunch and dinner.
I had the BEST lunch ever here, it was called The Poor man – Cilantro Chicken Soup over a biscuit. NOM! Cliff had a great grilled cheese and our pal Anna had an amazing breakfast as well.
St. Francis Fountain
2801 24th Street
San Francisco, CA 94110
(415) 826-4200
OH! And don't forget The Tonga Room!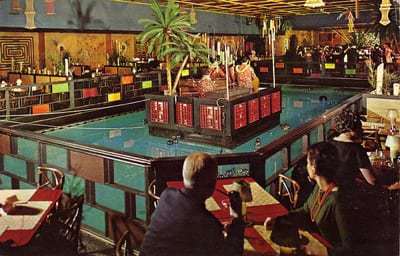 It wasn't open the days we were there, but it's a tiki tastic cocktail place not to be missed! In the basement of the Fairmont Hotel, serving up exotic cocktails and food since 1945, with a floating band! It also has been reported that they may close it, so if you can get there, get there.
The Tonga Room at the Fairmont Hotel
950 Mason Street
San Francisco, CA 94108-6000
(415) 772-5278
And if you're up for a jaunt outside the city, get to Joe's of Westlake quickly because it's about to be remuddled (January 2014)

We loved our whiskey sours in the cocktail lounge, relaxing by the fireplace.
You know I'm a total sucker for well preserved vintage decor, so we were in heaven.
Joe's of Westlake
11 Glenwood Avenue
Daly City, CA 94015
(650) 755-7400
Enjoy your trip dearie! Your Pal, Mod Betty

View CA – California Retro RoadMAP in a larger map