Just heard about this on the radio and thought it would be of interest to Retro Roadmap Readers – especially since it's interesting to Mod B:-)
America's Road: The Journey of Route 66
May 31, 2014 – August 24, 2014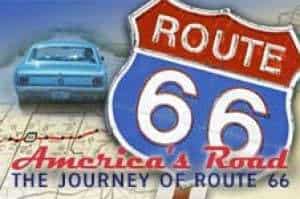 This exhibit takes visitors on a geographical and historical tour of the iconic highway, from the highway's opening in 1926, up to the present day. Graphic displays, props, artifacts, interpretive text, and interactive experiences – including a drive-in theater and a period radio show – help deliver the story.

Themes include American migration, the evolution of automotive travel, roadside architecture, and technological and cultural innovation. Included, too, with the exhibit is a photo essay created by photographer and author Russell Olsen. Olsen researched and photographed 75 classic service stations, motor courts, restaurants and other sites along Route 66.

The Mercer Museum will augment the exhibit with vintage automobiles and other items of automotive culture. On display, will be a 1969 Mercedes 600 (short-wheelbase), once owned by Elvis Presley.
Click here for exhibit info and directions
(215) 345-0210