Retro Roadmap Episode #3 Live! Adams & Bright Soda Fountain, Hamburg PA
Posted on: September 18, 2014
Can I just tell you how excited I am to share Adams & Bright Pharmacy/Soda Fountain in Hamburg PA with everyone?! This place is such a gem – and so is Pharmacist/Owner Lorlalee!
HERE'S THE LINK!
Retro Roadmap Episode 3 – Mod Betty at the Pharmacy Soda Fountain!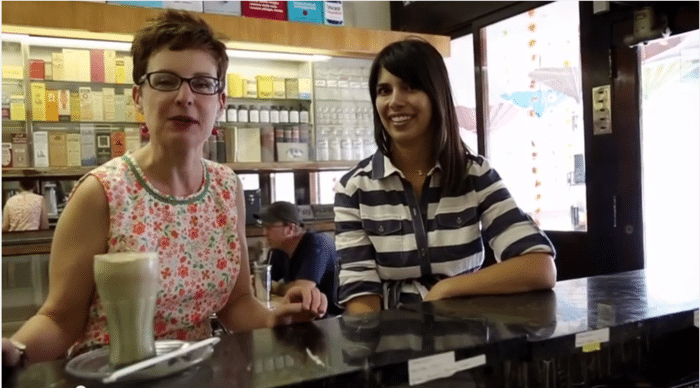 Hamburg is one of my fave little towns with a lot of cool stuff going on, and a lot more potential – they really got hurt hard when the giant big box shops opened just up the street, so I love being able to highlight some of the fun Retro Roadmap worthy stuff in town. We didn't have time to visit the Reading Railroad Museum or the fun and funky 5&10, so remember to factor time in for those in when you visit!
Remember, getting these vids made is only half of the project – the other important half is to get folks to know about these cool old places, so they go there and shop which allows the businesses to remain open for future generations to enjoy… so please share the link with everyone you know!
Thanks once again for giving me the opportunity to get the word out about these cool vintage places that make our country unique!
Mod B