2018 Update:
According to our NY contact Jeremiah Moss at Jeremiah's Vanishing New York, El Quijote closed at the end of March 2018. According to some reports it is only a temporary closure, but since it is allegedly being completely remodeled and then reopened in 6-8 months, I just don't believe it will be the same place if it ever returns. I am more than happy to be proven wrong, however! For now I'm RIPing the original Quijote. 🙁
Original 2015 post:
While the Spanish Restaurant El Quijote has been a Chelsea neighborhood anchor since 1930, it has recently been purchased by the folks who also are cleaning up the Chelsea Hotel, so its future is not clear.
And heck, neither was the entrance when we visited – obscured by construction scaffolding, as part of the aforementioned renovations to the once derelict but famous Hotel Chelsea.

But don't let the scaffolding deter you from visiting El Quijote, as it's a wonderful step back in time, in a city where stepping back in time is becoming a rarity.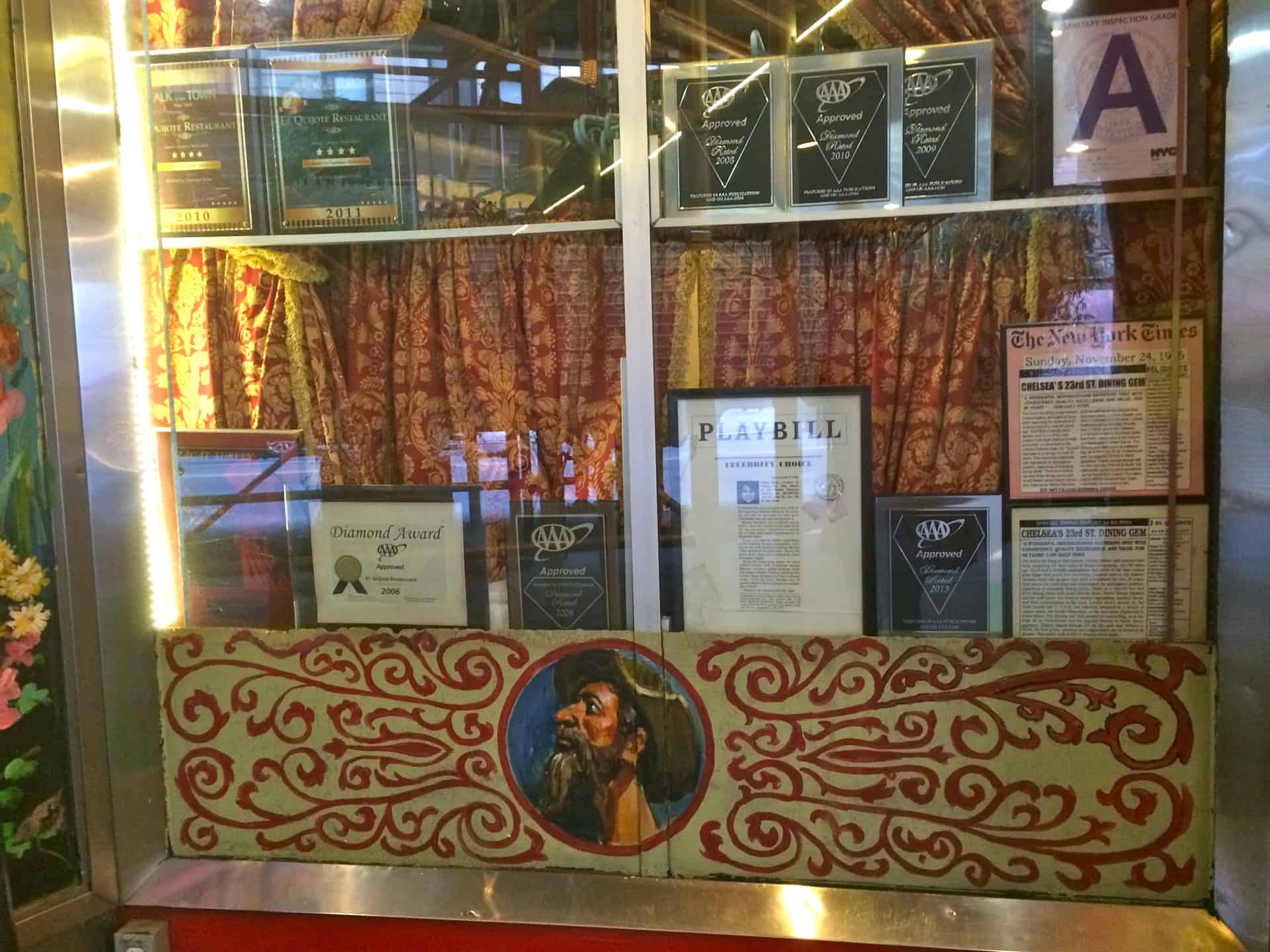 The restaurant is chockablock full of vintage Spanish-inspired charm, from the plethora of Don Quixotes overlooking the classic bar to dimly lit front dining area painted with a Cervantes inspired windmill motif, which was a perfectly cozy spot on a bitter winter day.


Mod Betty was smitten with our gracious waiter in his formal attire, especially when he smiled indulgently as I mangled my order in 8th grade Espanol.


The paella we ordered was enough for a table for four (though I confess a bit saltier than expected), and the scallops I spied on an adjacent table looked delectable. Salads on the special menu were immense as well, and we had leftovers aplenty.


Making your way to the "lav" you'll catch a glimpse of more vintage wonderfulness, in what I'm pretty sure is the original switchboard for the hotel!


Speaking of hotel – while the new owners SAY their goal is to retain the look and feel of the place, I have been burned too many times by these reassurances, only to hear moments later that things just didn't work out that way. And I'm not the only one who feels this way.
So – Andale! Vamooose! Skeedaddle and get yourself to El Quijote sooner rather than later! Vintage NYC is vanishing faster than Mod Betty can keep up! #SaveNYC
226 W 23rd St, New York, NY 10011