Retro Roadmap readers may recall that a few weeks ago I posted about a gem of a find – the White Horse Grill in Berwick PA. While regular sites don't get that they're open MOD BETTY knew that they were still in biz, and put 'em on Retro Roadmap!
I sent a link to Jeri, the swell gal whose fam runs the place, and was delighted when I got this reply:
Words can't describe how incredibly grateful we are for the article you put together in honor of the restaurant and also for your kind words! It has been shared numerous times on Facebook and we have been very fortunate to have MANY new customers walk through the door because of it!!! 

You have been such a great asset to us in ways of opening our eyes to what we have right in front of us, and helping us "do things a better way" so to speak.

We can't express our gratitude enough to you! "
Aw!!!
Now I don't share this to show off, but only to show – that one person CAN make a difference, so we should never stop trying!
My way of making a difference was to write about the White Horse –  and your way of making a difference can be as simple as going to breakfast there (or to any Retro Roadmap worthy place you love and want to see stick around!) Remember to tell them that the authentic vintage charm is part of why you visited, so they get the idea that that is an asset and not a detriment to  business.
Sometimes Mod B gets bummed and wonders, "Why am I doing this? Does it even matter?" and then out of the blue I get a note like this, and I know I'm on the right track. 🙂
So glad to help out Jeri, her mom and grandmom, and all of those Retro Roadmap worthy places out there, and I could not do it without you readers!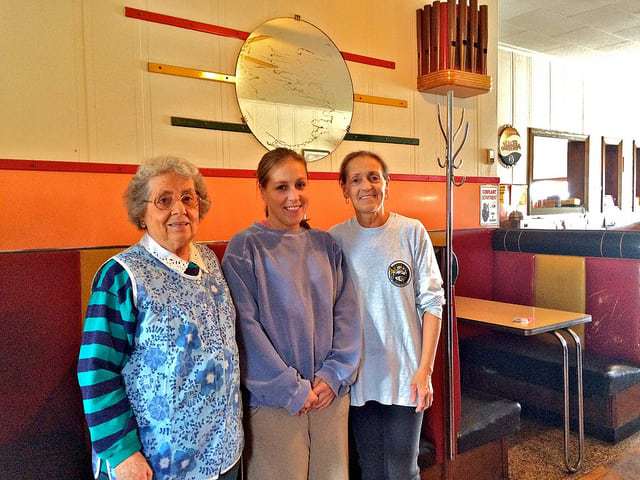 And PS I'm still determined to help them out so that other regular sites show that they're open, but at least for now us Retro Roadmappers are in the know!