August 2015 Update:
It it always a sad day when I have to remove a place from Retro Roadmap. This usually happens when the authentic vintage charm that we love so much has been obliterated by remodeling/remuddling, turning a once "real" place into just another cookie cutter establishment. Those are not what Retro Roadmap is all about, so as not to disappoint you readers with this type of place, we simply remove it. But it still hurts! 
The Wonder Bar of Worcester MA is sadly now has a generic restaurant interior, with only the unusually shaped wallbox juke boxes remaining of what was a great (if a little shopworn) vintage interior.
Retro Roadmap reporter Louis Sam Inghilterra sent me photos from his recent visit, and I had to do a quadruple-take to ensure he was really reporting on the same restaurant we visited just a little over 2 years ago.
1920s-2013 "Before" photo:


2015 "After" – meh.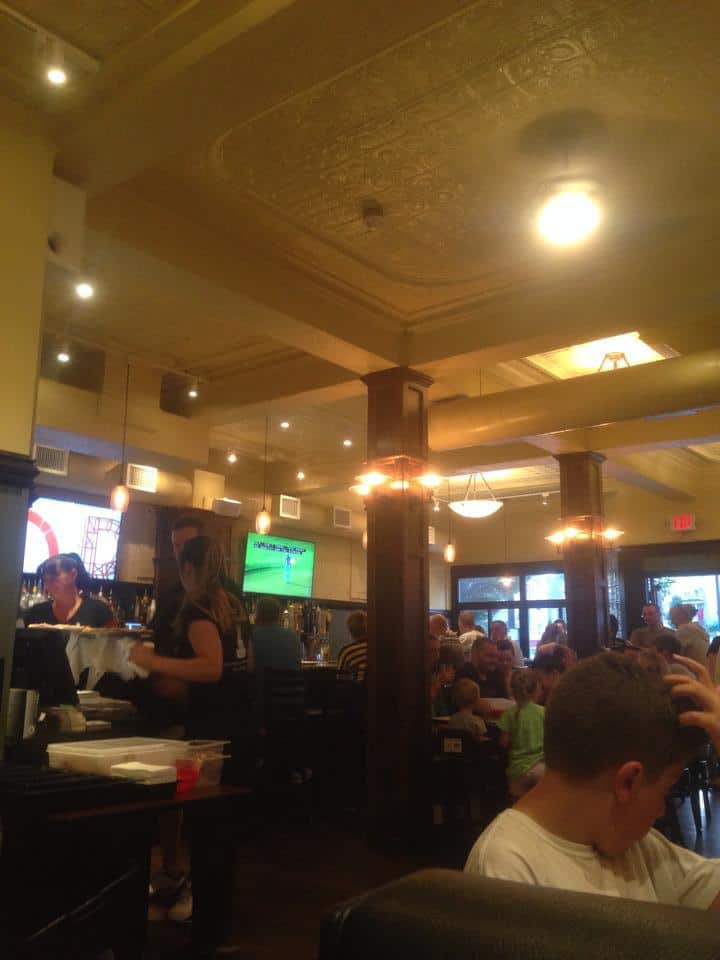 So sad to see it go the way of the oversized TV/earthtone paint and bland interior, but glad at least we had the chance to enjoy it when we did.
And seriously, folks – this is one of the many reasons we do Retro Roadmap – because these old authentic vintage places we love so much can be changed in an instant.  I hope we're helping you get to them before the whole country looks like one big boring shopping mall/restaurant. 
R.I.P. Wonder Bar – we will miss you! 
Our Wonder Bar report from 2013 (Now sadly an Obituary)
Worcester Mass has a lot to offer the Retro Roadmap type visitor, and it's not just diners! Take the tasty thin crust pizza and vintage ambiance of the Wonder Bar on Shrewsbury Street.
Mod Betty was intrigued enough by their fab neon sign to drag the ENTIRE Retro Roadfam there, and I'm pleased to report that Retro Roaddad proclaimed it to be the best place I've dragged them to so far. High praise!
I want to point out that we weren't technically hauling the Retro Roadkiddles into a dingy and dubious bar per-se. While the Wonder Bar does actually have a small bar in the back of the room, and does serve alcohol, it's more of a restaurant. See for yourself:
Now here's where the lives of Mod Betty and "Antique Beth" get confusing: Where normally I'll try to find out some history of the places we visit from the waitstaff, this time it was near impossible, as our large group, with two hungry Roadkids, was almost too unweildy as we invaded the previously serene restaurant.
Hats off to our waitress, who helped get the kids' hands clean, take our order and put up with the boisterous table in the front corner. With her hands full of us and wanting to stay on her good side, I played the role of Auntique Beth, leaving Mod Betty's assignment for another time. That said, I promise to follow up and get the historic details real soon. (But why should you wait to enjoy the Wonderbar, just because Mod B is a phone-aphobe :-))
Speaking of waiting – while waiting for our order of various "bar-style" pizzas to arrive, Mod B/ Autique B gave the Retro Roadkids a lesson on how to use a jukebox. Now this was a newer CD-filled Wurlitzer juke box, but its just a matter of time before CDs go the way of the 78.
"But wait, backup a bit," I hear you say, "I thought you claimed this wasn't 'really' a bar. Then what's up with Bar Style Pizza?"- Lemme 'splain:
Another subgenre of regional foods, "bar pizza" or "bar pie" is indigenous to various enclaves in Massachusetts and the Northeastern region of the country. Though I'm most familiar with the pizza found on the South Shore, this was the previously unknown the Central Mass version. Small 12″ pizzas with thin crust, they are one of the things that Mod B misses about her home state. Can you see why? Tangy, crispy – nom!
Like George's Coney Island and their hot dogs, the Wonder Bar is famous for their pizza, but they have other primarily Italian specialties on their menu. And, much to the delight of Retro Roadboy, they even had chocolate pudding. If the tike is to be believed, he claimed he had never had chocolate pudding, so before we even placed our lunch order we made sure he would be able to have some pudding for dessert.
So if you're in Worcester and don't feel the call of the diner food, stop by the Wonder Bar for some Good Food. Their neon doesn't lie!~
2015:
Here are some more photos from our 2013 visit that didn't make the original cut, but since they're all we have now to remember the place, I figured I'd share 'em:
Wonderbar Worcester MA 2013 Retro Roadmap Visit – a Flickr Album