January 2020: I am heartbroken to report that Scott's is not opening for the 2020 season, and is up for sale. If you're big in heart and wallet, here's the info to purchase it! 
Original 2019 Post:
How MARVELOUS is it to discover that a TV show location exists in real life AND you can stay there – now? Step back in time and have a vintage vacation yourself, like Mod Betty did – at  Scott's Family Resort – the real life location where they filmed scenes for the Amazon TV show The Marvelous Mrs. Maisel!  (my writeup of Scott's is here)
If you're a "Maiselite" or just want to vacation at one of the remaining Catskills resorts
Mod Betty has the scoop (and photos!) 
For folks not familiar with The Marvelous Mrs. Maisel, it is a show set in late 1950's New York, where main character Midge Maisel discovers her passion for stand-up comedy.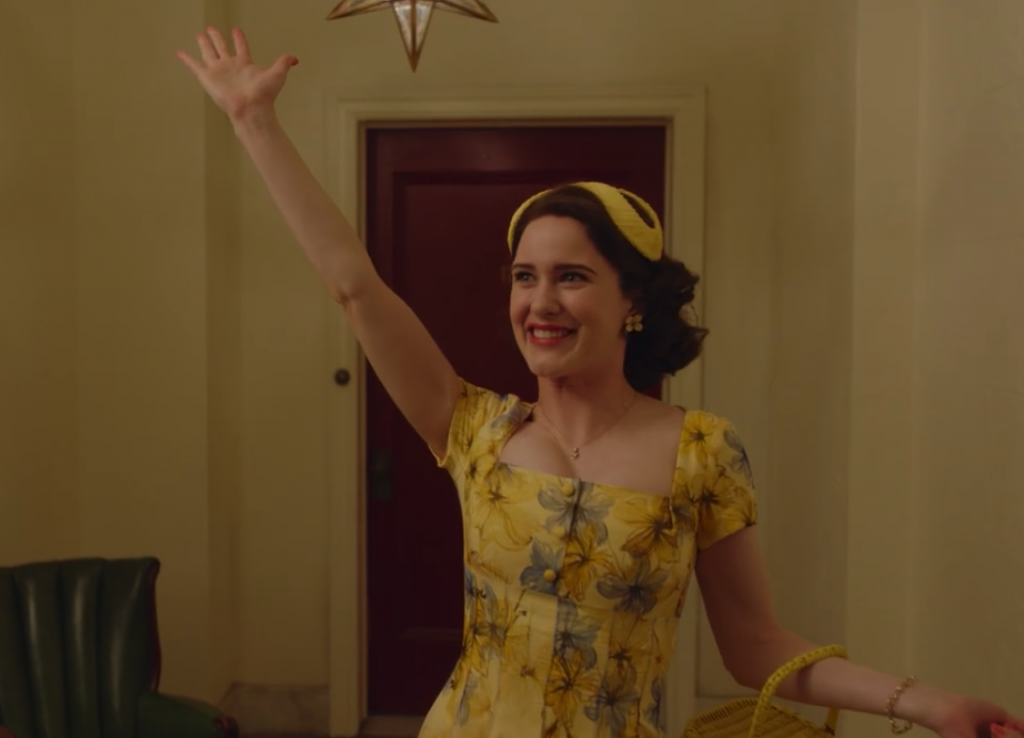 In Season 2, Episode 4 is called We're Going to the Catskills, with Midge joining her parents in their annual summer family vacation at the fictitious Steiner Mountain Resort.
However, many of the scenes in this and the following two episodes were filmed at Scott's Family Resort, located on Oquaga Lake, in Deposit New York!
A Few Steiners / Scott's Filming Locations: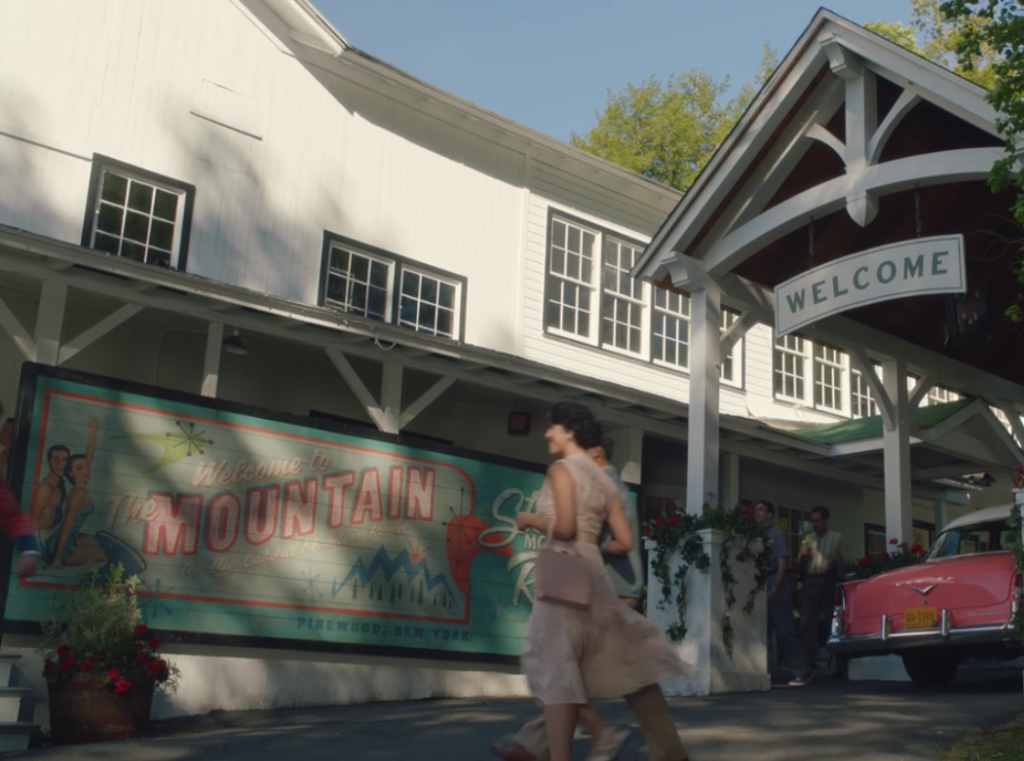 Abe Weissman (Midge's dad) pulls their car up to the porte cochere of "Steiners", but he's really in front of the Playhouse at Scott's.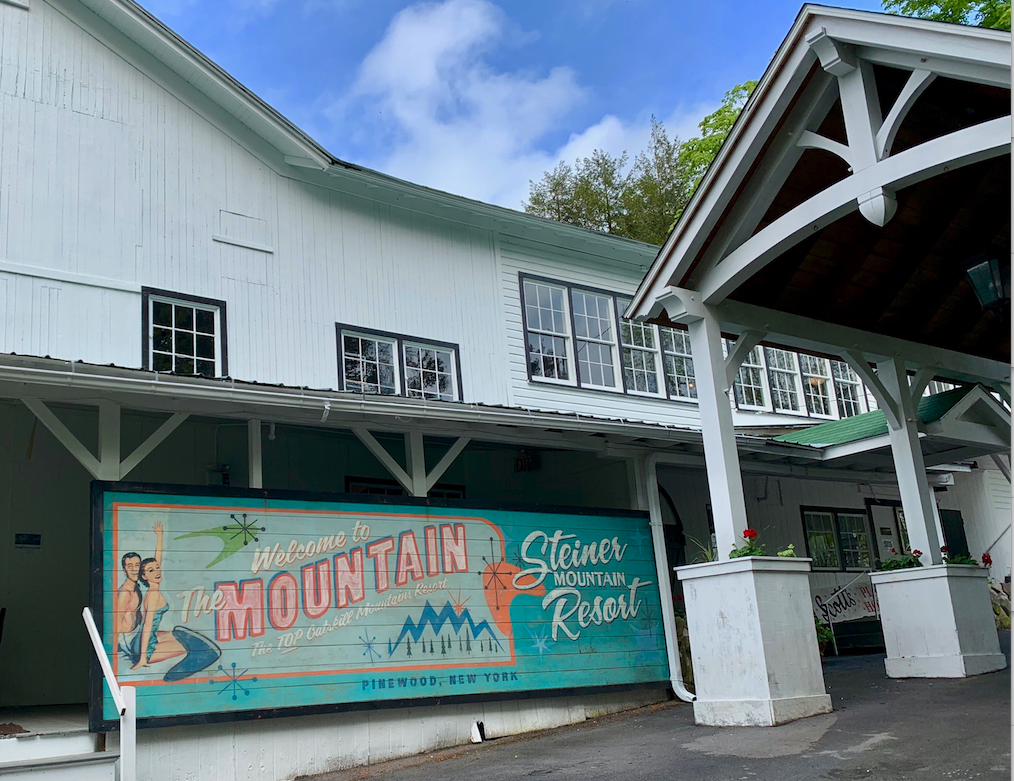 The folks at the show were cool enough to gift the Steiners sign to Scott's when they finished filming, and is a perfect photo op stop for any Maiselite visiting Scott's (and every Maiselite out there should be visiting Scott's!)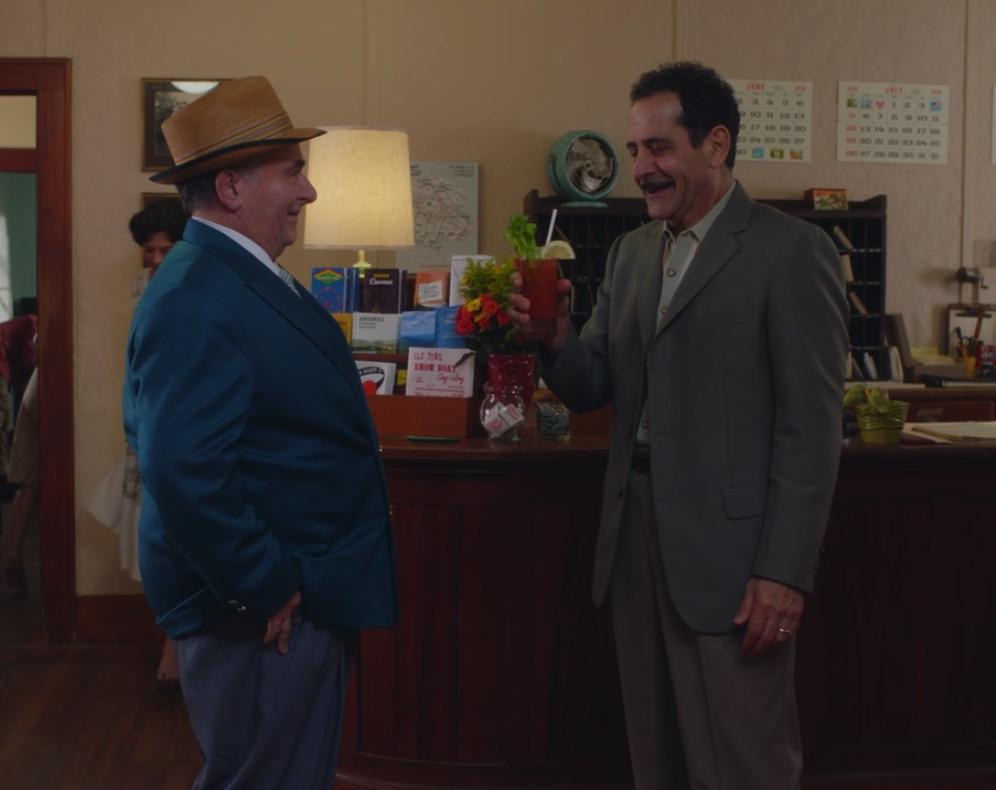 The check-in scene ( where Abe delights in one of what will be many, many glasses of tomato juice) was actually filmed in the older part of the lodge that is currently not in use. However, if you ask nicely, perhaps Manager (and Scott family member) Michelle will show you inside.
Note the calendar pages on the far left of my photo below – they're the ones behind Abe's head!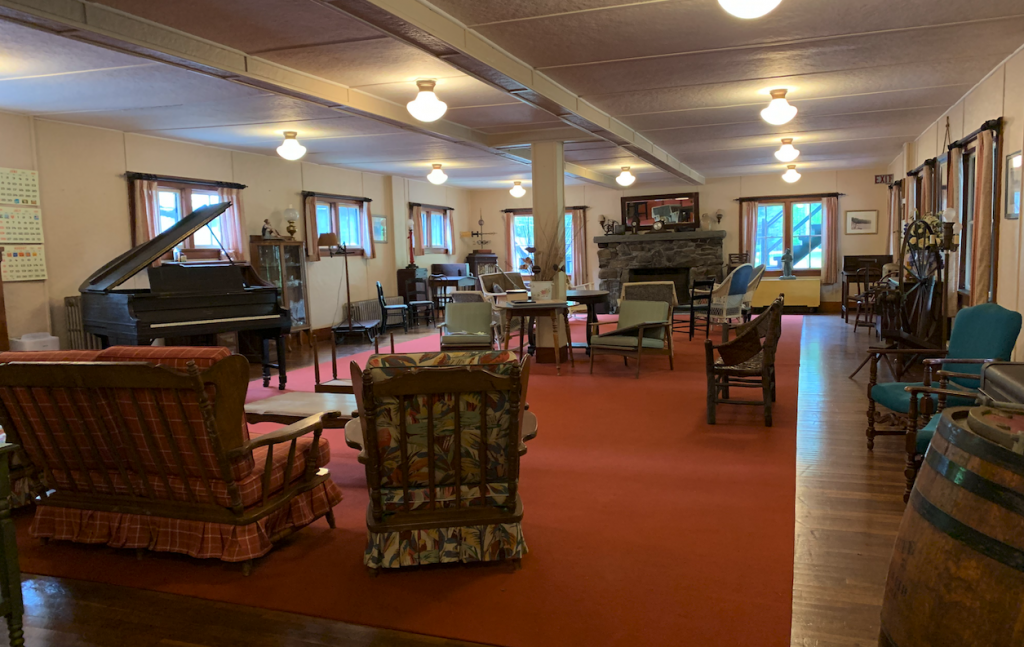 It's a delightful space and there are a few remaining filming artifacts on display here,  including a copy of the Steiner Newsletter – you'll love the fun new font!  Mod Betty was equally charmed by the handwriting and activities on this "vintage" Scott's list: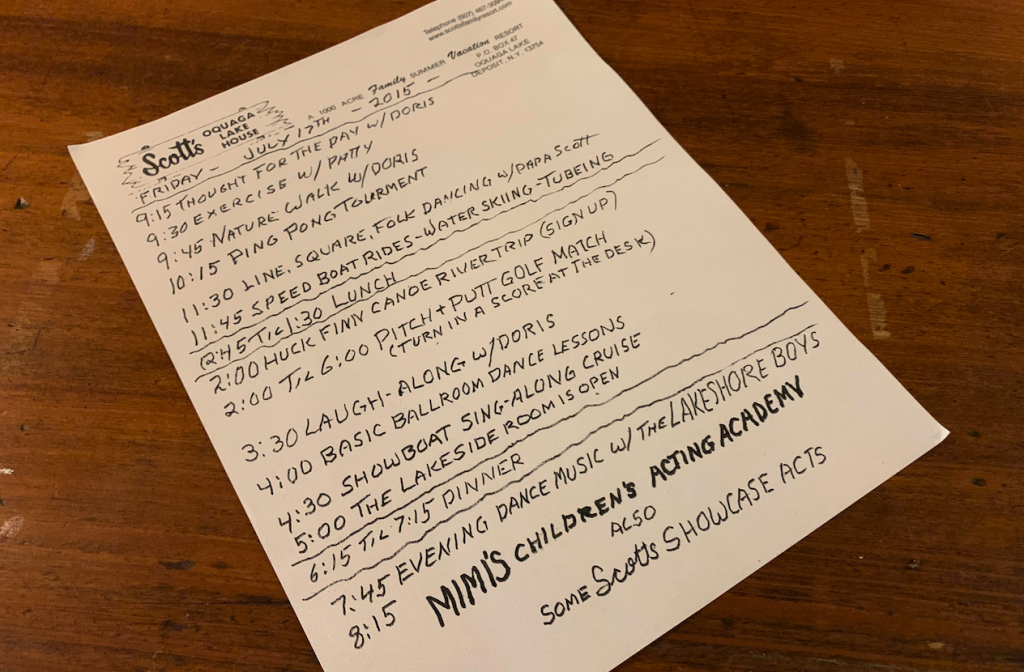 Scott's Oquaga Lake House / Scott's Family Resort has been family owned and operated by the Scott family since 1869. I think I want to hang around with Doris, or perhaps do some line dancing with Papa Scott.
The Weissman Cottage is where Midge and her family will spend the summer: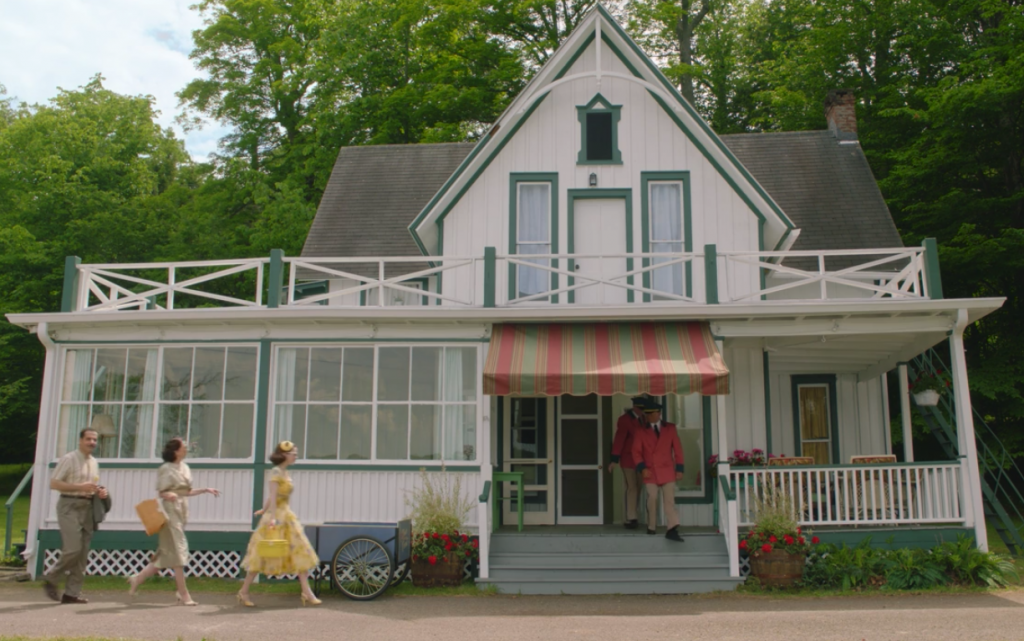 And you can too!
It is known as Windermere in real life: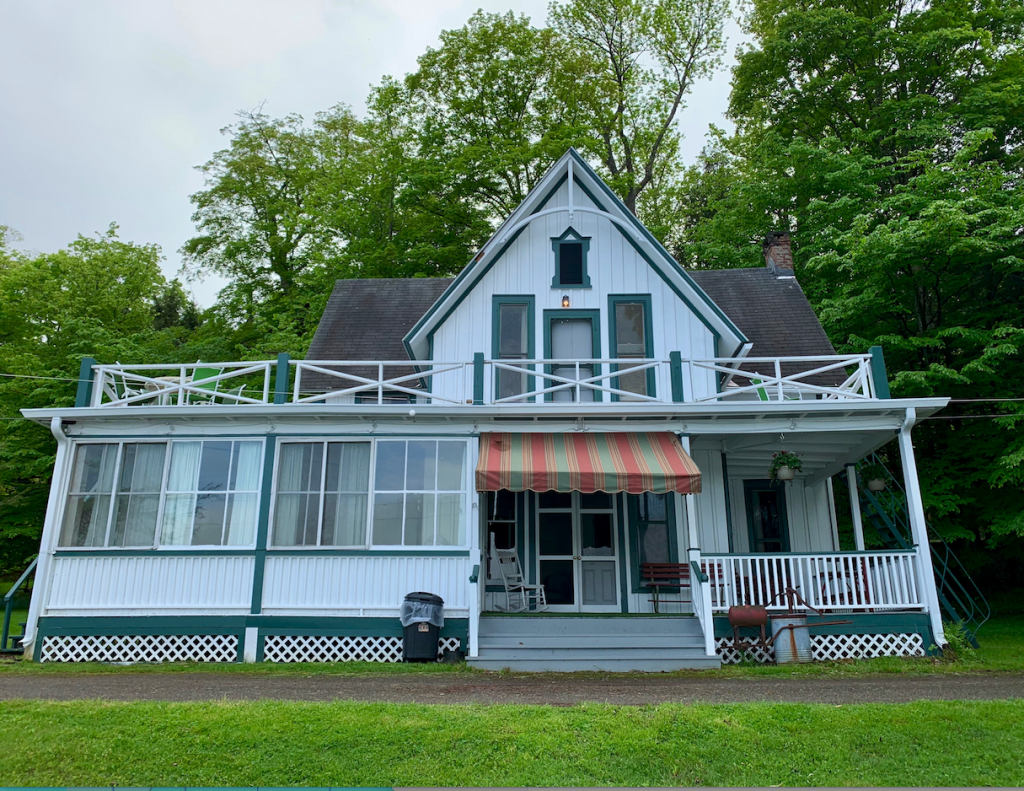 While the entire building was not updated for the show, the sun porch looks very much the same as it did in when they filmed here.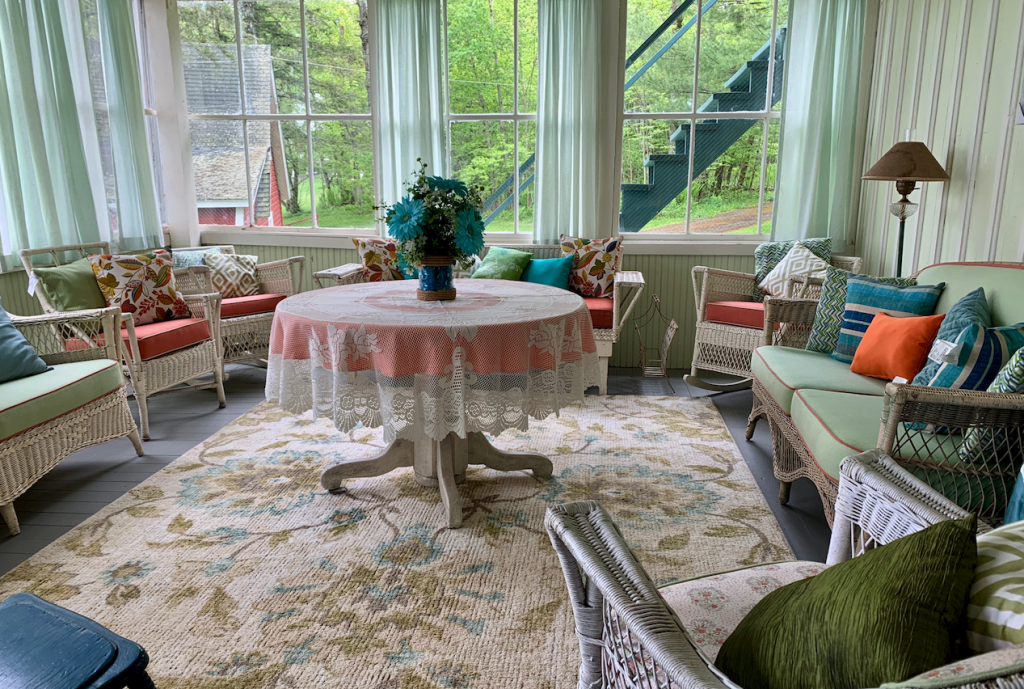 The porch is where Joel – Midge's ex-husband stays for a bit, before his folks arrive. It's complicated, as the kids say.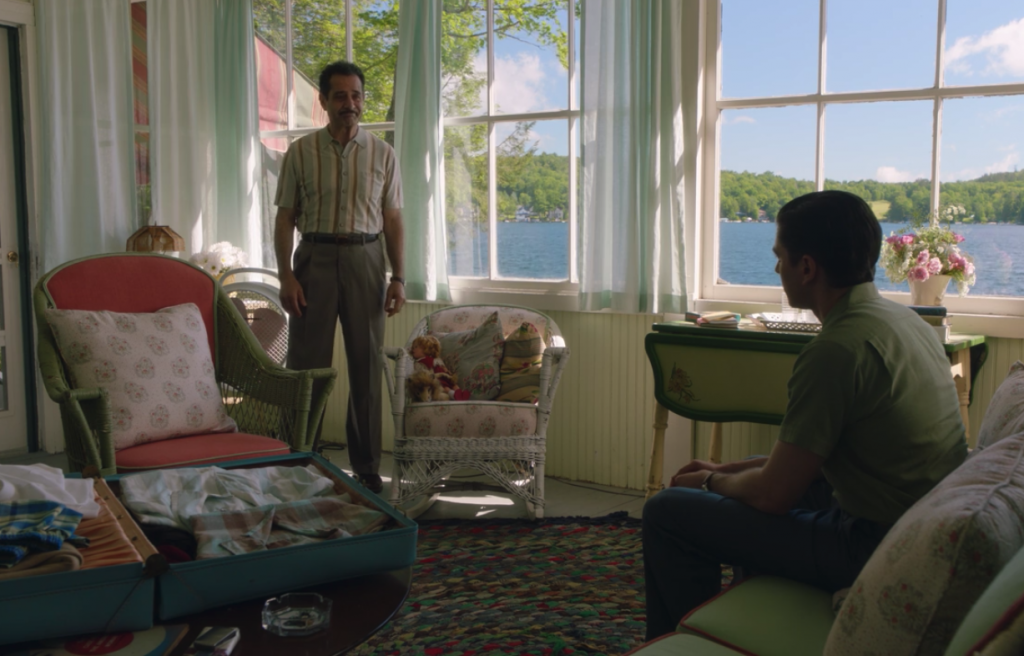 The sun porch is also where we learn of Abe's penchant for donning a "romper" to wear while performing his pre-dawn dockside calesthenics, ala Jack Lalanne.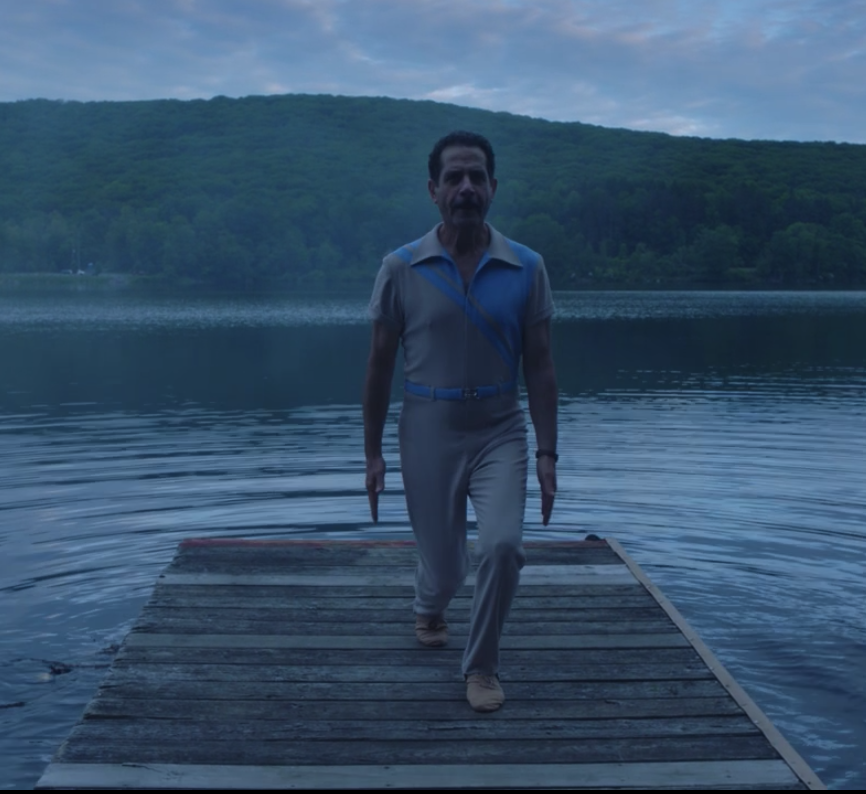 Retro Roadhusband balked at my romper idea, but he was a good sport and showed us a few of his Abe-inspired moves on the dock in front of the cottage 🙂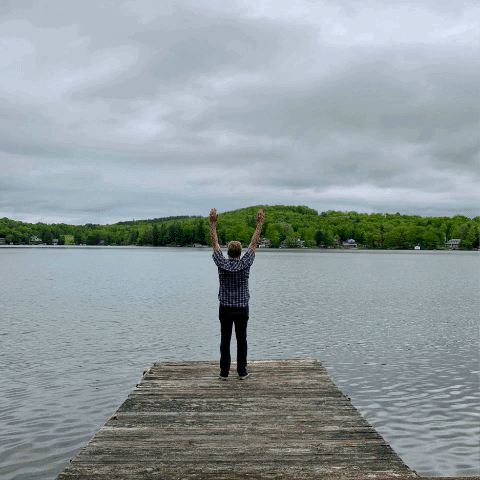 Through the power of Hollywood magic, the characters are often seen inside what we know of as Scott's "Playhouse" but the big assembly area in the show is not really on this location.
However, that's OK because the real interior of the Playhouse is featured prominently in a number of scenes!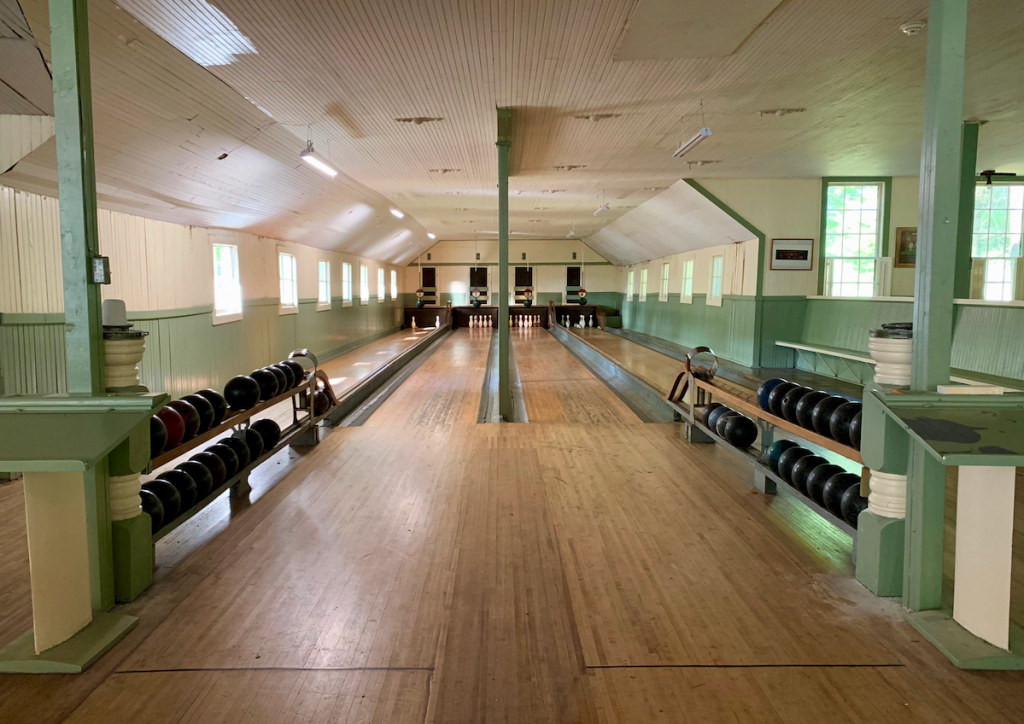 Joel bowls at these vintage lanes, and you can too!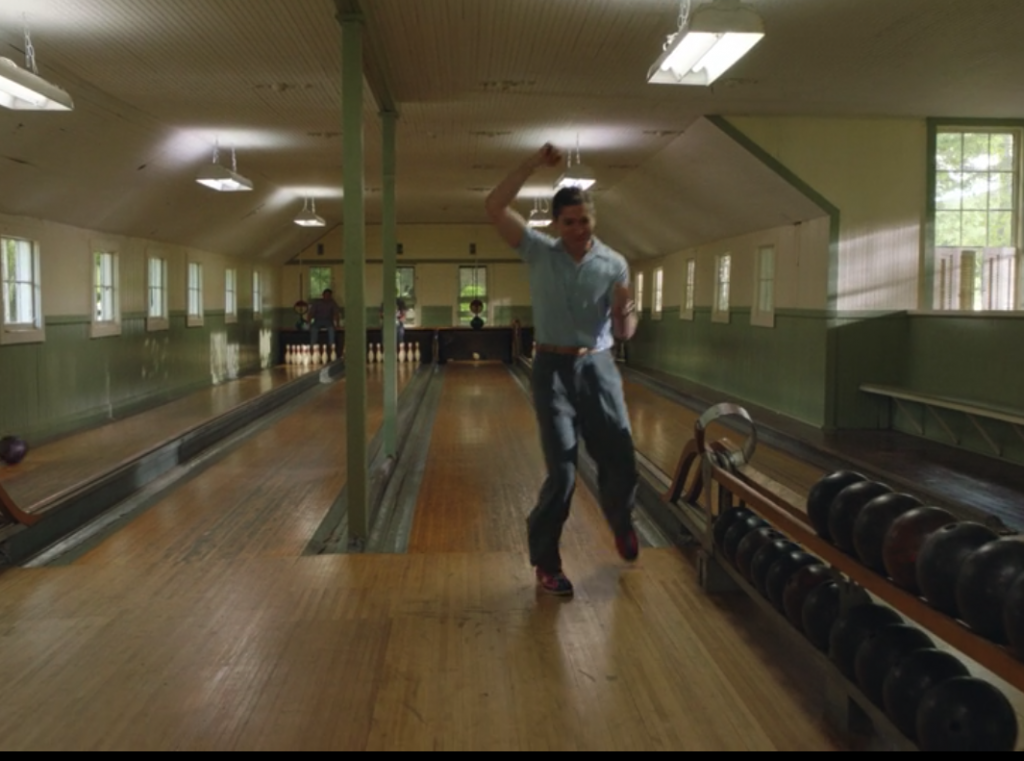 And Abe plays table-shuffleboard  right in front of the antique marble-topped soda fountain (tho obvs he prefers his tomato juice.)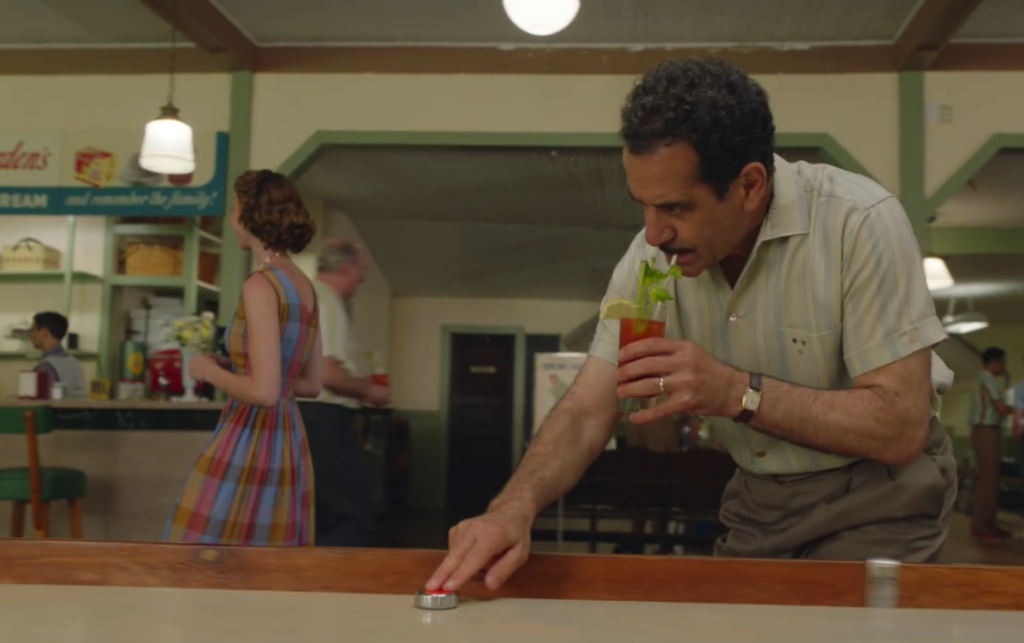 However, YOU can still get ice cream, or candy, or even breakfast / lunch at the counter!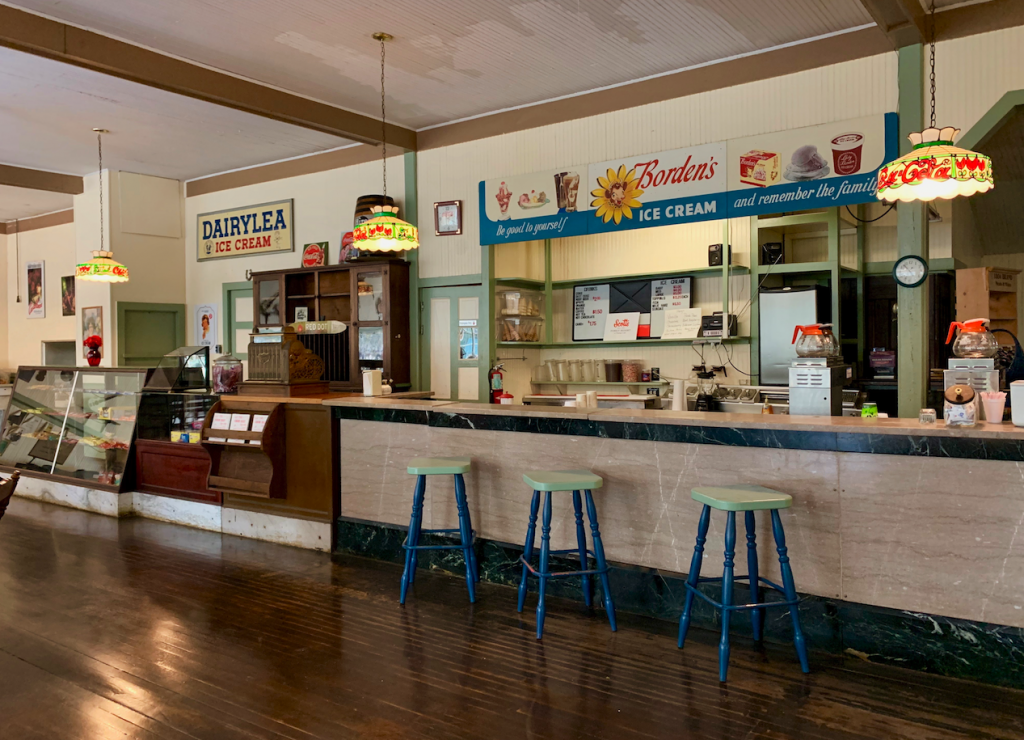 And perhaps exchange some witty banter with a possible new love interest (or old love interest?) on the wide porch?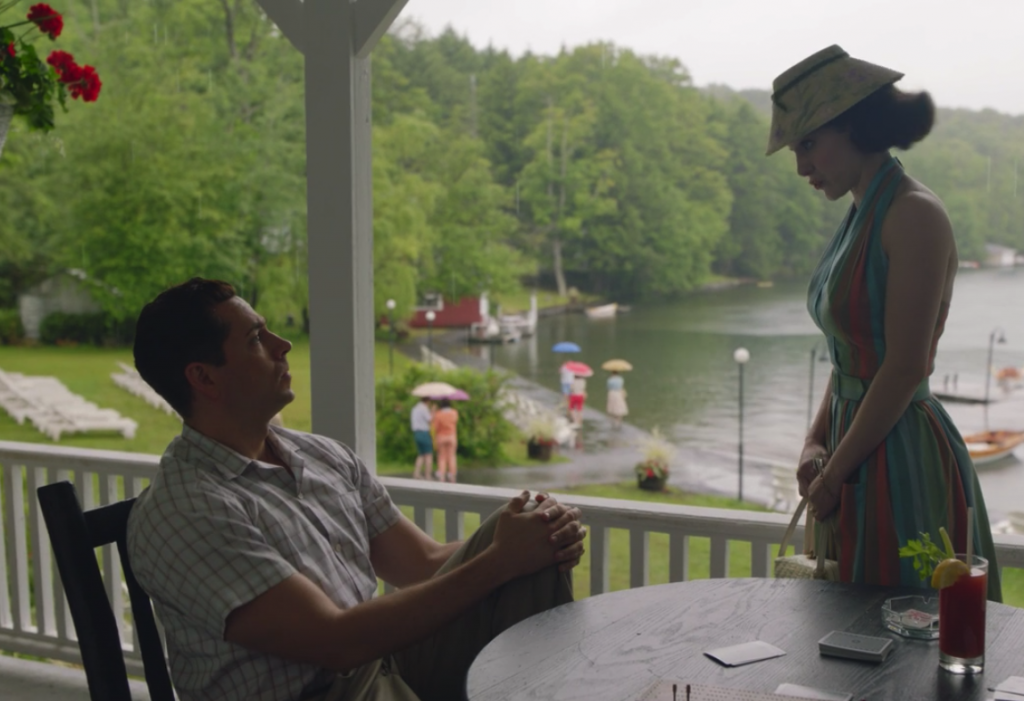 The view is even prettier in real life!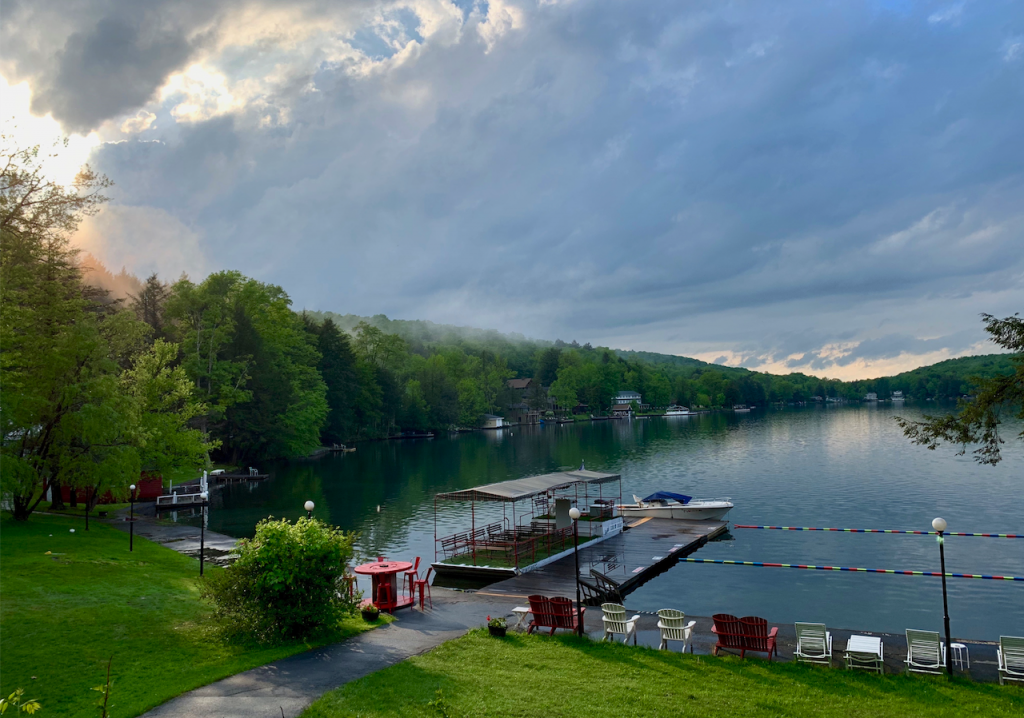 While the dinner / dancing scene was filmed off-site, the ballroom at Scott's is big enough for you to have your own "Dance Challenge" like Midge participated in.
Or in another Catskills-centered movie nod, do your very best Dirty Dancing impression here (Scott's was approached in 1980 to be the filming location for that now famous film, but they declined – and have pretty much regretted that ever since.)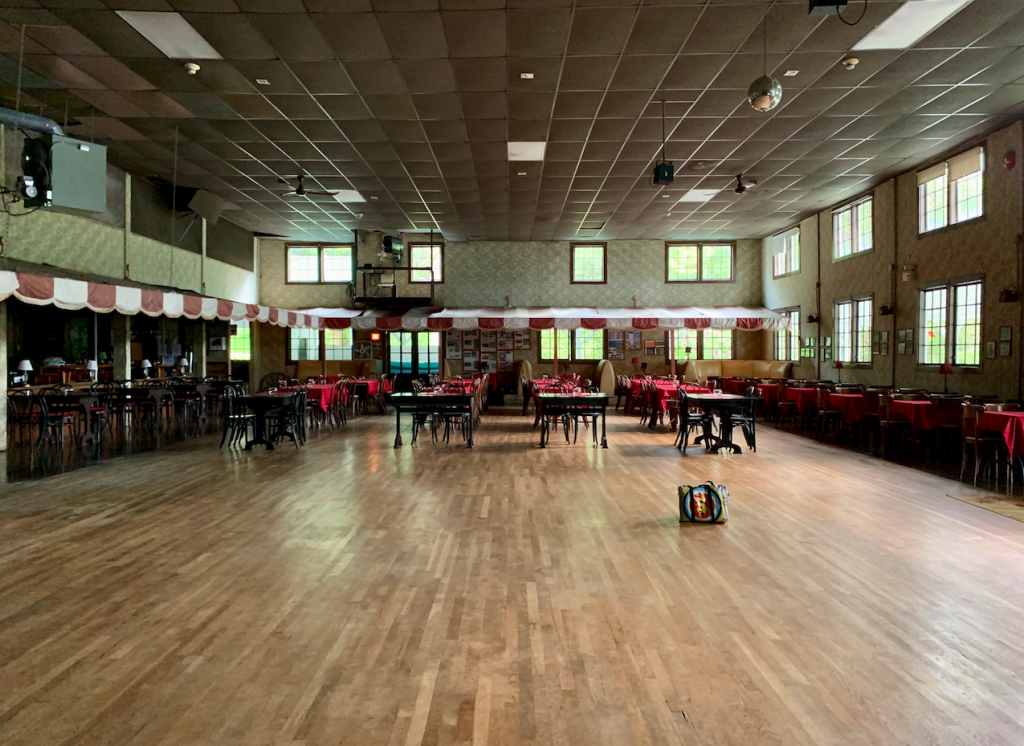 I was bummed to learn that a number of locations -including the Employees Only cabins where Susie stays were not part of Scott's, however in a weather-related stroke of luck (ie oh, I don't know, a TORNADO WARNING that happened when we were there?!) we we were able to ride out the storm in the Employee Mess, in the lower level of the original lodge. Again, not really open, but if you ask nicely you might be able to take a peek!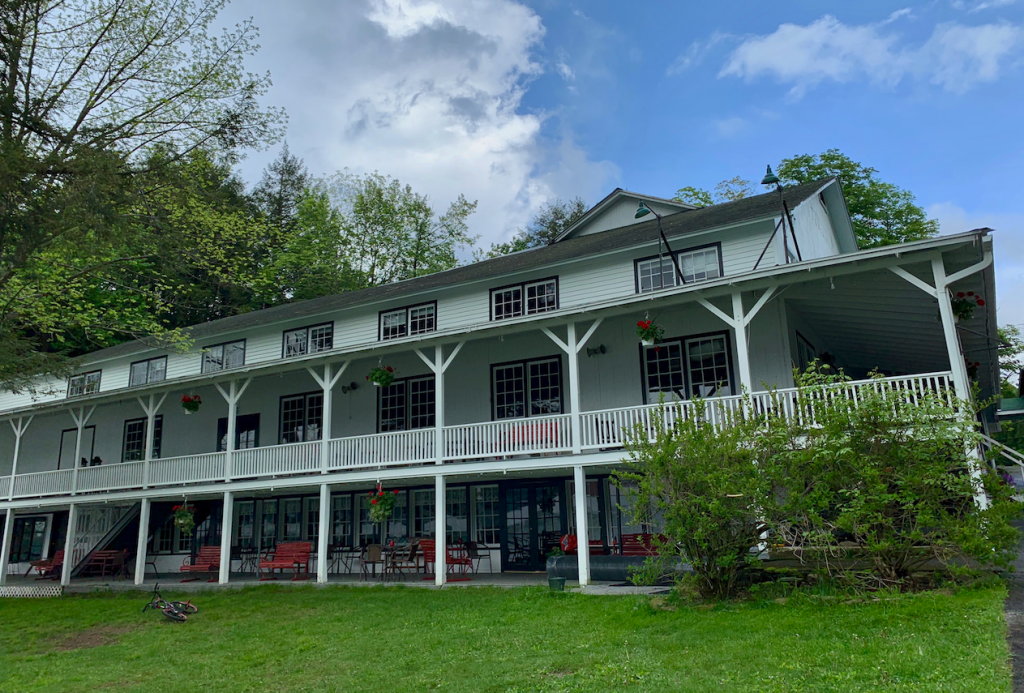 "Paging Leon Zigelstein"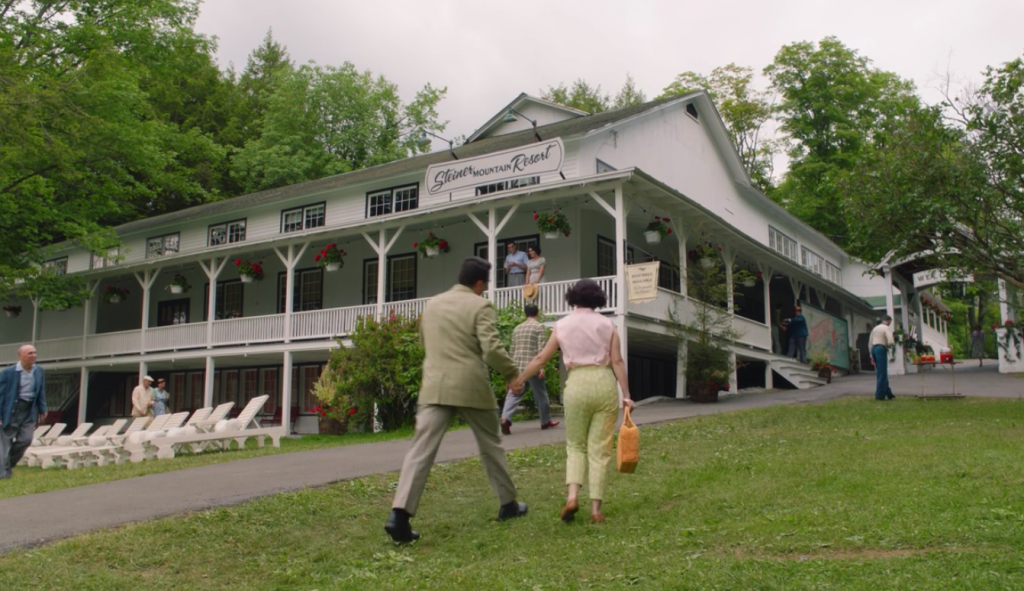 These are just a few examples of the sights you'll recognize from the TV show, But I wanted to save some of the other ones for you, when YOU visit…perhaps at Scott's inaugural Marvelous Maisel Weekend?!
Read more about the actual history of the resort over here, but in the meantime, Go You Chicken Fat, Go! 🙂