2020: The Hilltop is permanently closed 🙁 https://www.facebook.com/Hilltop-Drive-In-153918834693969/
2017 Update #2: Be aware – we just learned that the Hill Top is on the market. It's not sold yet, so if you've got some dollars and a dream, it could be yours! http://www.loopnet.com/Listing/2910-E-High-St-Pottstown-PA/6489665/
2017 Update #1: Happy to report not much has changed at the Hill Top since we first shared them with you, with the exception of the prices increasing slightly, which makes sense (and they still don't break the bank-!)

The jukebox has been replaced with one of those more modern digital ones, and despite the existing signage, they've switched to Coke products from Pepsi. 
Always happy to realize my photos from years ago look pretty much the same as the place does today!
Original 2009 Post:
We had all intentions of grilling out tonight, but it started to rain, again, for the millionth time this week. What more of an excuse did we need to go out and get some quick burgers! Having reminded myself earlier that the Hill Top is little more than 30 minutes away, we hopped in the Retromobile and off we went.
The Official name of The Hill Top is the Hill Top Drive-In, but nowadays there is indoor seating and you just "drive-in" to the parking spaces out front.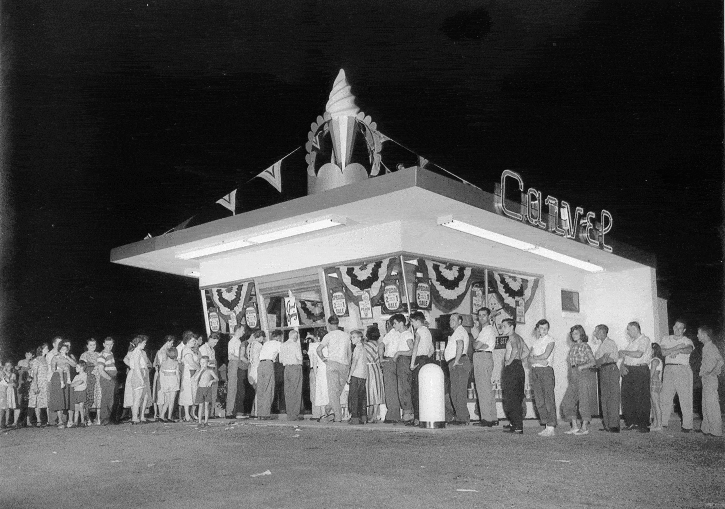 Originally opened in 1952 as a Carvel, it became the Hill Top just 6 years later.
Decor is vintage knotty pine paneling, with some updated touches like the 80's retro pink/aqua "50's" color scheme, and better yet some boomerang Formica on the tables. Having a jukebox is in keeping with the feel of the place, but definitely from a different era. Next time we're there I will have to make sure we drop a couple of quarters in and give it a spin!

The menu is more varied than most chain fast food places, with sandwiches, soups, breakfast and Mod Betty's fave – Broasted Chicken! Their economical burgers are on the small side, but perfect for a quick bite. Want to bump it up a bit? Get a double, triple or Cali burger.
Our food was in no way gourmet, more like fast food, but still good, and I was thinking how I'd take the nieces and nephews to this place over one of the chains any day. One neat addition to the offerings was the selection of Good's Potato Chips, a local brand in business since the late 1800's. Are you at all surprised to learn that I am a sucker for a small bag of indie chips? True!
Harkening back to its origins as a Carvel, the Hill Top also offers soft serve ice cream with a variety of toppings and Nelson's hard ice cream. Dang it, we were too full from our cheeseburger/cheesesteak split to get some ice cream, but the older couple next to us did not seem to have a problem polishing off their sizable chocolate twist cones. We'll be back sooner rather than later!