Betty Cooke: 92-year-old Modernist Jewelry Designer Still Going Strong! So is her Shop! The Store LTD at Cross Keys Baltimore, MD
Posted on: December 11, 2016
The Store LTD: Village of Cross Keys
address: 5100 Falls Rd, Baltimore, MD 21210
phone: (410) 323-2350
NOTE: Closed Sundays
Mid Century Modern design fans looking for a truly unique gift this holiday season take note!
Acclaimed 92-year-old jewelry artist Betty Cooke is still designing timeless modernist jewelry as she has done for the past 70+ years, and you can buy these original pieces at her shop The Store LTD in Baltimore, Maryland.
Mod Betty recently made the jaunt down to The Village of Cross Keys – a refined little shopping center just north of downtown Baltimore, convenient to get to off 83. AND luck upon luck, in a kismet encounter got to meet Betty Cooke herself, and gush to her about her designs and her inspiration at being so active at 90+. What a delight!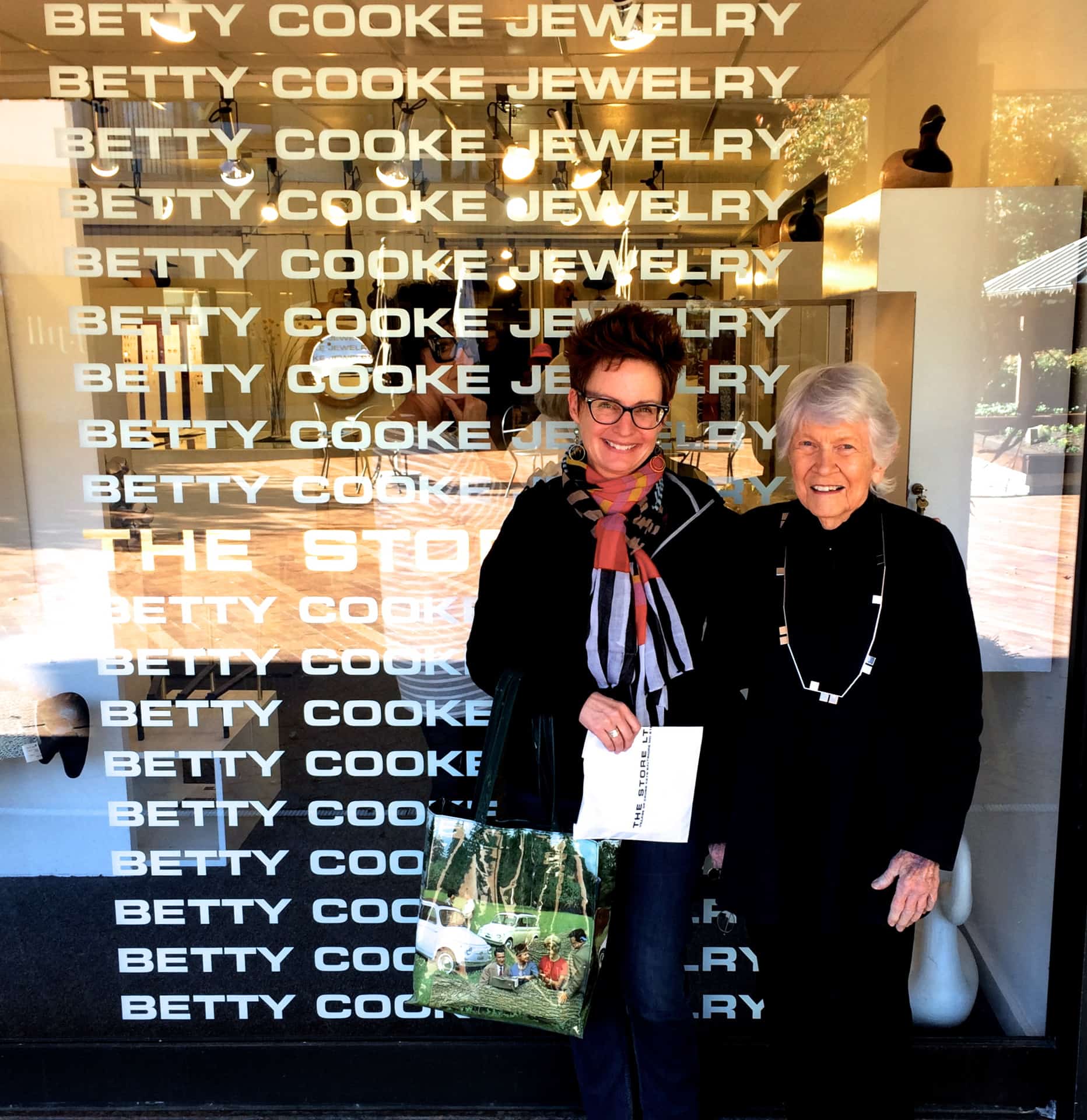 I can't believe more people don't know about this living legend!
So, just like I shared with Betty how much I enjoy her work, I'm sharing a bit of her story with you, so you'll be just as smitten as I am and want to rush down and visit her shop.
I can't guarantee you'll meet Betty* but her designs are worth the visit.
Betty Cooke – Designer
Born in 1924, Betty Cooke graduated from the Maryland Institute College of Art (MICA) in 1946, later teaching there (for 22 years) while also designing jewelry. It was at MICA where she would meet returning WWII veteran Bill Steinmetz who attended then worked there. They married in 1955 and formed a Design Consultancy, where their clients ranged from the Department of State to a Maryland bowling center chain (suggesting bright blue and orange hues with Herman Miller furniture, instead of earth-tones. Mod Betty swoons at the thought!)
While she began selling her jewelry out of a small row home shop to Baltimore's moneyed set, she at the same time was also cultivating artistic cache, exhibiting in the Museum of Modern Arts' 1950 Good Design exhibition and New York's Young Americans show, to name a few. I first saw her work at the Museum of Art and Design in New York City and immediately was taken with it's timeless appeal.
*Click here to watch a video of Betty talking about this piece as part of the MAD collection*
Ski and tennis raquet designer Howard Head was a long-time jewelry customer as was real estate developer Jim Rouse, creator of the planned community of Columbia, Maryland to name a few.
In 1965 Rouse invited Cooke and Steinmetz to open up a larger store in his newly designed community at the Village at Cross Keys shopping center.
They called it The Store LTD, and to this day it carries classic and current examples of well designed objects, from housewares, toys and  gifts to clothing and accessories.
Half of the shop is devoted to Betty's jewelry so you're able to view and buy these original pieces yourself. While they are not inexpensive, how many times do you have the opportunity to buy an original design, from the original designer? Talk about provenance! Whatever you get will surely become a treasured heirloom.
With clean lines and simple shapes, Betty Cooke's jewelry is just as fresh and contemporary looking as when she began designing it 70+ years ago. Balanced like a Calder mobile, architectural and geometric shapes are meticulously designed, she never loses sight of the fact that they must be wearable as well. (This includes the bolder pieces she designed for Geoffrey Beene's runway collections in the late 1970s.)
While Betty no longer crafts the jewelry herself she still enjoys working with customers, discussing and sketching out one-of-a-kind and custom pieces, leaving the production to trusted hands. Her drawings allow for a sense of movement and spontaneity to be then reproduced in silver, sometimes gold, with occasional gems. (She has won the DeBeers diamonds Today award two times, is in a number of museum collections, and won other awards too numerous to mention.)
Once you select the perfect Betty Cooke piece to add to your collection (or someone else's), it is wrapped neatly in purple tissue, carefully tucked into a shiny white box signed by Betty, and encircled with a ribbon tied in a knot. Now wouldn't that be something lovely to give, or receive? Truly a treasure to keep forever.
She's Talented, Delightful and a Mod Betty inspiration!
* Note: We are saddened to learn in writing this piece that Betty's husband of 61 years, Bill Steinmetz passed away just a few weeks after we visited the shop. Our hearts go out to Betty and her family.
Betty Cooke: 92-year-old Modernist Jewelry Designer Still Going Strong!
5100 Falls Rd, Baltimore, MD 21210