Bob's Diner – Roxborough PA – A Neighborhood Tradition since 1947!
Posted on: December 26, 2017
Bob's Diner:
address: 6053 Ridge Ave, Philadelphia, PA 19128
phone: (215) 483-9002
note: cash only
Bob's Diner Roxborough is one of the few diners in the Philadelphia area that makes Mod Betty's go-to list, with its winning combo of authentic vintage charm and tasty eats.
Bob's exterior retains the red bands amidst the silver, and clock above the vestibule. A later addition – though still vintage – of metal scalloped awning helps cut the glare of the sun that streams in the windows during the afternoons.
Built by the O'Mahony company in 1947, there's gotta be a story behind the unusual placement of this diner! Nestled incongruously between a church and a (rumored to be haunted) graveyard, it is almost as if it parallel parked itself there one day and stayed there!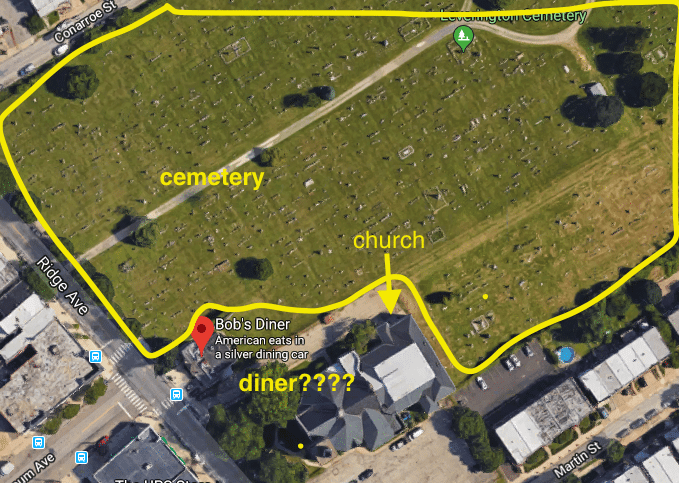 You'll notice immediately on your way in and out of the diner that this place has been here for decades – they just don't make great door fixtures like these anymore. But boy are they sweet, am I right?
Once you've entered and settled in your booth or counter stool you'll be surprised to see that Bob's menu offers quite a variety of foods not expected in a diner (sauteed salmon?) or fun twists on old faves.
I was more than pleasantly surprised by my cheesesteak served on a Philly pretzel. I am so used to this type of pretzel being heavy and dense, but this was light, chewy and even more delicious smothered with cheese and meat.
While breakfast is served all day, for the most authentic diner experience get there during regular breakfast hours where your eggs and meats are cooked on the grill directly behind the counter – none of this "hiding in the kitchen" stuff. Just be warned, breakfast is a popular meal here, so the diner is going to be hopping!
A  neighborhood institution for decades, you'll see evidence of this being a community gathering spot, with the cashier stand holding tickets to the local parish lottery or personal note informing of the sad passing of a regular customer. If you're in with the in crowd you just may see your name on a Christmas stocking, hung from the ceiling with care!
Speaking of Christmas, don't go to Bob's then – it's the only day out of the entire year they're closed. But a Bob's Diner tee shirt or mug would make a nice gift for the Retro Roadmap fan in your life, I'm sure!
UPDATE! Retro Roadmapper Brian clued us into the fact that Bob's appeared in the movie "Stealing Home" from 1988! Thanks to the power of Youtube you can see it right here:
Bob's Diner – Roxborough PA – A Neighborhood Tradition since 1947!
6053 Ridge Ave, Philadelphia, PA 19128