Help Pick Colors of This Moved Motel! Countryside Motel Sturgeon Bay, WI
Posted on: August 8, 2018
address: 3120 N Stevensons Pier Rd, Sturgeon Bay, WI 54235
phone: (920) 824-5309
Retro Roadmappers – when I got this email from David from the Countryside Motel in Sturgeon Bay, Wisconsin, I just knew I had to share it with you all. Since we're a good hearted lot, I know you would want to learn about this place, especially because of the bolded spots and backstory.
David writes:
"Good day
My gal purchased the mom and pop right after battling 2 forms of breast cancer. That was a year and a half ago.
She has invested a lot of time and money on the mechanicals now a paint job is in the works.
Its unique in a few ways.
In 1994 it was moved off the shore of Lake Michigan, to a country setting in Sturgeon Bay Wisconsin (Door County).
It is the real country. Roosters nearby. Tractors in fields. Country air as well lake air from Little Sturgeon Bay a half mile away.
Also unique is that it has 16 RV sites.
We are still trying to decide on colors…Maybe your readers can help?
Liz works extremely hard every day to give this Mom and Pop a bonus round, as she herself has gotten."
Doesn't that just get you right in the heart? (or to you youngsters, give you all the "feels")
In following up with David, he said that they're trying to improve the "curb appeal" and are looking at Light Grey and a deeper rich grey. (Mod Betty is of course voting for some sort of aqua/orange combo ;-))
Moved Motel?
While the motel has only been at this location since the 1990s it is actually a vintage motel. Originally named the Sands Motel it was owned by Carl and Carol Jonas in the early 1960s over 30 miles north of here on Baileys Harbor (you can see the 1964 postmark on this postcard showing how close it was to the water. And OMG is that Nessie on the roof of the office?!)
Here are a few 1964 ad mentioning the motel:
And another smaller one: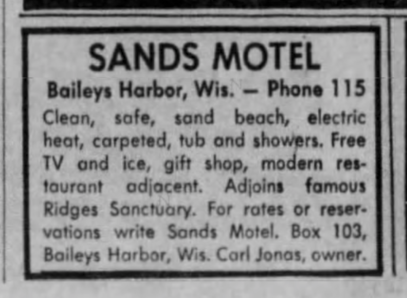 But of course as the years pass, that great waterfront location gets eyed up by developers, who know they can make more money than a 16 room motel, by building condos there.
So in 1994 they offered the motel "free for the taking" for anyone who would haul it away. Not sure quite how they did it, but the motel was loaded onto the back of 6 trucks and driven almost  40 miles south, to its current location.
Liz left the corporate world and took ownership of this little motel / campground / RV site in 2016.
David adds:
" Our guests have been great. Leaving very nice reviews. They really help. 
I'm sure you know motel life is 24/7, we are always discussing ways and things to improve.
But money has been tight. Way too many unknown breakdowns.
We do believe the paint job we help the curb appeal."
So, Retro Roadmappers – what do you say? What colors would you suggest to them, to curb appeal it to you while you're traveling? Post them below and perhaps you'll inspire them to liven it up a bit!
Help Pick Colors of This Moved Motel! Countryside Motel Sturgeon Bay, WI
3120 N Stevensons Pier Rd, Sturgeon Bay, WI 54235