Oldest Movie Theatre in the US? Newtown Pennsylvania! Showing Movies for 110+ years!
Posted on: March 10, 2017
address: 120 N State St, Newtown, PA 18940
phone: (215) 968-3859
Walking past this staid brick structure on State Street in Newtown, PA you may think it is a church.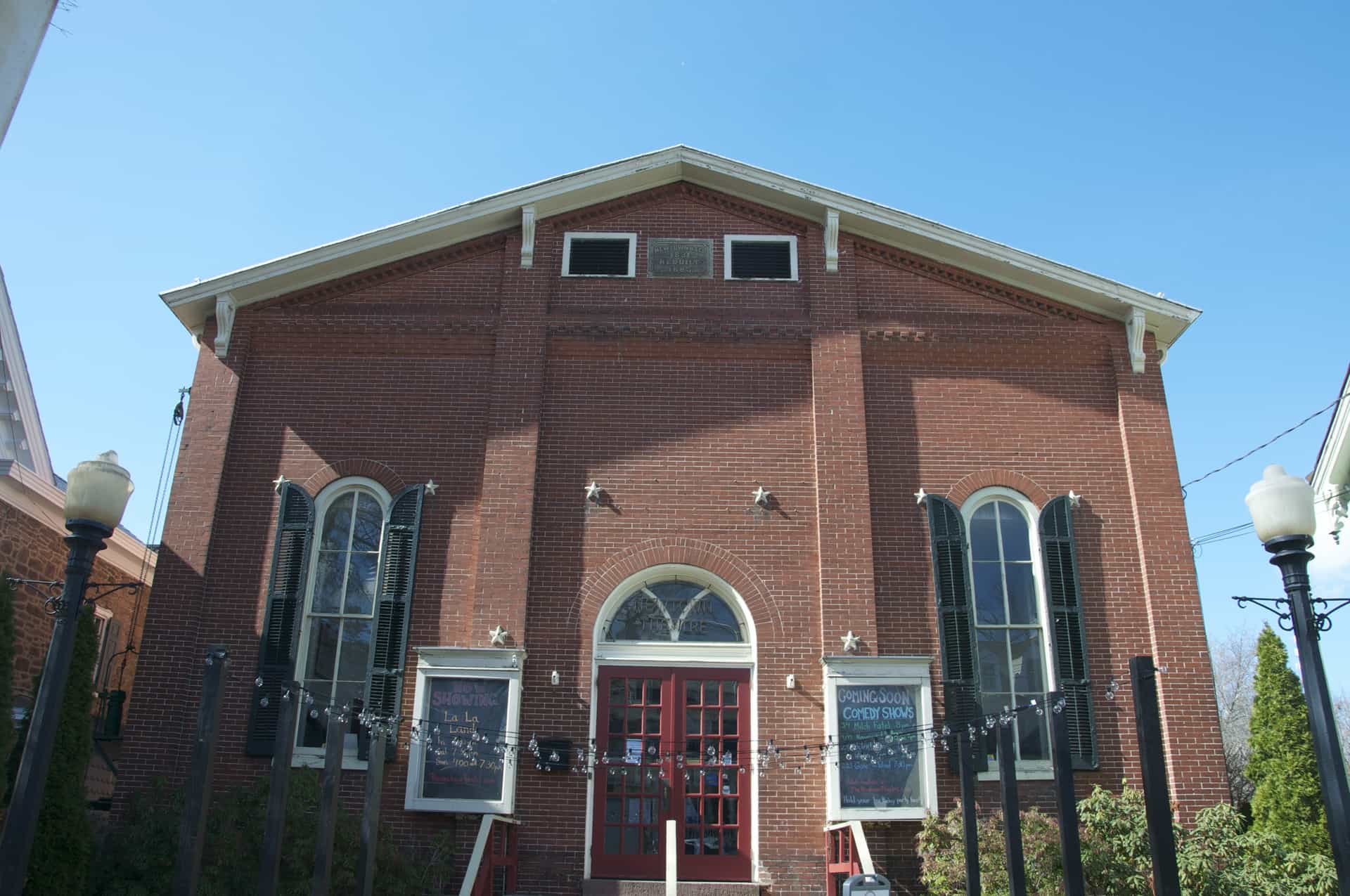 Well, at one point it was one, for traveling ministers.
Or perhaps you think it is a town hall? It was that too – built in 1831 as Newtown Hall, later reconfigured in the 1880s as a place where the townspeople would gather for meetings and stage shows.
What you might not immediately realize is that this is The Newtown Theatre – thought to be the oldest movie theatre in the United States (!) The glow of the neon sign above the door is one of the only details giving a nod to its Hollywood history. They were the first theatre to show movies, beginning in 1906.
With current seating for just over 350 people, the other claim to fame is that it is one of only two theatres in the Philadelphia region where you can watch a movie from the balcony. (The other is Mod Betty's hometown fave The Colonial Theatre in Phoenixville, PA)
The Newtown Theatre offers more than just movies however, bringing live theatre, comedians, independent film screenings and concerts to this Bucks county borough of just over 2000 residents. I admit that I'm thrilled that they have a classic movie series, as I'm a sucker for those old timey films in an old timey setting.
As a heads up, there's little in the way of lobby space, with the exception of the ticket booth and a place to buy your popcorn and snacks.
The auditorium is somewhat simple with very little in the way of ornamentation or opulent decor, though Mod Betty does dig those large light fixtures flanking either side of the seats.
Heck, air conditioning was not even installed until 2002, to prep for the premier of the M. Night Shyamalan's movie "Signs" which was filmed in part in Newtown.
But the charm of watching a movie in this historic place is undeniable, especially if you can catch a silent film with live piano accompaniment. And even if their claim to be the oldest is in competition with other theatres across the US, isn't it cool to know you're in one of them?
Oldest Movie Theatre in the US? Newtown Pennsylvania!
120 N State St, Newtown, PA 18940