Open Since 1958 – Abington Pharmacy, Card and Gift! Old York Road (Route 611) Abington, PA
Posted on: May 2, 2017
address: 1460 Old York Rd Abington, PA 19001
Phone: (215) 884-2767
Note: Open 7 days, 8am-midnight!
Every time I drive down Old York Road in Abington, PA I'm cheered by the sight of the unique and distinctive sign for Abington Pharmacy. How could you not be? I mean – do you often see something like this on a busy commercial corridor?

The only bummer is the missing swoop above right, that was lost in a storm. Here's what the sign looked like a few years ago:
Even though the swoop is gone, you'll still see the sign lit up often as they're open 7 days a week until midnight! Just another way to remind us to visit this distinctive destination instead of the boring chain stores surrounding it.
Opened in 1958, you can tell it was built in that era from the low slung slope of the roof and stonework front. I love the fact that the bottom of the G and Y are stylishly chopped off font-wise on the "especially beautiful at night" sign, which is backlit with pink neon!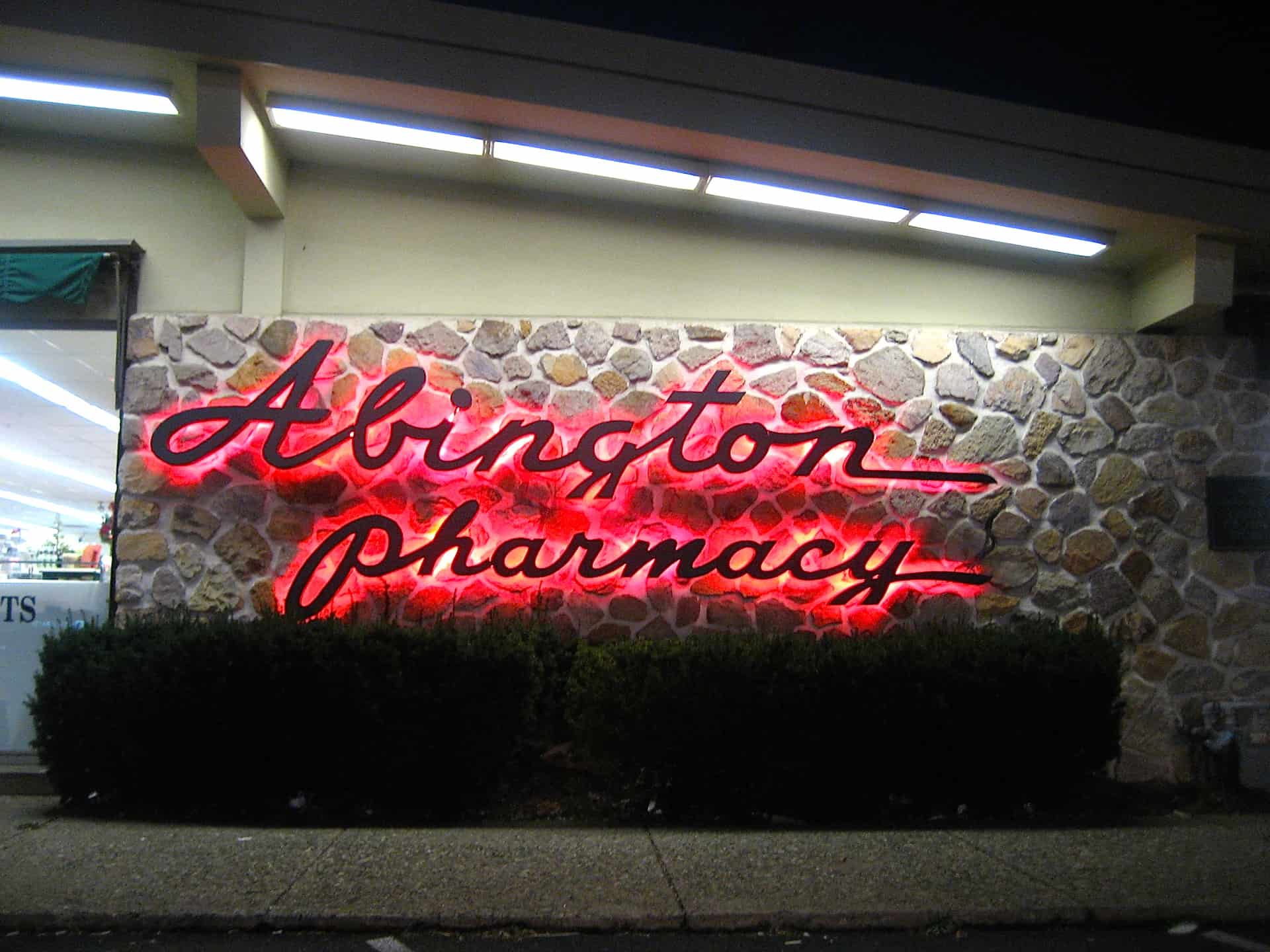 Oh sure you can get your prescriptions filled here- as you can see, they're prepared. But there's so much more inside this family owned shop, that it's worth a stop for many reasons.
They've got snacks aplenty, from sweet Asher's candy in the display case to crunchy, salty chips! Care for some popcorn?
While you're waiting for your prescription and ogling the 1950's era signage around that department, you will spy a stamp machine as well as all sorts of items you can't find anywhere else.
Not just toiletries and cold remedies, there are also romance novels, office supplies, nose plugs and bathing caps for swimming to name but a small slice of their inventory.
A wide selection of greeting cards and gifty items make this an easy place to pop into for a last minute thank you or hostess gift. You'll find things here that you wouldn't find elsewhere.
They offer free gift wrapping, too, so you can stop by and pick up a gift and card, and show up to your event like you've been prepared for weeks!
We all know finding an independently owned ANYTHING is a challenge, and finding a place that is holding its own against the chainification of the busy roadsides is a rarity. So if you're anywhere in the area, stop by – you know they'll be open, and let's do our part to keep it that way!
Don't forget to tell 'em you're here specifically because they've kept their Authentic Vintage Charm in such good repair, so they know it is an asset to their business! 
Open Since 1958 – Abington Pharmacy, Card and Gift!
1460 Old York Rd Abington, PA 19001