Village Diner Milford PA – 10 Reasons to Visit Vintage Diner! This is What A Diner is All About Charlie Brown
Posted on: January 16, 2017
address: 268 Route 6 and 209, Milford, PA 18337
phone: (570) 491-2819
One of the most pristine and pleasant vintage diners we've ever visited is The Village Diner in Milford Pennsylvania. There are so many things to recommend this diner, I've created a list of 10 reasons you should go – now go visit!
1. IT'S AN AUTHENTIC VINTAGE DINER The diner was built by the Mountain View Diner company in 1956, and is so well kept it looks like it did from the day it was moved to this location.
Owner Maria Pagelos saw this photo and was quick to reassure me that they were fixing the neon D in the Diner sign – I heart that attention to detail!
2. CONVENIENTLY LOCATED The Village diner is conveniently located near an exit off of Route 84, where 3 states intersect – Pennsylvania, New Jersey and New York, so it's easy to get to.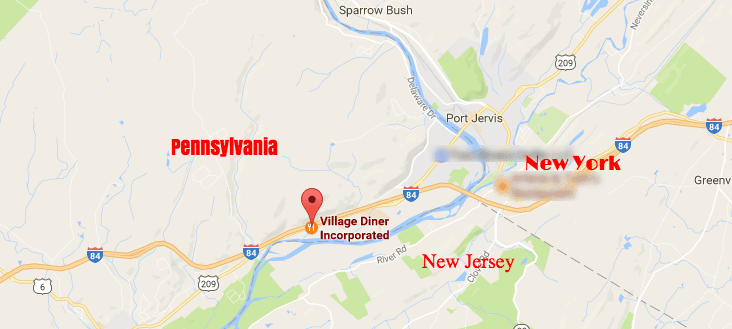 (Pay no mind to those boring chain restaurants that clutter the exit  – just pass 'em by because you're going to an Actual Authentic Vintage Diner!)
Whoa!
3. FAMILY OWNED AND OPERATED Dimitrios "Jimmy" Pagelos purchased the diner in 2000, and now his daughter Maria Pagelos Wall and son Agisilaos "Aggie" lovingly continue the family tradition.
4. FOOD IS GREAT They do the diner classics up just right for breakfast, lunch, dinner, and dessert but also share some of their fave Greek specialties.
I had never seen rolled up Spanikopita like this, and now I crave it all the time – so good! And just look at that fresh Greek salad – nom.
5. CLEAN! WITH AUTHENTIC VINTAGE INTERIOR TOO The interior of the diner is just as wonderfully untouched by time as the exterior, and well kept.
Pink and grey tile, real vintage boomerang Formica, swivel stools, mirrors, authentic chairs – step back in time with me and we'll grab a booth. Oh, and check out that clock!
6. NEON SIGN – AND IT WORKS! You've already seen the neon sign during the day, but they also light it up at night as a beacon to weary travelers.
7. Open 7 days a week
8. They take credit cards
9. They have a Village Diner Facebook page so you can keep up with their latest news and menu items.
10. Mod Betty recommends this diner, and you can trust her! 🙂
Village Diner Milford PA – 10 Reasons to Visit Vintage Diner!
268 Route 6 and 209, Milford, PA 18337